In this first primary season since Republican Donald Trump left the White House, the Democrats' traditional tug-of-war over the party's ideological identity— moderate vs. progressive—is back at center stage. Nowhere will that be more apparent than in key races in Pennsylvania and Texas.
The backdrop: a downbeat national mood that makes it increasingly likely Democrats will lose their slim majorities in one or both houses of Congress this fall. The headwinds are stiff, given that the party in the White House has lost seats in all but two midterm elections since World War II, Republicans can pound away at an inflation rate that has spiked to a 40-year high since Joe Biden came to office and the administration's approval rating has sunk to all-time lows.
Here's a look at the two key races and what they say about the party's future.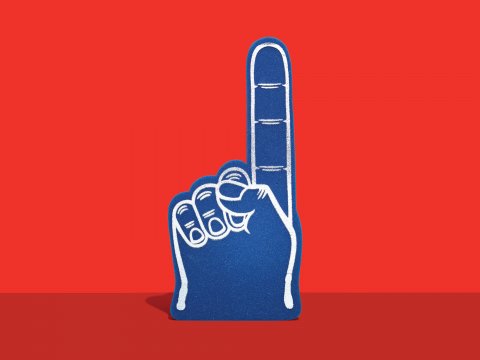 PENNSYLVANIA
The season's marquee matchup for Democrats is the May 17 race between Pennsylvania Lt. Governor John Fetterman and two-term Representative Conor Lamb to determine who runs this fall to replace retiring GOP Senator Pat Toomey. The winner rolls into the general election to face a competitive electorate—Pennsylvania went for Biden in 2020 by 1.2 percentage points after Trump eked out a 0.7 percentage point win in 2016—in one of the few spots on the map where Democrats believe they can flip a Senate seat.
Lamb, 37, has been a rising star in the party, a military veteran who flipped a House seat in central Pennsylvania in 2018 and burnished his centrist credentials by opposing Nancy Pelosi as too liberal when she retook the post of House Speaker in 2019. Fetterman, meanwhile, won statewide election in 2018 as lieutenant governor as a brash-talking 6-foot-8-inch, bald, goatee'd progressive who endorsed Senator Bernie Sanders of Vermont, a Democratic Socialist, for president in 2016 and supports Medicare for All.
Fetterman led Lamb by 20 points in the most recent public poll and, if that margin holds up, it would make a strong case that Democrats in a large, diverse state overwhelmingly prefer policies that lean left.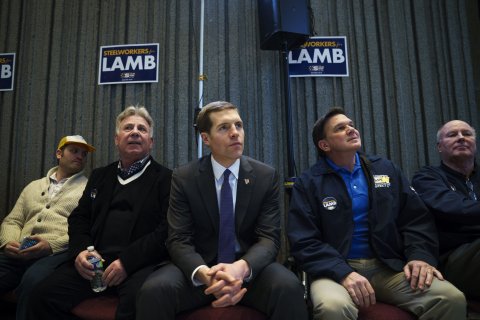 "I'm a big Conor Lamb fan, but John Fetterman is locking it up," says political consultant Sarah Longwell, noting Fetterman has raised $15 million through small-dollar contributions that reflect grassroots support while Lamb has relied on big money donations from political action committees and others. "Every time I talk to people in Pennsylvania, man, the Democrats there loved him. They think he's authentic. The Fetterman versus Conor Lamb dichotomy is really just moderate versus progressive, and the progressives are winning."
TEXAS
Down along the Texas-Mexico border, in a district that Biden took by 5 points in 2020, another key faceoff brews. Biden won by far less than presidential hopeful Hillary Clinton in 2016, who led by almost 20 points, suggesting many voters there have deserted Democrats. In that context, nine-term Representative Henry Cuellar, the only anti-abortion Democrat in the House, is trying to win a tough runoff race on May 24 against 28-year-old progressive firebrand Jessica Cisneros by insisting he's the only Democrat who can hold the seat.
In Cuellar's Texas border district, where Republicans have increasingly made inroads with Latino voters by advocating for stronger security to keep out undocumented immigrants, Cisneros, an immigration lawyer, trailed Cuellar by 767 votes in the March 1 primary to keep him from hitting the 50 percent threshold that would avoid a runoff. In doing so, she improved her 2020 showing, when she came within 2,690 votes of ousting him.
"Jessica Cisneros' campaign is a symbol of what it looks like when you have somebody from the community who stands up against the status quo," says Michele Weindling, electoral director of the Sunrise Movement, a progressive environmentalist group that grew out of Sanders' 2016 presidential campaign. "The reason why someone with the amount of money and name recognition that Henry Cuellar has can barely beat Jessica in 2020 and then be in a runoff against her now is that these ideas like a Green New Deal and fighting for working class people aren't just popular for a primary, but something the district is really hungry for overall."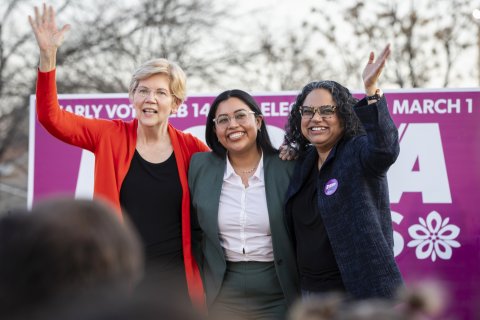 Maybe. But David Wasserman, a House analyst for the nonpartisan Cook Political Report, cautions against reaching overly broad conclusions from the outcomes of any specific races. The Cuellar-Cisneros faceoff, for instance, may also be influenced by an FBI raid on his home and campaign office in Laredo in January amid a criminal probe related to his ties to Azerbaijan. (Cuellar denies wrongdoing and has not been charged with any crime.)
"The difference between the Democratic and Republican primaries is that Republican primaries have been mostly about loyalty to Trump," Wasserman says. "On the Democratic side, it's been much more about identity politics and, and personal stories, and who would symbolically do the best job of representing a district."
WHAT WINNING MEANS
The outcome of these two races won't definitively answer whether progressives or moderates have the ideological upper hand. But because 31 Democrats are retiring from the House—most from seats that are firmly blue—the next Congress will potentially tip the party farther to the left if the likes of Cisneros and Fetterman win, experts say.
"Most of the competitive primaries on the Democratic side are for open seats, and that means there's going to be a really big class of Democratic freshmen," Wasserman says. "That also means there will be forks in the road between progressive candidates and more establishment candidates."
Indeed, progressives who already have won primaries are quick to claim bragging rights. "Voters didn't just vote for me, they voted for Medicare For All, they overwhelmingly believe that immigrant rights are human rights, and that Black lives matter," says Greg Casar, who handily won his March 1 primary for a newly drawn deep-blue House seat that encompasses parts of Austin and San Antonio and will be, according to the Texas Tribune, "among the most progressive members of Congress ever to serve from Texas." Casar continues, "Even in oppressive conditions like Texas, where the right wing has passed all of these horrible laws suppressing voter rights, banning books and targeting LGBTQ kids, voters are wanting to see progressive champions that are going to fight back."
Perhaps. But what has not happened this primary season is also telling for Democrats. Far from the early chatter about Representative Alexandria Ocasio-Cortez waging a progressive campaign to unseat Senate Majority Leader Chuck Schumer of New York, there are few challenges to incumbent Democratic governors or senators. The list of moderates who have escaped serious competition from the left include Nevada Governor Steve Sisolak and Senator Catherine Cortez Masto, Michigan Governor Gretchen Whitmer and Arizona Senator Mark Kelly. Similarly, Representatives Cindy Axne in Iowa, Elissa Slotkin in Michigan and Elaine Luria and Abigail Spanberger in Virginia, all are able to focus on general election races without having to make pitches to more progressive primary voters, says Matt Bennett, executive vice president of Third Way, a center-left Democrat think tank.
"Luckily, there's almost no primaries for Democrats in statewide races other than the Pennsylvania Senate, and the field is pretty clear in most other places," Bennett says. "Having liberal people running in very, very closely divided districts is probably a recipe for losing those seats in November."