PERRYVILLE, Missouri: As allegations of domestic abuse against the already scandal-ridden GOP front runner Eric Greitens roil the Republican field, things are looking up for Democrats in Missouri's wild race for the U.S. Senate. That includes Lucas Kunce, a 39-year-old square-jawed war veteran with progressive views and a folksy manner, who wasted no time on a recent campaign tour insisting to skeptical crowds that, yes, against all odds in this deeply red state, he really can win—first, the Democratic nomination in Missouri's August 2 primary and then in the general election on November 8.
"We started 20 points behind Eric Greitens, and in a Republican poll a couple months ago, we were just 1.9 points behind him," Kunce bellowed at a midday rally last month in scorching 100-degree heat during a swing through the state's rural southeast Bootheel region. "And that was before the child abuse and spousal abuse allegations came out."
Kunce, dressed in a simple tee-shirt that suited both his populist image and a physique honed by 13 years in the Marines, then added: "Our message is making a difference. It's actually reaching people."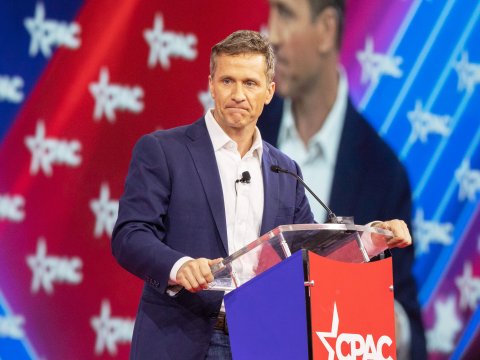 Maybe. Or maybe, as many political observers say, Kunce's rising popularity in the polls is due in large part to the messy drama that is the Republican field—the latest development being the launch of a super PAC by GOP insiders designed to thwart Greitens' bid to be the party's nominee. By all signs, no Democrat should have a serious chance of becoming the next Show-Me State senator, especially not with the national mood so sour about President Joe Biden's handling of the economy. Missouri, after all, went for Donald Trump by double digits in both 2016 and 2020. Yet analysts familiar with state politics agree that Kunce or one of the other 10 Democrats running for the Senate has a real shot.
"If you would have asked me six months ago, would a Democrat win this seat, I would say gosh, no, especially in a midterm election year where Biden's popularity is low and inflation is high," says Anita Manion, a political science professor at the University of Missouri-St. Louis. "But the way the race has shaped up there is a window for Democrats."
The Greitens Factor
Former Missouri Governor Greitens, who resigned his office in 2018 amid campaign finance improprieties and allegations of sexual assault, still leads the polls for the August 2 GOP primary—and against Kunce in the general election, should both men win their party's nomination next month.
That's despite the latest scandals surrounding him. In March, Greitens' ex-wife accused him of domestic abuse against her and their children, filing court documents that alleged "unstable and coercive" behavior." That was followed by a campaign ad last month in which Greitens took glee in "hunting" RINOs—Republicans In Name Only, as non-MAGA GOP candidates are often called by the party's Trumpist candidates—just as the nation was reeling from a spate of mass shootings. This week, he doubled down with a follow-up ad, days after the Fourth of July parade massacre in Highland Park, Illinois, showing him shooting an automatic weapon and talking about "taking aim at politics as usual."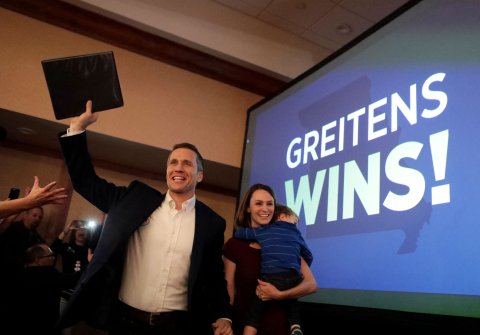 The RINO ad and other scandals have sparked such outrage that jittery GOP leaders are spending millions in the primary to prevent a Greitens nomination. The new Show Me Values super PAC, backed by Senate Minority Leader Mitch McConnell and other party insiders, is unleashing a $1 million fusillade of ads against Greitens over the coming month leading up to the primary.
The rest of the fractured GOP field includes state Attorney General Eric Schmitt, U.S. Representatives Vicky Hartzler and Billy Long and attorney Mark McCloskey, who rose to notoriety in 2020 after being photographed awkwardly holding an AR-15 and threatening a peaceful procession of Black Lives Matter demonstrators as they passed his St. Louis mansion. According to the most recent RealClearPolitics polling average, Greitens has the support of 24.3 percent of Missouri's GOP voters to Schmitt's 22.3 percent and Hartzler's 18.5 percent.
The entire slate of Republican hopefuls are pro-Trump 2020 election deniers. That so dismayed former GOP Senator John Danforth that he has recruited John Woods, a conservative lawyer who worked for the House's January 6th investigation committee, to mount an independent campaign.
That's adding yet another wild card to the wild Senate race in a state that's known for messy elections. Missouri is, after all, the place where in 2000 a dead man won a Senate seat (Democratic Governor Mel Carnahan, who died in a plane crash three weeks before the election, beat the incumbent, GOP Senator John Ashcroft) and where in 2012 the GOP Senate nominee, Todd Akin, gave Democrats an unlikely win by insisting there was such a thing as "legitimate rape."
"If Eric Greitens wins the nomination and John Woods draws some of the more moderate Republicans, those two factors could realistically open the door for Democrats in a statewide race," Manion says.
The Democratic Contenders
Enter Kunce, who did tours of duty in Iraq and Afghanistan and later worked at the Pentagon. He favors abortion and LGBTQ rights, both of which are wildly unpopular in Missouri. But, like Pennsylvania Democratic nominee John Fetterman, he connects with some working-class rural voters who feel forgotten by Democrats with his personal story as a poor kid from Jefferson City whose family was bankrupted by a sickly sister's medical bills who repaid the community that rallied to support them by enlisting in the Marines.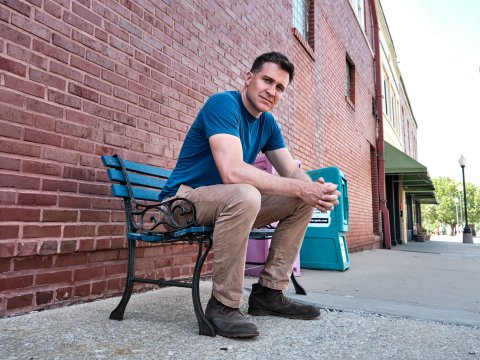 Kunce's message is connecting, at least if fundraising is any measure. The $3.3 million he raised through the first quarter of 2022 is more than any of the Republicans and he's done it largely through small-dollar donations after declaring he won't take money from corporate donors or super PACs.
"We have some of the richest land in the entire world and all the wealth gets sucked out of here," the clean-cut war veteran tells the crowd under a scorching sun. "You go across northern Missouri, you see building after building in the towns are crumbling into the town square because the wealth is leaving the town. It's an American tragedy. You have seen people in Wall Street ship our industries overseas, and our lawmakers were complicit the whole time."
To beat the Republican nominee, though, Kunce, who has been in the Democratic race for more than a year, must first make it past Trudy Busch Valentine, a beer fortune heiress who entered the Democratic race on the final day of filing in March. Valentine has been running an anemic campaign; local and national reporters alike have had little success reaching her for interviews until recently and her social media presence is modest (fewer than 5,000 Twitter followers to Kunce's 55,000; 900 Facebook followers to Kunce's 18,000). There has been no public polling of the Democratic primary.
"Busch Valentine coming in adds an air of uncertainty to the Democratic race because we just don't know how much in the way of resources she'll put into the campaign or how she'll position herself particularly," University of Missouri political scientist Peverill Squire says. "The idea of having somebody like Kunce whose military record is comparable or better to anybody on the Republican side always has some attraction for Democrats trying to field a competitive candidate. But given the Supreme Court decision on abortion, having a woman who's a former nurse apparently portray herself as a centrist might also work well, in this November."
Valentine is, in fact, leaning in on that issue, popping up at a rally in St. Louis the night of the decision overturning Roe v. Wade and speaking at a Planned Parenthood brunch the following day, according to her Twitter feed. Requests by Newsweek for her public schedule on those days went unreturned by her or her campaign manager.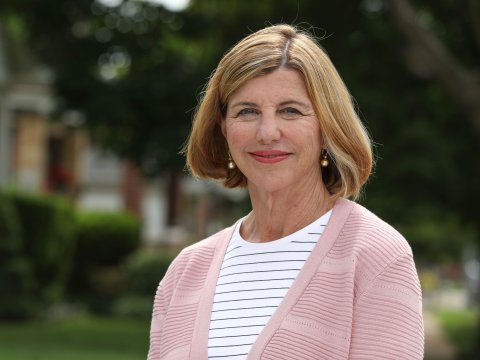 Kunce, meanwhile, seems to be looking past the primary as he barnstorms in remote corners of the state with ever-shrinking Democratic populations, hundreds of miles from the Missouri's blue-vote-rich centers of St. Louis, Kansas City and Columbia. Trump saw his biggest gains between 2016 and 2020 in Missouri in these counties that borders Kentucky and Tennessee, but there Kunce was on a Saturday last month, trailed by this Newsweek reporter, as he gave a stump speech to about 20 people in Perryville, followed by spending several hours in Howardsville, population 434, meeting local activists about the prospects of redeveloping a shuttered high school. Then it was off to the Elks Lodge in Dexter for the Bootheel Plus Democratic Rally, where about 100 locals turned out to hear him and other candidates give their spiels.
Kunce insists there's a path for general election victory that includes "activating" long-neglected Democrats in the state's hinterlands. Another clean-cut young military veteran, Jason Kander, came within three points from unseating GOP Senator Roy Blunt in 2016 in the same election in which Hillary Clinton lost to Trump by almost 19 points, Kunce notes. Kunce says Kander might have won if he'd dug into the rural areas as he is now.
"What you need to see is what you're getting—a kind of a bloody Republican primary, a damaged candidate come out of it, and then a Democrat who can run differently and run on things that people are actually thinking about and caring about," Kunce says. "I feel good about that."