While the unofficial slogan of Sin City — "What happens in Vegas, stays in Vegas" — seems likely to remain the same for time immemorial, Nevada is a state where change is constant.
Known as one of the most transient states in the country, new residents flood Nevada each year, lured by jobs in the gaming and hospitality industries in Las Vegas.
Its politics are in a constant state of change also, with Nevada perennially placed among the small number of battleground states in the country. Gone are the days when Barack Obama won the state by 12 points, in 2008. Hillary Clinton and Joe Biden each edged Donald Trump by only 2.4 points in 2016 and 2020, respectively.
But like a glittering jewel in the arid southwest, a win during presidential elections usually bodes well for campaigns, with Nevada voting for the winning presidential candidate 87% of the time since 1900, and in 10 of the last 11 elections.
While the state is considered purple with a blue hue by activists and political observers when the state legislature is factored in, partisans on both sides say the statewide races for U.S. Senate and governor are going to be very close this fall, races that could set the stage for a bitterly close 2024 contest.
Republicans see an opening to wrest control of the state from Democrats for the first time since 2014 during a time when the national economy has struggled and inflation has hurt American households. Despite an uptick in President Joe Biden's low poll ratings, they are hoping voter discontent will bring down incumbents such as Democratic Governor Steve Sisolak and Senator Catherine Cortez Masto, who made history in 2016 by becoming the first Latina elected to the U.S. Senate.

That effort is being challenged by the influential Culinary Union in Las Vegas, a unique statewide force even among the broad established labor movement nationally, that is powerful enough to organize Latino voters and help decide elections.
While the group was hampered in 2020, its ranks decimated during the pandemic, union members don't see Republicans as the salve to cure the problems that have arisen with the economy, and they plan to be out in full force during the sprint to November.
Democrats believe the opportunity for robust voter mobilization this fall is strong, in contrast with 2020, when few progressive groups were knocking on doors because of COVID, but Republicans were out in greater numbers.
A new player has also entered the scene to bolster Democrats' state efforts, the Latino-led progressive group Somos Votantes, which focuses on Hispanic voters, and is targeting them with door knocks and ads as well.
For Republicans rejoicing over Biden's poll ratings, the election is by no means a lock. National issues such as the striking down of federal abortion protections by a conservative-led Supreme Court have cast uncertainty over the direction of the November midterm elections. In addition to those issues, rising housing prices have emerged as a key concern as well in the state, an issue that Democrats are pounding at the doors.

Emerson and Suffolk polls in July and August showed Cortez Masto up an average of 5 points on challenger Adam Laxalt. In a mid-August poll, Republican pollster Trafalgar put the race at Laxalt up 2%, with the FiveThirtyEight polling average showing Cortez Masto up by 3.7%.
In the race for governor, Emerson and Suffolk had Sisolak up an average of 3.5%, while Trafalgar had challenger Sheriff Joe Lombardo up by 2 points.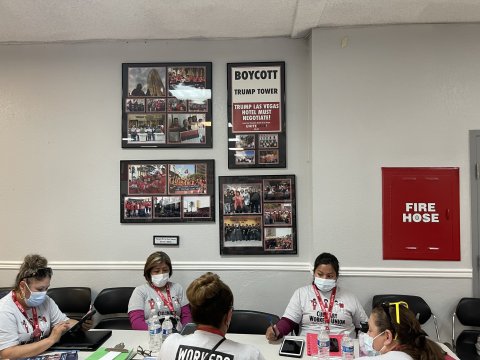 'The Most Difficult Time in Our Life'
The Culinary Workers Union Local 226 in Las Vegas has long served as an influential force in Nevada politics, one that benefitted Democrats when former Democratic Senate Leader Harry Reid's vaunted political machine was running on all cylinders.
But while the majority Latino and majority women labor organization visited 650,000 doors in 2020 — unlike many Democratic groups — it was also not at full strength, spending the year devastated by a pandemic that knocked 98% of its 60,000 members out of work early on.
While 50,000 members are now back, the union suffered the pain of 191 members or their immediate family members dying from the coronavirus, along with 1,840 hospitalized, from March 1, 2020, to April 6, 2022.
A health care crisis morphed into an "extreme economic crisis for our members," Ted Pappageorge, the Culinary Union secretary-treasurer, told Newsweek, during an interview at union headquarters in Las Vegas. "It was the most difficult time in our life, it was a time of crisis."
While the experience of the pandemic in those days affected the lives of union members forever, as it did for many Americans across the country, they have not suddenly embraced Republicans in response.
Asked about Biden's approval rating, rising inflation, and an economy flattened during the pandemic before rebounding in the last year — all the while Nevada is being served by Democratic incumbents — Pappageorge said those issues matter, but that local workers don't believe Republicans can fix those problems.
"Inflation is key, it's on everybody's lips, but Republicans have no credibility on that," he said.
One of the members whose life was forever changed by the devastation wrought by COVID-19 was Elida Amador, a room attendant at Flamingo Las Vegas Casino & Hotel, and a union member since 2015. She lost four cousins to the virus; Luz María Rodriguez in April 2021, whom she grew up with, and Luz María's brother, Antonio, a month later.
Because it was still early in the pandemic, Elida's family had to mourn from their cars during the funeral service.
She then lost another cousin, Modesto Torres, in June 2021, and her family was allowed to attend the in-person service. As a result, 40 people were exposed to the virus, with one being Torres' brother, Manuel Torres, who died a week later.
Stories like this are why the union dove into fighting to help its members and ran a food bank for more than 12 months that saw 1,800 members visiting daily.
But fresh off what it calls its "largest primary political program" to date — 24,000 doors knocked on by 120 canvassers this spring — the union is continuing its efforts backing candidates such as Sisolak and Cortez Masto ahead of November, with ambitious plans to knock on 1 million doors by then.
On a morning during the first week of August at union headquarters, roughly 250 members off from their day jobs on what is called a "political leave of absence" massed in a large cafeteria-like hall, gathering clipboards and pamphlets. Chanting "We vote, we win!" they prepared to head out and hit doors in 101-degree weather hoping to speak with voters at their homes.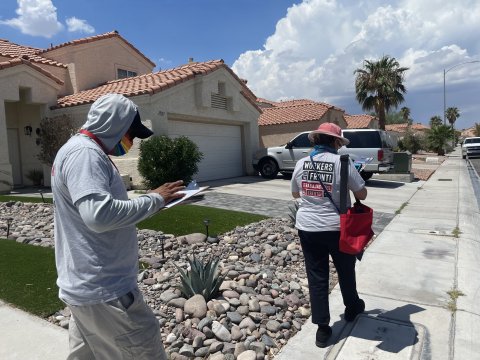 Yuniel Acosta, left, and Elsa Roldan, right, canvass in North Las Vegas on August 2, 2022.
Adrian Carrasquillo, Newsweek
Two of those canvassers were Elsa Roldan, a room attendant at the Bellagio for 15 years, and Yuniel Acosta, an EVS porter at the Virgin Hotel for two years.
Walking through the neighborhood of Paseo del Norte in North Las Vegas half an hour later in sweltering heat, Roldan answered why she does the painstaking door-knocking. As a worker, she said in Spanish, "every door we knock is a grain of sand for a chance to fix" what ails her community, city and state.
Many voters she speaks with worry about rising rents that force young people to stay where they are, unable to buy a home.
Acosta, a gay man who wears a rainbow-colored mask while canvassing, said he does the work because his daughters need rent prices to drop and because gas and health care costs are too high.
As evidence of the difficult job facing them, Roldan and Acosta did not come across many people during their first hour canvassing, with some not home, others refusing to answer, and one woman yelling "no soliciting!"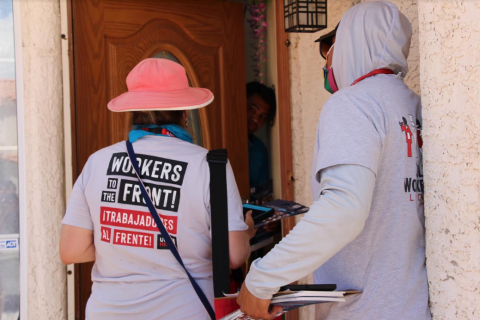 But they did come across Ernesto, who declined to give his last name, a Latino man who spoke to them in Spanish and said he doesn't vote. He said he works for a local moving company and his chief concern was the high price of electricity.
Walking away from the mostly one-way conversation, Roldan implored the man to tell his family members to vote, and left a pamphlet that said the Culinary Union and Sisolak stopped "surprise hospital bills" for out-of-network care that "kept Nevadans from going bankrupt."

"We can do more," the pamphlet added. "Joe Lombardo won't."
It also touted respected Representative Steven Horsford, who was the first Black leader of the state Senate, and Cortez Masto, while taking a shot at Laxalt, and reminding residents the election is November 8.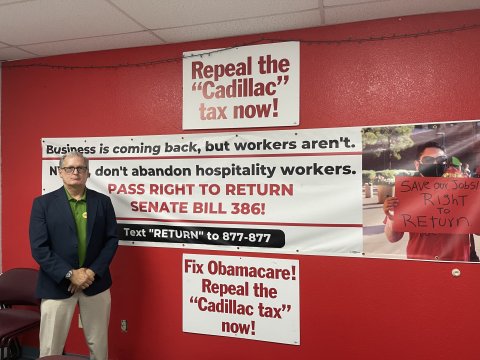 Pappageorge said that beyond door hangers and TV ads, the most time and money needs to be spent talking to people person-to-person, and worker-to-worker. He said Lieutenant Governor Lisa Cano Burkhead, who won her primary in June and was backed by Culinary, was a "terrific" candidate, in part because "she put on her walking shoes, knocked on doors, and did the work and I believe she's going to support working-class voters."
In an interview with Newsweek, Cano Burkhead said "make no mistake" the backing of Culinary, along with other union endorsements, pushed her across the finish line, but that as a Latina it was special to connect with its members in Spanish and for voters to see that a first-generation Latina immigrant was now second-in-command in the state.
She touted the administration's achievements, noting that Sisolak opened an office for new Americans and an office of small business advocacy during his first term to help remove barriers for small business owners, a lesson learned from the pandemic when they struggled with the availability of resources because of language barriers.

"It's an important part of the process to be part of the community, to be accessible to the community," she said.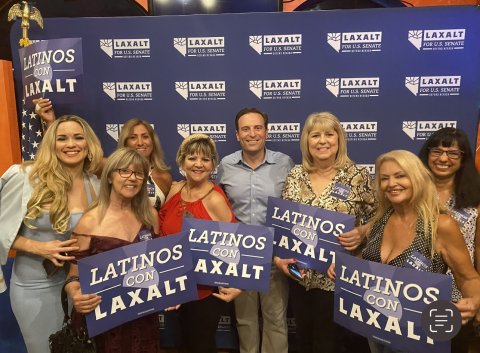 'The Best Chance The GOP Has Had In The Last Decade'
Just days before the Culinary Union's canvassing, dozens of politically minded Latinos piled into the Bonito Michoacan restaurant, two miles west of the Las Vegas strip.
Attendees had the choice of carnitas, pollo sarandeado, and carne asada.
But it wasn't organized by progressives - instead it was "Latinos for Laxalt" holding another event, with the Republican candidate in attendance and ordering carnitas, according to campaign advisor Jesus Marquez, who sat across from Laxalt.
Out of the 100 people in the room, more than 90 were Latinos, according to Marquez, who couldn't resist a dig at an awkward effort by Jill Biden to praise Latinos weeks earlier by invoking San Antonio breakfast tacos.
"The food was much better than the breakfast tacos that some Democrats talk about," he said.
Laxalt covered familiar ground concerning "socialists" and "radical leftists" within the Democratic Party, the Nevada Independent reported. "They know these policies are dangerous and toxic for our kids, for our country," he said.
But the event at the Mexican restaurant was not a one-off, as it followed another that featured a taco truck and mariachi band. Such political tactics might provoke eye-rolling or be seen as pandering in some parts of the country, but they represent a very Las Vegas way of campaigning that connects people to politics in cultural ways they appreciate.
Marquez, who hosts two radio shows — one on local station La Voz Conservadora 1460 AM with Jesus Marquez and the Americano show on Sirius 153 — is a long time conservative who has backed Republicans in Nevada over the last decade, which is how he fields calls from vote-rich and traditionally Democratic Clark County.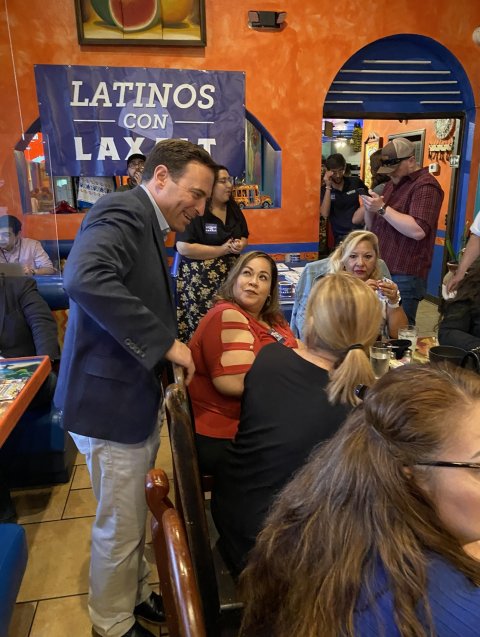 Senate candidate Adam Laxalt at a "Latinos for Laxalt" event at the end of July.
Courtesy Laxalt Campaign
"We hear more and more people are not happy with Democrats, many voters are not happy with what's going on in America," he said, arguing that while Biden shoulders most of the blame, Cortez Masto is a rubber stamp for his policies.
"The American dream is slipping out of their hands and Laxalt is the alternative to that," Marquez added.
Republicans say that not since 2014, when Brian Sandoval won the governor's seat, the GOP swept all six statewide races, and Laxalt and Lombardo both won their races for attorney general and Clark County sheriff, have they been in as good a position as they are now.
"This is the best chance the GOP has had in the last decade for sure," said James Campos, a former Trump appointee to the U.S. Department of Energy, who was also appointed to state roles by Sandoval. "This is truly the best opportunity for Republicans to take seats."
Democrats have focused on Laxalt, who embraced lies about the 2020 election in his role as Nevada co-chairman of the Trump campaign, filed an unsuccessful lawsuit to stop the counting of "improper votes," alleging "many irregularities," and wrote a Las Vegas Review-Journal op-ed in November 2020 slamming Democrats and the nonpartisan Clark County registrar of voters, claiming without evidence that there are "thousands of illegal votes consisting of a combination of dead voters, out-of-state voters, double voters, among other improper votes."
The Democrats' hope is that voters will view him as too extreme for Nevada, a charge Marquez dismissed.
"If he was too extreme like Democrats say, you wouldn't see the polls pretty close," he said.
"Both sides are going to try to paint each other as extremists, the environment is so polarized," Campos said. "But at the end of the day it's going to come down to the economy and what the fuel prices are and the cost of goods, basic economic pressures."
The Supreme Court's blockbuster decision on federal abortion protections will likely figure into the Nevada races, too.
Cortez Masto's campaign cites public polling showing 69% of Nevadans are pro-choice to support why she "has made reproductive rights a centerpiece of this campaign."
As evidence of the effectiveness of the strategy, her campaign cites her 2016 race against Joe Heck when "substantial time and resources and money" went into running ads attacking Heck over choice, and Sisolak's 2018 race against Laxalt, when choice was a "heavy piece" of the ads against him.

Now her campaign believes that in the wake of Roe v. Wade being struck down, kerosene has been thrown on the issue. She argues it will energize the base, as well as pick off moderate Republican women who supported Trump in the past, in places such as contested Washoe County, which was the only other Democratic-leaning county outside of Clark County in 2020.

Cortez Masto's campaign publicized a Washoe event on July 7 that featured Republican women who were supporting her over the issue, with one lifelong Republican telling CNN that on a scale of 1 to 10, her anger was a 9.5 over the end of abortion protections.
"People don't understand how angry women are right now," a source who works for a Democratic polling firm told Newsweek. "I see it in the numbers."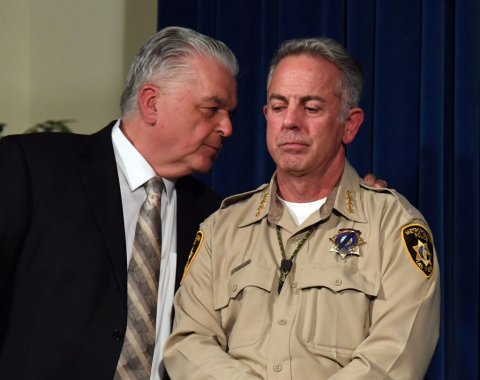 In the governor's race, Republicans are hoping voters look past the rebounding state economy and remember that the economic engine of Las Vegas ground to a halt early in the pandemic as scores of hotel and casino workers lost their jobs or were forced to stay home, thanks to lockdowns led by Democrats such as Sisolak, as the coronavirus rampaged across the country.
Lombardo's campaign has hit Sisolak on the economy, saying this summer that prices in Nevada increased 15% over an 18-month period. And he has painted the governor as "soft on crime," citing a bipartisan criminal justice reform law the state passed in 2019 that reduced penalties for non-violent crimes.
But Sisolak has not taken the attacks sitting down, launching an ad on Fox News in July touting his administration providing the highest percentage of funding for law enforcement, while Lombardo's record shows homicides up 49%. He even included a Donald Trump quote calling Nevada a "cesspool of crime."
Still, Republicans hope changing headwinds in Nevada will lead to a repeat of 2014.
"Democrats have governed Nevada for too long now," Marquez said. "Two Democratic senators, the governor, Nevadans have had enough."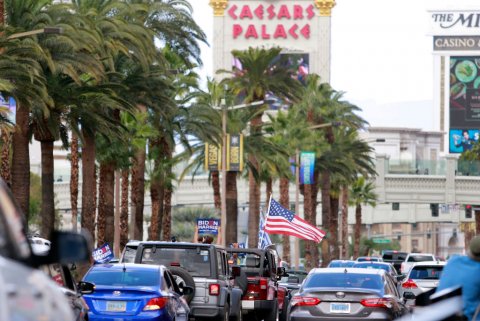 'Fly by Night Campaigns Which Only Show Up Every Two Years'
One problem for Republicans?
The Culinary Union isn't the only game in town helping Democrats.
Somos Votantes entered the scene in 2020 and has quickly muscled up, prioritizing states that have Senate and governor's races, with Nevada, Arizona, Michigan and Wisconsin representing a "core four."

But the group, focused on Latino voters, told Newsweek Nevada is a top priority, and reelecting the first Latina U.S. senator is "personal for us," founder and president Melissa Morales said.
The group has lofty goals in the state: knocking on 85,000 doors and spending more than half of the $10 million it has raised on keeping Nevada blue.
The group's "Somos Poderosas" program is looking to empower Latinas and "Somos Líderes" is inside schools aiming to juice youth turnout.
"It's an opportunity for the Latino community to be heard at the doors, from Latinas, to young people, to business owners," said the group's state director, Cecia Alvarado.
The organization believes the national narrative that Latinos are turning away from the Democratic Party to support Republicans doesn't line up with what they're hearing on the ground in Nevada.

"The rhetoric we're hearing on party switching is not matching what we're hearing on our canvass," Morales said. "They're saying 'I'm voting Democrat or not voting.'"
While Biden received similar levels of Latino support to Clinton in 2016, Trump's Latino support did rise from 29% to 35%, according to exit polls.
But Marco Rauda, the campaign manager for Cano Burkhead, told Newsweek that while Republicans in places such as Texas and Florida have begun more sustained efforts recently, "in Nevada it's different because we have progressive organizations and Culinary who have already been organizing and having these conversations year-round, as opposed to Republicans which run these fly-by-night campaigns, which only show up every two years."
Somos Votantes has now doubled the size of its canvass program from ten canvassers in July to 20 by the end of August and plans to run an aggressive program in support of Cortez Masto, including on TV and digital, with Spanish-language ads a definite also.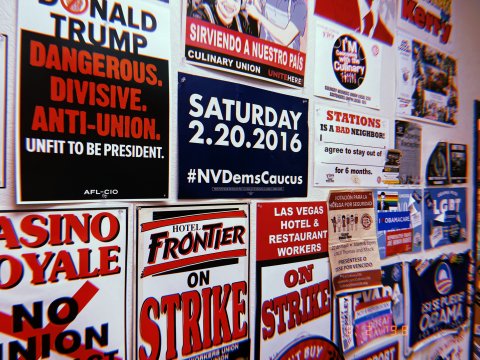 'Those Advocating That We're Not In A Recession, Well I Feel It Here.'
Veterans of Nevada politics and Latino outreach see a state where Democrats retain a slight edge, but this cycle also brings with it new issues that could play a key role in whether Republicans are able to be victorious for the first time in a decade, or whether they will squander the opportunity.
Chris Roman, 66, a former Spanish-language media executive who led newsrooms at Univision and KMCC in Las Vegas, spent four decades in Latino communications and media.
He fondly recalls the work Univision was a part of in 2008 for the nonpartisan "Ya Es Hora" campaign to get Latinos from 7% of registered voters in Nevada to 12% of registered voters, ultimately having them represent 15% of the electorate on election day.
But Roman, like many Americans, has undertaken a political journey since the election 14 years ago that helped Obama win big.
Trump? He voted for him twice, but considers himself a political independent, and is currently supporting no less than four Nevada Democrats. He also voted for and donated money to Sisolak during his first governor's campaign.
That political identity means Roman shoots off political criticism like he's got a water gun and an itchy trigger finger at a carnival game.

"Whatever gains Republicans in Nevada have made is due to other factors, not a robust and concerted outreach campaign," he says, arguing that Harry Reid was "brilliant" and the Nevada GOP is "dysfunctional."
He does believe Laxalt and Lombardo have a shot at winning, however.
"That is because of the economy," he says. "Those advocating that we're not in a recession, well I feel it here."
He teaches a citizenship class for Casa de inmigrantes to help permanent legal residents prepare for their citizenship interview and while the people he speaks to can't vote yet, he says he hears that Latinos are "angry, upset, and don't like what they see happening."
But Roman also feels Republicans have wasted an opportunity to seize on one issue he knows they can hurt Democrats with: Working for a political PAC this year he asked Latinos if they remembered the term "defund the police."
"That thing was fire," he said, recalling the 25-to-49-year-olds he was tasked with reaching out to wondering of Democrats, "What are they thinking? We need more police, not less."
"If Republicans lose the two main statewide races, it's not because of what Democrats did, it's their own fault," he said.
But while Republicans try to pin the woes of Nevadans on incumbent Democrats, people such as Elida Amador, who lost her four cousins to COVID, aren't just surviving, they're doing the door-to-door, on-the-ground work to advocate for Democrats and message against Republicans.
She took the Culinary Union's offer to come out on political leave in March.
It's not that life is easy for her, she told Newsweek — "the price of everything has gone up," she says — she's just not blaming Democrats for it.
"The work I do in the field canvassing and knocking on doors is important and I do it not only for my own family, but for every family in my community," she said.
While her family and others have struggled because of the pandemic, she carries on.
"Life will never be the same," she said of family gatherings that "will always feel a little emptier."
"But we still have the memories," she said. "We have to keep going and try to take care of each other."