Oregon. Minnesota. Illinois. New Mexico.
Anticipating a wave of women willing to cross borders to get an abortion, these abortion-friendly states are permitting a string of new clinics to open on their periphery.
All that is in defiance of surrounding states that have banned abortion or severely restricted it since Roe v. Wade was overturned June 24, upending a nationwide system of easy access to the procedure. Currently, 12 states have a near-total ban on the procedure; another four have bans at six, 15, 18 or 20 weeks of pregnancy; nine states have pending bans that are being challenged in the courts; another nine states allow abortion with various limits, and 16 states plus the District of Columbia have laws protecting abortion access.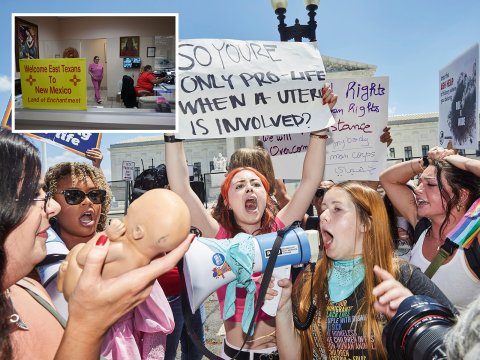 This checkerboard of access has created lengthy car journeys for women having to sometimes traverse several states in search of an abortion, as well as a brisk business for moving vans helping clinics in states where abortion is banned or severely limited relocate hundreds of miles away.
Some critics have labeled this the new "abortion tourism," creating regional abortion outposts next to states where the procedure has been outlawed.
"We have seen a lot of Texas license plates at the abortion centers in New Mexico - women driving 16 hours from Dallas, Houston and San Antonio," said Mark Cavaliere, CEO of the Southwest Coalition for Life in Las Cruces.
After the September 2021 passage of the Texas Hearbeat Act - which limits abortions to around the first six weeks of pregnancy - the overall number of abortions performed in New Mexico tripled, he said, with out-of-state women as the recipients of three out of every four abortions.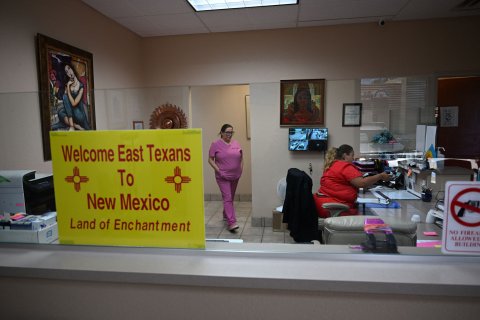 A sign in the waiting area of the Women's Reproductive Clinic, an abortion clinic in Santa Teresa, N.M., welcomes an influx of Texas residents.
ROBYN BECK/AFP via Getty Images
In 2020, there were 930,150 abortions in the United States, an uptick from 916,460 in 2019, according to the Alan Guttmacher Institute, an independent organization that was formerly part of Planned Parenthood. Abortion clinic operators who've relocated rather than go out of business want to make sure that abortion access remains open.
New Mexico seeing a brisk business in abortions
Among the several clinics that have opened in Las Cruces is the Jackson Women's Health Organization, the Mississippi clinic at the center of the Dobbs v. Jackson decision that overturned Roe. After Mississippi passed a law in 2018 banning abortion after 15 weeks, the clinic challenged the law's constitutionality in court. This past June, the Supreme Court ruled there is no constitutional right to an abortion.
The clinic closed its doors in Mississippi in July and relocated to Las Cruces, about 45 miles from the Texas state line. Its new name is the Las Cruces Women's Health Organization.
Whole Women's Health, which owns clinics in several states, is relocating its four defunct Texas clinics to eastern New Mexico. As of Sept. 7, it had raised $307,038 via GoFundMe toward a $750,000 goal for moving expenses.
"We don't have a site yet," said Amy Hagstrom Miller, president and CEO. "We'd like to be in a border community because so many of our patients in Texas have been displaced. [Eastern New Mexico cities such as] Clovis, Hobbs and Roswell would be closer to Texas but those are small towns and there's not a lot of real estate."
Items on her plate include getting out of several leases, packing equipment, securing patients' files, obtaining a clinic license in New Mexico, hiring eight to 10 people in the new locale and searching for office space between 4,000-5,000 square feet.
"Our first step is to get one clinic open, but the need may be greater than that," she said. "We're trying to pay attention to where people are migrating to and where communities are most supportive of the work."
She recently visited her Bloomington, Minn., clinic, where half the patients have been from outside the state. Some had driven 17 hours from Texas.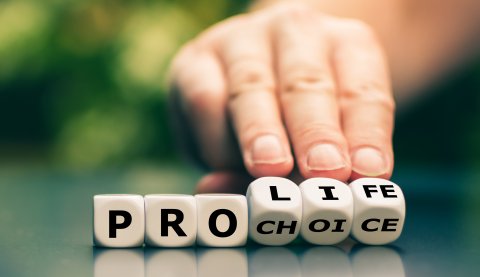 The overturning of Roe v Wade on June 24 quickly made abortion illegal in several states.
Getty Images
"It was pretty shocking how far people came and that was on one random day I happened to drop by," she said. "Unfortunately, this is going to increase. I've been prepared to wind down clinics in Texas and Indiana (where major restrictions on abortion kick in on Sept. 15) and ramp up clinics in Minnesota, Maryland and Virginia."
New Mexico is one of several states that has gone out of its way to welcome abortion business. In June, Gov. Michelle Lujan Grisham signed an executive order giving abortion providers additional protections in her state, such as refusing extradition requests for abortion doctors from states where performing an abortion past a certain point in a pregnancy is a criminal offense.
And on Aug. 31, Grisham announced $10 million in state funding for an abortion clinic in the Las Cruces area. It was not clear from her announcement whether the money would go for a totally new clinic or to buttress some of the arrivals from out of state.
Oregon city hopes to serve women in Idaho and Utah
Ontario, a small Oregon city the size of 11,000 people on the Idaho state line, is set to host a new Planned Parenthood clinic for women in Idaho, which has outlawed abortion. Clients may also travel from Utah, which does not allow abortion after 18 weeks. Utah's "trigger law," which would halt most abortions, is being held up in the courts; such laws automatically kicked in abortion bans once Roe was reversed.
John Kirby, a city councilman in Ontario, fears that bringing in abortion traffic will ramp up crime statistics, which have been increasing thanks to Ontario's burgeoning marijuana dispensaries attracting customers from cities to the east along Interstate-84.
"The largest retail sales for marijuana in the state are in Ontario," he says. "We have 15 dispensaries here. We get 3% of those sales but that hasn't benefited us. But it's brought crime to our community. With Oregon's liberal social support system, Idaho pushes people who need that assistance to Ontario."
With more people coming into what was once a sleepy crossroads - a five-story Marriott Hotel is the latest new construction going up - he's afraid big-city problems will follow.
"I am worried if the abortion clinic opens up here there will be the same responses as we've had with marijuana. Boise is growing so fast, this will be the closest place for women to get one."
Oregon went even further than New Mexico in offering protections for women wanting abortions. When it was clear abortion would be banned in Idaho, the Oregon state legislature set aside $15 million earlier this year to help cover the abortion expenses for out-of-state patients. Insurance companies operating in Oregon already had to cover abortion for in-state residents with no out-of-pocket costs. Oregon taxpayers fund all state Medicaid abortions, a cost that in past years has ranged between $2.5 million to $1.9 million, as well as abortions for the uninsured and illegal immigrants.
Illinois another destination for abortion providers
In states where abortion will soon be outlawed, some clinics already are expanding elsewhere. Choices: Memphis Center for Reproductive Health, a west Tennessee clinic, is setting up a sister facility in Carbondale, Illinois, 24 miles from the nexus of several states that forbid the procedure. The clinic plans to open this month, with officials keeping the Memphis clinic open for non-abortion care. On Aug. 25, Tennessee's "trigger" law went into effect, making performing or attempting to perform an abortion a felony. The only exception is for serious injury or possible death of the mother.
Anticipating the law, an abortion clinic across the state in Bristol, Tenn., - the Bristol Regional Women's Center - opened up a sister clinic a mile away in Bristol, Va., where it can continue offering abortions under the name of Bristol Women's Health, PLLC. Virginia allows elective abortions through the second trimester.
"Virginia and Illinois are the closest options (for women in central Tennessee)," said Brianna Perry, a member of the steering committee for Healthy and Free Tennessee. "We're encouraging women to go to Carbondale - it's three and one-half hours from Nashville and three hours, 17 minutes, from Memphis.
"But it will be hard for some people to get to Illinois. People have to find childcare. They have to bring a support person with them. There's the cost of gas. For some people, this could cost up to $2,000."
Alan Braid, a Texas doctor who defied a state law forbidding abortions after six weeks last September - and announced the fact in a Washington Post op-ed - has closed shop in San Antonio but is setting up clinics in Carbondale and Albuquerque, N.M. Braid did not respond to requests for comment but has said he'll locate future clinics in states governed by Democrats.
And further to the north in Illinois, clinics across the state line from Missouri, where abortion is also banned, are experiencing a boom in business. One is Hope Clinic, in Granite City, Ill., 10 miles just east of St. Louis, where calls have doubled in the wake of the reversal of Roe.
North Dakota's only abortion clinic moves to Minnesota
In other efforts to locate clinics on or near state lines, the Red River Women's Clinic in Fargo, N.D., moved a few miles across the state line to Moorhead, Minn., to escape North Dakota's trigger ban law. The clinic, which was North Dakota's lone abortion destination, has raised more than $1 million on GoFundMe.
WE Health Clinic in Duluth, Minn., has also reported a 10 percent rise in patients from all regions of Wisconsin next door (where abortion is effectively banned) but also from South Dakota and even Texas. Plus, the increased numbers of women from other states now flooding a handful of abortion clinics in the Twin Cities is causing some women to patronize the Duluth clinic, where wait times are less.
Elsewhere, Planned Parenthood recently opened a clinic in Kansas City, Kansas, just across the Missouri River from Missouri, where abortions are forbidden. It joins two other abortion clinics in the area.
And those are just the first ones out of the block. Depending on how the courts interpret various states' trigger laws, more may be on the way, creating a necklace of clinics around abortion-friendly states.
Their arrival is not always greeted with open arms. On Aug. 4, protesters started a 40-day prayer vigil to end around Sept. 13 outside the new Moorhead clinic location, saying they don't want Minnesota to become an abortion destination.
When Choices announced its new Carbondale clinic in May, protesters gathered outside of the Carbondale city hall, imploring city councilors to change the zoning. The city put out a statement saying abortion clinics are medical facilities allowed in the city's planned business district; hence, Choices does not need city approval to begin operations.
The Las Cruces Women's Health Organization site (aka Pink House West) was picketed on July 19 by more than 300 protesters who worry their city will become known as a national abortion destination. Cavaliere says six abortion centers already existed in the state with another seven or more either confirmed or rumored to be setting up shop.
"We wonder how much they'll end up competing against each other," he said. "Is it even sustainable for this number of abortion facilities to operate in New Mexico?"
Cavaliere, who calls New Mexico a "back alley abortion clinic for Texas," adding that Pink House owner Diane Derzis' former clinic in Birmingham, Ala., was forced out of business a decade ago. A press release issued by the state health department on April 6, 2012, said Derzis' license was revoked because of "significant failures" in following state health regulations.
Derzis called the revocation and a 76-page complaint from health authorities "a witch hunt," to local media at the time. She did not respond to Newsweek's requests for comment.
A clash with conservatives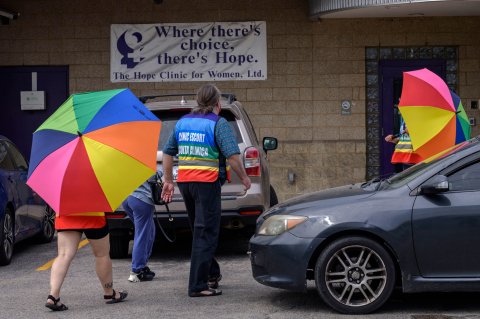 Volunteer clinic escorts shield a patient from anti-abortion demonstrators at the Hope Clinic For Women in Granite City, Illinois. Calls have doubled at this clinic, now that abortion is banned in nearby Missouri.
Angela Weiss/AFP via Getty Images
Starting up new clinics can be a lengthy process and they must be situated in an area zoned for medical uses.
"Planned Parenthood can't just drop an abortion center into a mini-mall or right next to Starbucks at every interstate exit," said Dwain Currier, director of public policy for the American Life League, an anti-abortion group that monitors Planned Parenthood. "They see themselves as a legit medical provider, so they are restricted to medical zoning."
Kirby, the Ontario city councilman, said he got calls from constituents asking whether the abortion clinic could be somehow be blocked. The region, he said, is quite conservative.
"The hospital here is Catholic and I'm a former board member so we won't support abortion so Planned Parenthood is coming into a very conservative place. We have a lot of Catholic Hispanics here, a large LDS [Latter-day Saints] community, a strong amount of evangelicals and Pentecostals here.
"But," referring to the clinic, "there are still people who want what they want." And the Planned Parenthood site is already zoned for medical use, so there's nothing he or other city officials can do about it.
"I feel hamstrung because I am getting calls" from abortion opponents, he says. Ironically, Ontario's explosion as east Oregon's new trade center with major chain stores and shoppers from multiple states enjoying Oregon's lack of a sales tax makes it the perfect abortion crossroads city.
"People from Pocatello, Idaho Falls, Twin Falls, they'll either go to Colorado [for abortions] or come here," he said. "We're just in the wrong place at the right time."