The Chevrolet Colorado midsize truck has been completely redesigned for the 2023 model year. Big changes to the power, technology and off-road prowess are in store.
Chevy says it wanted to focus on elevated design, enhanced performance and new and useful technology with the truck, which now has a single wheelbase and single Crew Cab configuration.
The new 2023 Chevrolet Colorado pickup will continue to compete against the Toyota Tacoma, GMC Canyon, Nissan Frontier and the Ford Ranger.
Chevrolet's new midsize truck has a 3.1-inch longer wheelbase than the current Crew Cab model with a shorter front overhang improving its ability up a steep hill or over an obstacle.
The 2023 lineup includes the Work Truck, LT, Z71, ZR2 and Trail Boss trim levels.
There are three suspension heights. Colorado Work Truck, LT and Z71 trims ride at standard height. Colorado Trail Boss comes with a 2-inch lift and Colorado ZR2 comes with a 3-inch lift.
The off-road focused ZR2 is where the new Desert Boss grade lands with 33-inch diameter mud tires, special off-road shocks, locking differentials, unique styling and other dirt-friendly items.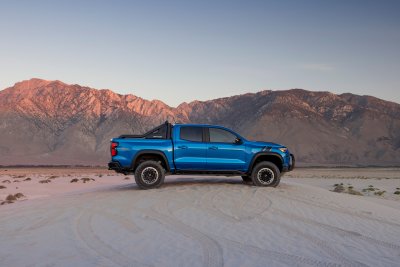 Base Work Truck and LT versions come standard with a turbocharged 2.7-liter four-cylinder (called Turbo in these trims) making 237 horsepower (hp) and 259 pound-feet (lb-ft) of torque. The same engine is offered in the full-size Chevrolet Silverado, though with a higher output. Those base trims can tow 3,500 pounds.
The upgraded ZR1 and Trail Boss come with the Turbo Plus version delivering 310 hp and 390 lb-ft.
The top-tier Colorado ZR2 models will feature a "Turbo High Output" engine delivering 310 hp and 430 lb-ft of torque. Both it and the High Output have a towing rating of 7,000 pounds.
Two- and four-wheel drive versions are offered, all with an eight-speed automatic transmission.
The 2023 Colorado has five selectable drive modes, depending on the model, including Normal, Tow/Haul, Off-Road, Terrain and Baja. The latter three are used when leaving the pavement for dirt, gravel, sand or rocks.
Inside, a new 11.3-inch touchscreen infotainment system is standard and features special functions and configurable screens for trailering and driving off road. Google Built-In handles maps and music.
The new Off-Road Performance Display shows altitude and GPS along with pitch (leaning forward or back), roll (leaning side to side) and tire pressure. Baja mode shows g-force, wheel slip indicator and four-wheel drive status.
The Chevy Colorado has up to 10 camera views including under the body and one pointed at the hitch and trailer to help drivers attach and disconnect. The Trailering App helping them is accessible though the infotainment system but also through a smartphone.
Production of the 2023 Chevrolet Colorado doesn't begin until next year with pricing coming later. The current Colorado starts at $25,500.