2023 Infiniti Q50 Review: Refreshingly Sporty Returning Luxury Contender
The Infiniti Q50 is one of the eldest sports sedans in the luxury class, getting updates over one continuous generation since 2013. Previously known as the G35, the company's only now only sedan has evolved into a good-looking, comfortable, sporty five-passenger vehicle. It now offers just one engine with two outputs, both of which make for an excellent Sunday drive.
The 2023 Q50 features the company's signature double-arch grille highlighted by chrome surrounds. The LED headlights are meant to look like human eyes while the taillights produce their own distinctive light signature at night. Upgraded Sensory and Red Sport 400 trims get a special sporty front bumper that is lower and more angular. They also feature a black front grille, black window trim and a black finish strip on the trunklid.
The top Red Sport model adds black-painted exterior mirrors, red "S" badging, and dual exhaust tips with a brushed satin finish. The Luxe trim comes with 18-inch aluminum-alloy wheels. Sensory and Red Sport 400 trims comes with 19-inch sport-design aluminum-alloy wheels.
Inside, buyers get a textured aluminum trim and a leather-wrapped steering wheel. Luxe and Sensory trims have leather-wrapped seats, with available Graphite, Stone, or Saddle Brown color treatments. The 2023 Q50 Red Sport 400 is upgraded to semi-aniline leather-wrapped seats in white with red stitching or gray with red stitching. The Red Sport also features aluminum pedals and matte carbon fiber trim.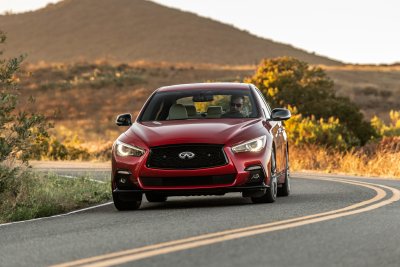 The Q50 has dual displays, one for infotainment and one from climate features, as well as standard wireless Apple CarPlay and USB-based Android Auto. Additionally, a Bose premium sound system features a 16-speaker audio system. It has two standard USB ports in the front, one type-A, one type-C.
2023 Infiniti Q50 Sensory AWD
The 2023 Infiniti Q50 comes standard with rear wheel drive; all-wheel drive is optional. They all come with a seven-speed automatic transmission with paddler shifters and downshift rev matching. That means when a driver downshifts, the engine speeds up to match the transmission. It's made for quick downshifts followed by more throttle for spirited driving.
The twin-turbocharged 3.0-liter V6 delivers 300 horsepower and 295 pound-feet of torque in Sensory and Luxe trims. The Red Sport 400 makes 400 horsepower along with 350 pound-feet of torque.
On the road, this 300-hp Sensory trim is quick off the line and during passing maneuvers. The seven-speed automatic shifts quickly and the paddle shifters, while functional, seem extraneous. The brakes too, are excellent with a short pedal stroke and perfect progression.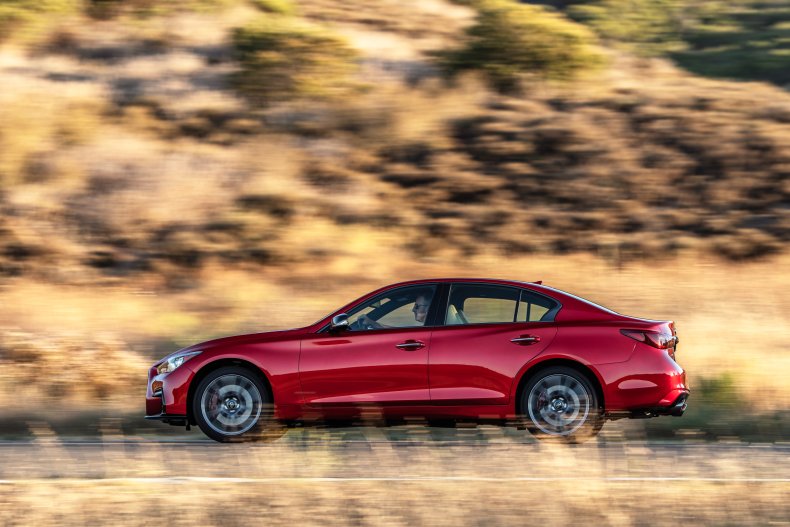 The steering has been improved too. Infiniti was steer-by-wire system for a few years, but thankfully this Q50 doesn't have it. What it does have is perfect weight and feel, even when cornering over rough pavement. With all-wheel drive, there's no danger of oversteering when on the gas pedal.
The Q50 has transformed from a mid-luxury also-ran to a rock solid sports sedan, even in its base trim level. It's been handsome for a few years, but with the Red Sport and other trims, it has the muscle to match the looks.
The heated and cooled seats are comfortable and adjustable. Infiniti says they were designed to minimize pressure on the back muscles by distributing the pressure over a wider area. All of the screens are within reach, however, the technology behind those screens, mainly the upper infotainment, is a little slower than its rivals.
Most people now expect their in-car screens to react like a smartphone screen, and Infinti's screens just aren't that fast. The lower screen is useful to work with the native functions and there are physical buttons for fan speed, temperature and modes. The dash and armrest area also came with piano black trim here, which smudges easily.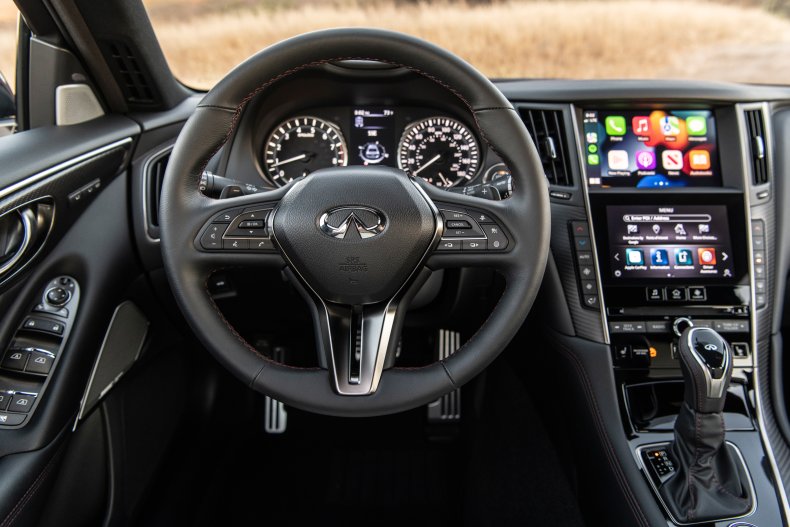 Drivers can set up profiles to each key fob. The 2023 Q50 will remember the seats, radio stations and other settings associated with the driver. Forward-collision warning, automated emergency braking, lane-departure warning, lane-keeping assist, and blind-spot monitoring are all standard.
The Infiniti Q50, starting at $42,650 (before destination and handling) with rear-wheel drive and 300 horsepower, has its closest competitor in the Acura TLX. The TLX is a few inches longer and wider, and has a base price of $39,850 before destination and handling. That base model features a 272-horsepower turbocharged four-cylinder engine. To get the 355-hp turbocharged V6 buyers have to pay $55,550 for the TLX Type S. That also comes standard with all-wheel drive, a $2,000 option on the Infiniti.
The Alfa Romeo Giulia ($43,850) and Genesis G70 ($39,150) are also similar in power and space. Both come standard with four-cylinder engines but both also offer V6s.
Those four sport sedans, ignoring the more expensive BMW, Mercedes and Audi competitors, each have their own character. The TLX and Genesis have better in-car technology; the Alfa Romeo probably stands out the most with its Italian design flair.
The fact that the 2023 Infiniti Q50 comes standard with a V6 makes it a good deal in this segment, and it may be the sportiest driving of the bunch. That may also be expected from a parent company that makes the legendary Z roadster, which has a version of the same engine found here. The Q50 should be high on anyone's list looking for a near-luxury sports sedan.