What Goes Into Determining a Car's Destination and Delivery Fee?
The destination charge is one of the few extra fees when buying a new car that can not be negotiated. It's set by the manufacturer and it's always in addition to the suggested retail price.
Here's what goes into a destination charge and why it not only varies, but also keeps increasing.
The destination charge, sometimes called a freight fee or freight delivery charge, is the amortized cost of getting a car from the factory to the dealership, including everything that entails. By U.S. law it gets listed as a separate line item on a window sticker.
The charge usually ranges between $1,000 and $1,500, though more expensive vehicles or ones with longer trips to the dealership often cost more. The 2023 Ford Escape has a charge of $1,495; the Bentley Continental GT is $2,725. BMW has pledged to keep its destination charges at $995 for the foreseeable future.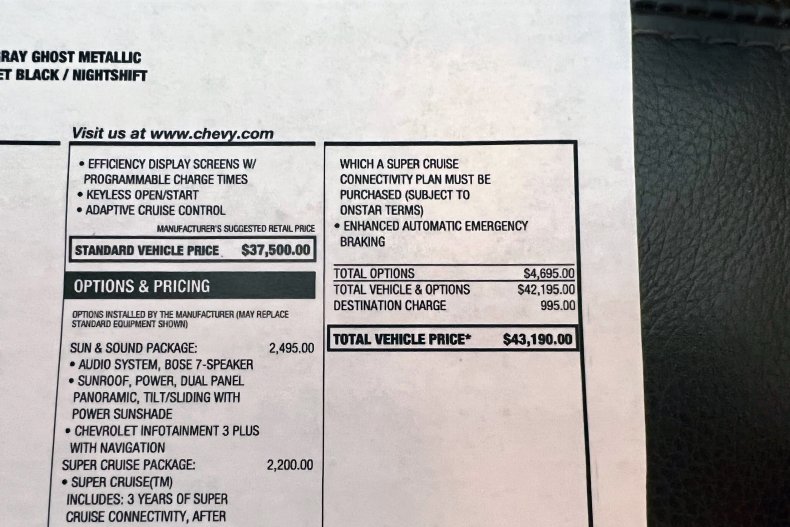 Stellantis notes that it considers the destination charge when pricing vehicles.
"When assessing vehicle pricing, we do not look at any single element of the pricing equation, but rather at the entire equation, which includes MSRP, options, destination/transportation, etc. Vehicle pricing is not about just one element, but rather the total vehicle package," a Stellantis spokesperson told Newsweek.
The price includes the transportation by truck or train, and the fuel costs associated. Manufacturers average out that transportation costs so that a buyer in Michigan near a factory won't pay less than a buyer in Wyoming. The charge also includes quality checks of the vehicles when they're offloaded at a dealership. And if repairs need to be made, those are also covered.
The price of shipping a foreign car from the factory is a separate item, usually included in the base price of the vehicle. Some dealers have been known to charge a secondary delivery or destination fee. This can be negotiated or jettisoned unless the dealer is delivering the vehicle to a buyer's house.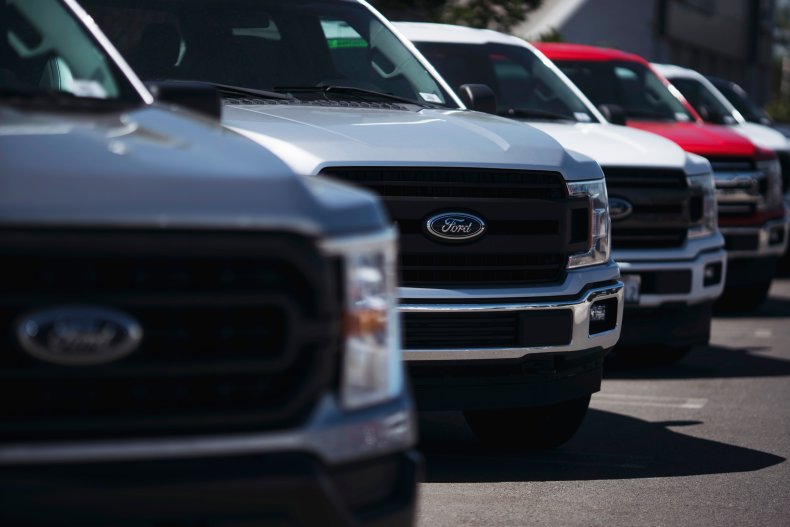 Destination prices have also been rising over the last decade. According to Consumer Reports, the destination fee from mainstream automakers jumped from an average of about $840 to $1,240 from 2011 to 2020. That's a 33 percent increase.
Some of that increase, according to automakers, is related to the size of the vehicles now being moved. With four out of five vehicles sold being trucks or SUVs, less can physically fit on a transport truck. More trucks needed equals more money spent.
Over at the Hyundai dealership, every car has a window sticker, called a monroney, and they all get a line about the non-negotiable charge.
It reads: All prices are F. O. B. (meaning free on board) Port of Entry. That's when the transport truck takes over responsibility for the vehicles from either the ship or the factory. It also reads: Freight, state and local taxes, advertising and promotional fees, if any, are additional. Freight charges added to the dealer invoice and monroney label on all models. Suggested retail prices include pre-delivery services.
Freight charges are added on all models, regardless of distance traveled. But everything else is negotiable so buyers shouldn't be afraid to walk out of the dealership for a better deal.