The Department of Transportation calls it "reincarnation."
A bad actor moving company launches with phony online reviews and promises to save customers money. Next, real reviews start to roll in with horror stories from people complaining they had been dramatically overcharged or had valued personal effects damaged or held hostage. When the bad reviews overtake the good ones, the owner renames the company or launches a new one—along with newly purchased five-star reviews and a new DOT license. Then the cycle starts all over again.
Newsweek has pieced together the anatomy of a moving industry scam that has devastated countless Americans amid threats and harassment from these companies. It has left them furious at the DOT, the federal agency that has issued multiple new licenses to the same people at the same addresses despite repeated accusations against them, all the while doing little to carry out investigations into the soaring number of complaints.
"The DOT is issuing licenses to steal," said New York attorney Susan Chana Lask, who sued several moving companies in 2020 in a federal lawsuit that was resolved last year.
"They're letting someone file for a license as a broker or a mover and all of a sudden, with that license, these sham movers and brokers are putting up websites and reeling consumers in for the big bait and switch," said Lask, a consumer rights attorney. "You pay people to steal your property. Nothing seems more sad and vile."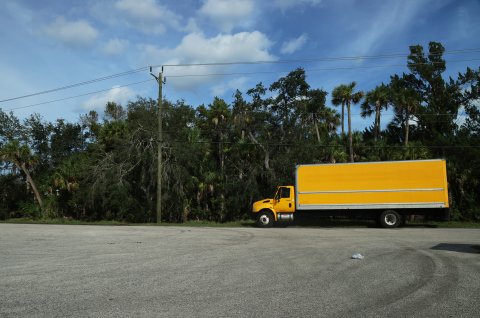 Moving brokers face far less DOT scrutiny than the carriers that have the trucks and do the actual moving, though carriers have also been accused of hurting customers.
Complaints about moving companies to the U.S. Department of Transportation's Federal Motor Carrier Safety Administration totaled 7,647 in 2022, or more than double the 3,030 filed in 2015. A record 10,133 were made in in 2021, according to figures given to Newsweek.
Meanwhile, the FMCSA, the agency responsible for licensing moving brokers and carriers, has pursued only 13 criminal cases (via the Department of Justice), and the DOT's Office of Inspector General has settled only six civil cases against household goods moving companies since Jan. 1, 2017. The agency said it also works directly with movers and consumers on complaints and resolved more than 1,100 of them in 2022, though that includes complaints closed because the consumer could not be reached.
"As the new head of FMCSA, I'm committed to expanding our current efforts to investigate and hold scam companies accountable," FMCSA Administrator Robin Hutcheson said in a statement provided to Newsweek. Hutcheson, who has been in office a year, also noted that the problem is on the rise and that the agency plans to increase the number of moving company investigators this year from eight to 17.
Still, "a significant expansion of FMCSA's capacity and authority in household goods enforcement would require congressional action," a Department of Transportation official told Newsweek, on condition of anonymity because the person wasn't authorized to speak on the issue.
The current ratio of moving company complaints to closed civil and criminal cases is "shocking," said Teresa Murray, director of the consumer watchdog program at the Public Interest Research Group, a national nonprofit advocacy organization.
"That's not representing consumers very well," she said. "It is not okay for consumers to lay victim to these kinds of crimes, this kind of unethical behavior, and have there be no recourse."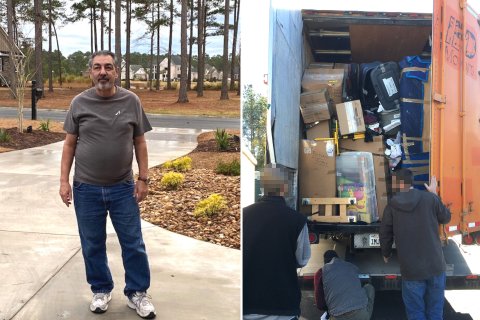 Bill Pompliano still weeps when talking about the years of devastation resulting from his move from Arizona to North Carolina.
The family's goods were held hostage by a carrier contracted by a moving broker. As a result, the 70-year-old retired pharmacist and his wife lost forever almost all photos and possessions belonging to their son, a music therapist who worked with children before he died by suicide more than three years ago.
"There was a lot of emotional stuff that was missing, like his piano," Pompliano told Newsweek, wiping away tears. "Big things ... boxes of photos, you know, things that we just were devastated by ... he was our only child."
The company Pompliano had chosen was Florida-based Gold Standard Relocation LLC - which was alleged in Lask's lawsuit to be operating a racketeering criminal enterprise with national reach - a claim that the company's owner, Margaret (Maggie) Drayton denied.
Broker Gold Standard Relocation and Drayton reached a $40,875 settlement in the civil suit in September with Pompliano and others, following a default judgment against New Era, the carrier in the case. The FMCSA is investigating the now-defunct Gold Standard Relocation LLC.
With 3,883 mover complaints, Florida had by far the most—nearly half the nationwide total—submitted to the FMCSA in 2022, followed by New Jersey with 948; California with 635, and Georgia with 304.
While it is unclear why Florida is ground zero for scams, the state is home to more brokers than any other: With 204 registered brokers out of 1,399 nationwide, it accounts for 21% of the industry, according to November 2022 data from the FMCSA. The number of cases investigated and prosecuted at the state level in Florida falls well below the number of complaints.
Florida Attorney General Ashley Moody declined to speak with Newsweek, or to answer questions about the proliferation of complaints and brokers in her state. Her consumer protection division has issued $27 million in fines and restitution against 19 moving companies since January 2019 and has ongoing litigation or investigations into more than 20 carriers and brokers. That compares to a total of 354 Florida movers facing complaints with the Department of Transportation in 2022.
The DOT says its own enforcement actions are limited by a 2019 arbitration decision that held it has no authority to assess mover fines, as it had been doing for years. Instead, it must sue movers in civil court. The agency can also pursue criminal action but says it has limited resources to investigate and must rely on the FBI and the Department of Justice to pursue criminal cases. The DOJ declined to comment, and the FBI did not respond to multiple requests from Newsweek for comment on its enforcement efforts.
But the DOT rarely pursued enforcement even before the 2019 ruling. And a website the department launched that year to help consumers avoid moving scams erroneously listed thousands of formerly licensed companies as active carriers and brokers (the DOT quickly fixed the errors after Newsweek alerted them to the issue).
"The Department of Transportation, from the start, needs to evaluate: Why are there brokers?" said Murray, of PIRG. "And if there are legitimate ones, why isn't there more oversight? Why don't they have to jump through more hoops, like the actual moving companies do with the inspections and everything else?"
The anatomy of a scam
In the case of moving brokers, many consumers never realize they aren't directly hiring a carrier. Bad-actor brokers will misrepresent themselves as carriers, charging thousands of dollars to get a deposit for a job while intentionally underestimating how much volume the customer has to move – a practice called "shaving cubes." When the actual carriers show up on moving day, they often demand double, triple or quadruple what was agreed upon, citing more cubic feet than was in the estimate.
It doesn't take much to become a broker.
In Florida, it costs $125 to register as an LLC, for example, and $600 to become registered and authorized as a broker with the DOT. In other words, the cost of starting a broker business in Florida is $725, plus the cost of obtaining a mandatory $75,000 bond or trust fund agreement – which ranges from $938-$9,000 depending on a broker's credit rating and length of time in the industry, said Zach Frederick, the chief operating officer of Pennsylvania-based Lance Surety Bond Associates, Inc.
For carriers, the burden is higher. They must pay a monthly premium for a minimum of $700,000 worth of insurance and abide by and regularly face inspections for compliance with truck and driver safety laws.

A former employee of Gold Standard Relocation and several other broker companies said the companies changed names often.
"Sometimes they'll hold a raffle, they'll say, 'All right, whoever comes up with the best (new company) name gets 50 bucks, gets 100 bucks," said the employee, one of two who spoke to Newsweek on condition of anonymity because of concerns about retribution and future employment.

Gold Standard Relocation and its different incarnations were owned by Drayton, the subject of the recent lawsuit that was settled out of court. Newsweek pieced together the companies she had founded, owned, managed, or was a member of since 2016.
In addition to Gold Standard, there were Relocate US LLC; Liberty Bell Moving Group; Keystone Moving Group LLC, and Moving Solutions LLC. Then there were Armada Moving Group, LLC; Legacy Van Lines LLC and Real Time Relocation LLC, according to Florida state public records.  Some of them were distinct, new companies. Others were name changes filed with the state of Florida.
Drayton told Newsweek in a written statement that she has heard of reincarnation of moving companies, "however, this is not the case with these companies." She said that different companies were launched with different partners and that others were created, or names were changed when she tried to branch out into different types of transportation services.
"The allegations in the recent lawsuit on the racketeering criminal enterprise theory had absolutely no merit," Drayton said in a statement provided to Newsweek.
"The case was settled for an insignificant amount of money ... and the settlement avoided substantial litigation costs that could have taken one year or more," she added.
Spotting Fake Reviews
Moving companies - good or bad - live and die by their online reviews. And among the bad actors, it's the beginning of the reincarnation process that launches each cycle of the scam.
Prior Reviews: Typically, real reviews come from people with many other previously posted reviews that are visible to anyone online. Fake reviews, on the other hand, are often from people who have only ever posted one online review, or have purportedly posted many reviews - but all those reviews are private and non-viewable.
Timing: Check the dates. If many of the reviews were posted within a short period of time, that can be a sign that the testimonials were purchased.
Language Matters: Fake reviews often contain scene-setting descriptions, while real reviews will be more direct and concrete. In other words, false review writers use more verbs, while real reviews use more nouns, according to a 2011 study by Cornell researchers.
Source: Public Interest Research Group
Drayton denied all wrongdoing, according to filings in the case. She declined to be interviewed by phone or in person—she is now involved in other businesses and operating an urban farm in her yard.

Gold Standard's two employees painted a damning picture of the industry. The job was "manipulating people in order to get the money," the first former employee claimed.
"You can make a healthy living and provide a service and do it the right way. Or you can make tons of money - astronomical amounts of money - and screw people over," said a second former employee. "You can do it the wrong way and you can make - I mean, you can make millions."
The two employees described a setting where workers received large commissions for closing deals, which created an environment that incentivized lying to customers and setting them up for major price hikes.
"When they're dispatching the job, they'll say something along the lines of, 'Hey ... I got a job going from California to Texas, and I got it at $6 a cubic foot ... you can bump this (price) as much as you want,'" the first worker claimed.
"What are they (the customer) going to do? They put them in between a rock and a hard place," the employee said. "'Either you pay us our money or we're shutting the doors and we're taking off and then you're going to owe us storage fees. You're going to owe us redelivery fees.' All these other things get tacked on to make that $1,800 price all of a sudden $10,000."
The sales reps at the companies would often avoid taking customers' calls if they thought someone was attempting to cancel a move within the 72-hour window after a deposit was paid - it's the only period when a consumer has a shot at a refund, the employee alleged.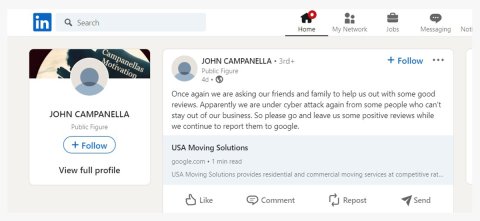 "After the 72-hour window, then they'll call the customer back, 'Oh, sorry. We just got your message and it seems like you want to cancel ... well, it's past the 72 hours,'" the first former employee said, adding refunds are rare.
Drayton denied her companies did this and said that misrepresenting Gold Standard to customers "was not tolerated at our company" and that employees were trained to abide by the law.
Many brokers and carriers also strategically don't take American Express or Discover because those companies tend to favor customers in price disputes, the former moving broker employees said. They push for irreversible deposits via Zelle, Cash App or bank-to-bank (ACH) transfers – a red flag that consumer advocates suggest people avoid at all costs.
Damage Done
Pompliano hired Florida-based broker Gold Standard Relocation, which contracted with carrier New Era Relocation, in December 2020 for his cross-country move.
He said he specifically asked whether Gold Standard Relocation was a broker and a company representative assured him that it was a carrier with its own trucks and storage facilities. New Era Relocation, meanwhile, a history of holding customer possessions hostage, jacking up prices and threatening to auction off anything of value, according to allegations in the federal lawsuit and multiple consumers who spoke with Newsweek.
Drayton told Newsweek in a statement that "Gold Standard ended its relationship with New Era as soon as the quality of their moves came into question." However, the company contracted with New Era for Spinner's move – which was rife with problems – in July 2020, and it was still working with New Era in December of that year when Gold Standard contracted with the carrier to move at least three other people who also ended up suing over lost and damaged possessions.
"Gold Standard acted as a licensed interstate broker for the property that was transported by New Era Relocation LLC and, as such, Gold Standard has no liability to plaintiffs," Drayton's lawyers said in the response to the lawsuit.
The victims say they were misled about whether they were hiring a broker in the first place.
"When he (a representative from New Era) said he dumped our stuff in a trailer in New Mexico, in a broken-down trailer, and that I was never gonna get my stuff back, I got really upset," Pompliano said. "They got more and more abusive as I became more and more frustrated with them."
Since the lawsuit was settled, Gold Standard Relocation has been dissolved and another of Drayton's companies—Real Time Relocation—has been sold to Drayton's former business partner, John Campanella. He also owns Real Time Relo LLC (with the same address as Real Time Relocation, but no DOT number), and his wife owns USA Moving Solutions (listed at the same address as Gold Standard Relocation), according to public records. Those companies continue to get mixed reviews on sites such as Trustpilot and Verified Movers and have a 4.3 rating on Google reviews.
Campanella says that his companies and the ones operated by Drayton were legitimate, good actors that were unfairly targeted with bad reviews online. He said that another company with a similar name - Gold Standard Moving and Storage, established in 2020, according to Florida public records - stole their name and created a similar website, causing the bad reputation and reviews. Gold Standard Relocation was established in 2018, according to records.
The Gold Standard Relocation "that I worked for was run with integrity, such as my company is run with integrity. The only way a customer's price can go up is if they add more inventory ... (or) if they have more steps (for the movers to navigate)," Campanella told Newsweek.
"If a customer had a half a truck and they want to fill up a whole truck, now I have to charge them for the whole truck," he said.
Newsweek was unable to reach Gold Standard Moving and Storage for comment. It has now had its license revoked.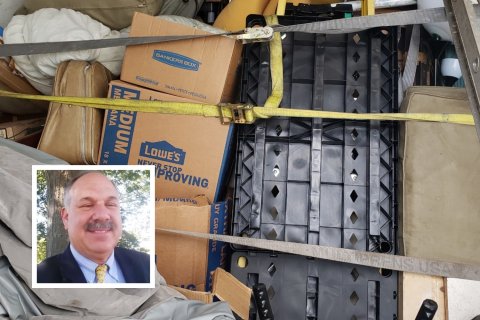 For people like Jeffrey Spinner, a former judge on New York state's Supreme Court who also hired Gold Standard Relocation, the lack of federal action to help consumers get their goods back is shocking.
"DOT didn't do much," Spinner told Newsweek, of the complaint he filed. "We got an acknowledgement: 'Yes, we received your complaint. You should be aware that their license has been revoked.' Not very helpful."
Like Pompliano, Spinner said the carrier (also New Era) increased the price the day the movers arrived and refused to move his possessions until he paid more. Later, when New Era failed to deliver while also demanding more money, he couldn't get Gold Standard Relocation on the phone. Eventually, after months without any sign of his goods, he called a lawyer. And that's when the harassment really escalated.
"This is Chris, GM at New Era. You've been f...ing around with us for six months. I'm going to auction your stuff."
The voicemail obtained by Newsweek was one of many threats Spinner said he heard during a nightmare that ultimately resulted in lost and damaged property, including a grandfather clock that had been in his family for generations.
"There were my wife's family photos that date back to our parents, grandparents, great grandparents," he said. "Those are things that you just can't replace."
Some of Spinner's possessions were found - mostly damaged and mildewed - in a trailer 18 months later, parked off the side of a road in New Jersey.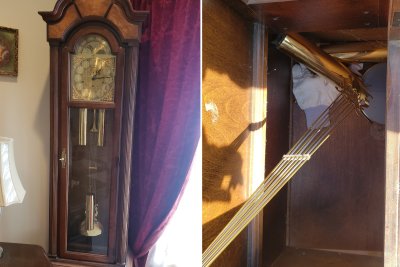 Misleading Information
Victims of these scams typically have trouble holding movers accountable because many companies list addresses that are not where the business physically operates.
A Newsweek analysis found several instances in which multiple moving companies were registered to the same address and/or owner. Newsweek traveled to Florida to track down some of those addresses, some of which appeared to be fake.
Some of Drayton's moving companies, for example, were linked to an address in an Ormond Beach, Florida, office building where one tenant, Lance Abrims, told Newsweek he had "never seen a moving company in this building, ever."
Abrims said he has seen "four or five people" show up looking for the moving company in the past year at the otherwise "quiet" building.
"What we've had coming through the front door once in a while is some super irate people, and they're like, 'I got ripped off'," Abrims told Newsweek.
Drayton later told Newsweek that she hasn't had a business operate out of that office since 2018.
One of Drayton's company's addresses was a mailbox instead of a physical address, according to public records and an in-person visit by a Newsweek reporter.

Drayton's attorney, Miami-based Jessica Shraybman, did not respond to requests for comment on her role as a registered agent in establishing multiple companies linked to a few addresses on behalf of Drayton.
Said Murray of PIRG: "You hear about these places that will just rent out their address, basically rent out their storefront or the physical mailing address to make a company look legitimate."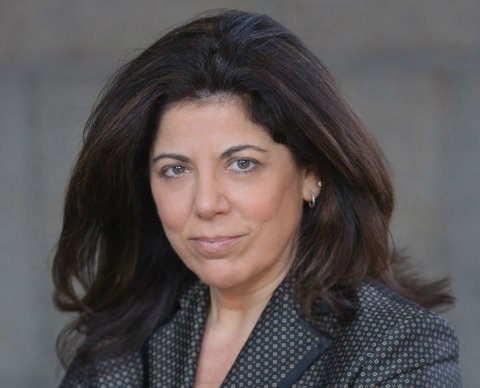 Attorney Susan Chana Lask is licensed in New York State and works on consumer protection issues.
Courtesy of Susan Lask
Lask represented Pompliano and Spinner in the civil case, which cited the federal RICO (Racketeer Influenced and Corrupt Organizations Act) to go after Gold Standard Relocation and New Era for what she says amounts to operating a criminal enterprise.
The companies and defendants denied the allegations, according to court documents.
"Gold Standard did not transport the subject shipment or control the operations of the vehicle transportation by New Era Relocation LLC which is the subject of the Complaint and therefore it cannot be liable to the Plaintiffs for any alleged damages of which Plaintiff complains," the defendants said in the lawsuit.
New Era also denied wrongdoing and argued that "any damages alleged to have occurred may have been due to the negligence of plaintiffs or others acting on its behalf," according to its response to the complaint.
Lask said lawyers were generally reluctant to take on such cases because they are bound by the 1906 Carmack Amendment, a 1906 law that limits the liabilities of household goods movers to the agreed-upon value – and many people don't realize the low dollar amount of compensation they are signing off on in their contracts should all their goods end up lost or damaged.
"There's no attorney's fees, there's no emotional distress, there's no punitive damages," she said, adding that consumers often sign binding contracts that limit their insurance losses to as little as 50 cents a pound.
The lawsuit filed against New Era Relocation LLC and Gold Standard Relocation LLC was the first to win a federal injunction requiring broker and carrier to permit the plaintiffs to take inventory and possession of their property, Lask said. The judged issued an order that barred the defendants from destroying the customers' property and required Gold Standard to make "a bona fide effort" to find and disclose the location of the property to the plaintiffs.
Later, Lask settled with Gold Standard and won a default judgment against New Era in the Eastern District of New York. New Era's owner, Mede Karimov, sought bankruptcy protection for the company in an effort avoid a judgment against him in the case, but his claim was denied, Lask said. He has since disappeared.
Newsweek could not locate Karimov and attempts to reach his former attorneys were unsuccessful.
Similar Name, Similar Problems
Nationally, the company with the most complaints in 2021 was the similarly named Gold Standard Moving and Storage. It had 320 complaints lodged against it that year, 100 more than any other company received in 2021 or 2022. The company's DOT license was revoked on Nov. 3, 2021, yet it continued to generate complaints in 2022. Gold Standard Moving and Storage also faces a civil suit from the Florida Attorney General's office, which declined to comment.
The company with the second highest number of complaints in 2021, US Pro Moving and Logistics, has the same address and owners as Gold Standard Moving and Storage. National American Van Lines (unrelated to the similarly named large national brand) ranked tenth with 91 complaints and is also linked to Gold Standard Moving and Storage, according to Moody, the Florida attorney general.
Moody filed a lawsuit Dec. 8 against Gold Standard Moving and Storage, seven brokerages linked to it, two holding companies and three officers or managing members of it.
The lawsuit alleges Charles Gordon Abrams, Daniel J. Metz and Rudolph Logan Rice acted through the companies to deceive more than 400 Floridians into believing they were professional movers who promptly issue refunds whenever warranted. Abrams declined to speak to Newsweek, as did his attorney.  Newsweek was unable to locate Metz and Rice.
The lawsuit also alleges the defendants created fake reviews, and constantly changed firm names to avoid consequences. The defendants operated single call centers for multiple companies and employed high-pressure sales tactics, according to the complaint.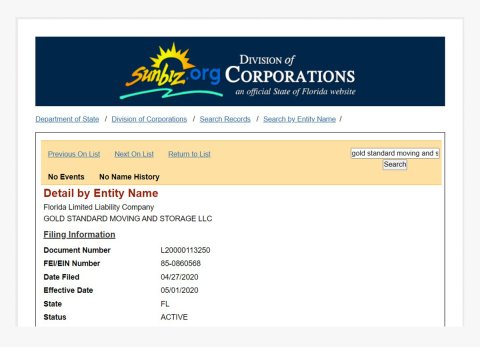 Gold Standard Moving and Storage is still listed as active, according to Florida's Division of Corporations.
The company had a number of addresses listed on its state and federal paperwork. Newsweek tracked down several of these locations: One was an empty lot that the current owner said has been empty for at least seven years; another was a rundown office building that the manager told Newsweek had never been rented to a moving company - but had been rented to Abrams to operate as a flooring company at least six years prior.
The one office Newsweek found for Gold Standard Moving and Storage was abandoned with garbage strewn everywhere.  It had multiple moving businesses operating out of it, according to records: Moving Pros, Executive Van Lines, Allied One. The front door read: "Hercules Moving Solutions."
Newsweek obtained several scripts used by employees of Gold Standard Moving and Storage to sell people on moves using the various company names. They told employees to tell prospective customers for instance that they had been in business for anywhere between 10 and 35 years – far longer than the reality.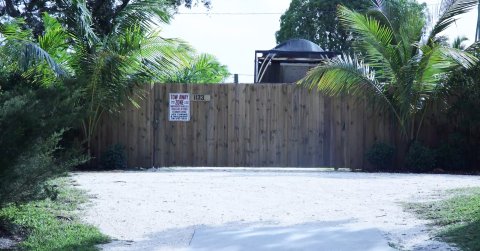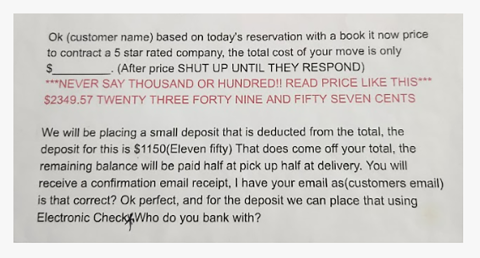 Broken System
If uncertain customers were to go to the DOT for help, it was far from clear they would get it. A DOT website for consumers contained inaccurate information until Newsweek drew attention to it.
FMCSA's ProtectYourMove.gov website provides information on how to avoid scams and allows consumers to search for their mover to confirm they are licensed. Newsweek found that the database inaccurately described thousands of formerly licensed brokers as carriers who were actively licensed—80 percent of the more than 14,000 brokers in the database. The DOT quickly fixed this after being notified by Newsweek.
One of those formerly licensed brokers was Gold Standard Moving and Storage. Consumers who searched the website before it was fixed were presented with search results indicating the company was a carrier while the company's profile page on the website said it was a broker. Gold Standard was not a licensed broker at the time and had never been a carrier.
The Infrastructure Investment and Jobs Act, signed into law in November 2022, requires the GAO (Government Accountability Office) to review FMCSA's consumer complaint database and make recommendations on how to improve the complaint process. In addition, it provides $4.4 billion to FMCSA in largely discretionary funding over five years, providing an average 21% increase in annual funding for FMCSA during that period.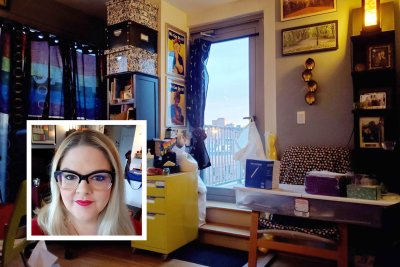 For consumers like Stephanie Wagner, another plaintiff named in Lask's lawsuit, it all adds up to a systemic failure that has destroyed her life. She lost nearly every possession she owned when she hired Gold Standard Relocation, which contracted the move with New Era Relocation.
When the pandemic hit in 2020, her life and business in New York City was put on indefinite hold. Wagner packed all her possessions and paid more than $4,300 (nearly double the binding estimate) to Gold Standard toward her move and six months of long-term storage of her goods while she stayed with family in Hawaii, according to the complaint Lask filed on her behalf.
When she called six months later to pay for more storage, Gold Standard stopped returning her calls. She had no luck with New Era either. As weeks turned into months and someone purporting to be from New Era said that the owner of the company had died and there was nothing they could do, the reality set in: Wagner was never going to see her belongings again.
"My entire life, business, everything that filled an 18-wheeler truck was gone. I have nothing anymore except the three suitcases of clothes that I showed up here with in December of 2020," Wagner said. "They've taken everything from me, so it's been a living nightmare. There's no other way to describe it."
The small settlement that she is to receive from the lawsuit won't cover lawyers' fees, let alone the lost possessions and items with intrinsic, personal meaning.
Wagner, along with other victims and advocates, said they want answers from lawmakers and the DOT about why this issue has been allowed to proliferate, unchecked.
"There's enough evidence that this is a problem for enough people and enough (who) state that Congress absolutely should be paying attention to them," Murray said. "Congress absolutely needs to act on this."
The Lawmakers
Some lawmakers did observe that the conduct was "deeply troubling" and "unacceptable," though none made any specific promises of action.
"These shell businesses must be swiftly investigated, promptly shut down, and held accountable," Sen. Richard Blumenthal, a Democrat from Connecticut, said in a statement to Newsweek. He is on the two Senate committees that touch the issue: Judiciary as well as Commerce, Science and Transportation.
The office of Sen. Ed Markey said that the Democrat from Massachusetts also plans to monitor and push for oversight of industries under jurisdiction of the Department of Transportation.
"Any industry that is systematically taking advantage of consumers should be investigated, and bad actors must be held accountable," Markey, a member of the Senate Commerce, Science and Transportation Committee, told Newsweek.
Valerie Bauman can be reached at v.bauman@newsweek.com or find her on Twitter at @valeriereports.
Matt Clark can be reached at m.clark@newsweek.com or find him on Twitter at @MattTheJourno.