Like many of those locked up in South London's notorious maximum security Belmarsh prison, one of the biggest problems inmate A9379AY faces every day is boredom.
WikiLeaks founder Julian Assange has friends among the other prisoners, and is even pals with some of the guards, but gets little chance to spend time with them. He is locked alone in a 6' by 12' cell for 20 or more hours a day — his reading limited and his mail censored.

"There are many, many hours in the cell," his wife, Stella, told Newsweek from London.
Assange sleeps poorly, she said, meaning that he is often too tired to concentrate properly. But when he can, he likes to read, and recently enjoyed a new biography of the visionary leader of the Haitian slave revolt, Black Spartacus: The Epic Life of Toussaint L'Ouverture. He also tackled In the Thick of It, the autobiography of controversial Tory Minister Alan Duncan.
He is teaching himself to read and write Chinese, she added.
Assange's physical and mental health have declined severely during more than a decade in confinement — first sheltering from U.S. authorities in the Ecuadorian embassy in London from 2012-2019, where he lived in two rooms and never left the building, and for the last almost four years, since he was dragged from the embassy by British police in April 2019, in Belmarsh fighting extradition.
He faces charges in the U.S. stemming from Wikileaks' 2010 publication of several massive troves of diplomatic and military intelligence reports leaked by U.S Army junior intelligence analyst Chelsea Manning. The publication, coordinated with the New York Times and other global media outlets, revealed acts by U.S. and allied forces that experts called war crimes. Nonetheless, Assange faces a decades-long prison sentence if convicted on all counts.
The proceedings in London continue to drag on. It has been more than a year since the High Court cleared the way for his extradition and his appeal was filed in August. But the court continues to weigh it, with no deadline to reach a decision. Even if he loses, there remains the possibility of an appeal to the British Supreme Court, or to the European Court of Human Rights. Assange could be in the U.S. within months, but he might remain in Britain for years.
His family says that with uncertainty about his extradition hanging over him like the sword of Damocles, he has lost weight and become depressed and anxious.
A confinement of uncertain duration
The worst part about the confinement is having no idea when or how he would be able to leave, Stella Assange said. "It is the uncertain duration that makes it so hard to bear ... It's a kind of torture."
Although Assange has yet to be convicted of any crime, "We don't know when he'll be free."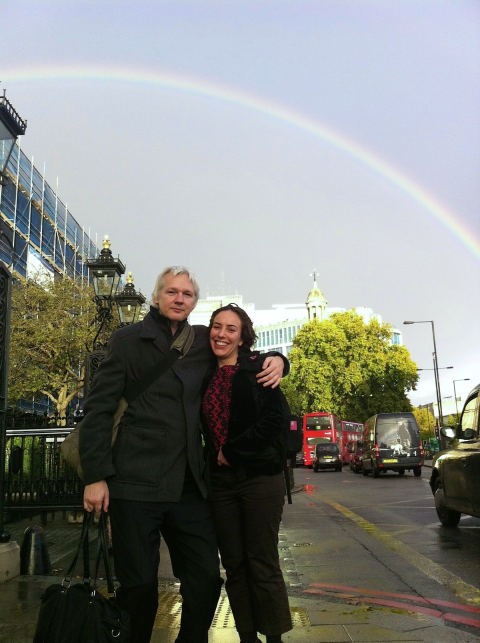 In this 2012 photo, Julian Assange and Stella Moris, whom he married in 2022, share a moment on a London street.
Courtesy Stella Assange
The uncertainty has exacerbated Assange's physical and mental deterioration, his wife said. In October 2021, during a High Court hearing about his extradition, Assange, attending via video link from Belmarsh, suffered a "transient ischaemic attack" — a mini-stroke. He has been diagnosed with nerve damage and memory problems and prescribed blood thinners.
"He might not survive this," she said.
As a remand prisoner, not convicted or sentenced, and facing extradition, not prosecution, Assange is an anomaly in Britain's most secure prison — designed to hold "Category A" inmates such as IRA militants, jihadis and murderers. One of a tiny handful of unconvicted prisoners, prison regulations require him to be treated differently, his wife said.
"He's supposed to be able to get visits every day, he's supposed to be able to work on his case," she said, "But that's only on paper. The way the prison system works, it is more efficient to treat everyone like a Cat A prisoner rather than to try to adapt the rules for individuals. In reality, that just doesn't translate at all." She said Assange is allowed one or two legal visits, and one or two social visits each week.
In between visits, time can stretch. And the isolation has been hard on him.
It's not like on TV, she said. "Prison dramas need content. They need for people to interact. But that's not what it's really like in prison because whenever prisoners interact, there's potential for fights or [other behavior that creates] more work for the people who work there. So the solution that they seem to have implemented at Belmarsh and elsewhere is to just keep them locked up."
Phone calls, his half-brother Gabriel Shipton told Newsweek from Assange's native Australia, are limited to 10 minutes. "You'll just be getting into it and click, it's over."
Neither the governor's office at Belmarsh, nor the press office for the British Prison Service, responded to emails requesting responses to detailed questions.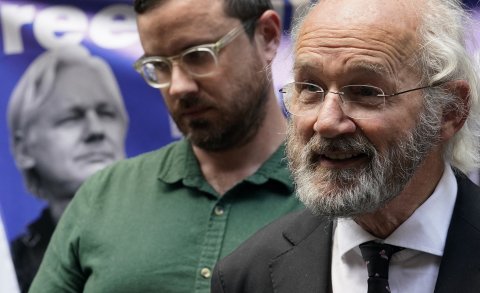 A source of inspiration and power
Assange gets thousands of letters and parcels from all over the world, Stella Assange said, but the authorities interdict banned items, such as books about national security, paintings and other forbidden objects.
His father, John Shipton, told Newsweek from Australia that Assange draws a lot of inspiration and power from the letters that people write to him. During their phone conversations, he will often read snippets or recall memorable letters, Shipton said. "He loves getting them ... You can hear him light up a bit" when he talks about them.
Even the letters he doesn't recieve make a difference, Stella Assange said. "The letters he reads help him feel connected to the world, but above all the letters show prison authorities the world cares about him."
Like the regular protests outside the prison, which she said had elicited sympathetic comments from some prison officers, "all these data points get reported up the chain of command."
The protests have educated staff at the prison, she said. Although the guards "can get into trouble if they're seen to be giving any preferential treatment," they are by and large "good to him." Some even tell him "You shouldn't be here," she added.
Periodically, Stella Assange said, the prison authorities call to ask her to come and collect huge translucent plastic sacks containing interdicted gifts sent to Assange, all carefully cataloged and tagged. "There are a lot of wellness items," such as soaps and candles, she said.
The supporters who write to him, she said, understand the importance of his case, which has become a cause célèbre for those concerned with protecting the First Amendment of the U.S. Constitution, which protects freedom of speech.
"This is the press freedom case of the century. What they're accusing Julian of, they could accuse the New York Times of, or any other journalists, any other publisher, any day they choose. ... If we want an open and accountable democracy, where you can expose corruption and criminality, if that is the society that we want, Julian has to be free," she said.
Seventeen of the 18 charges Assange faces relate to publishing U.S. govermnment secrets, "national defense information" in the words of the Espionage Act, passed in 1917, long before the post-WWII advent of the system for classified information.
A single conspiracy charge under the anti-hacking statute the Computer Fraud and Abuse Act, CFAA, alleges a years-long effort by Assange "to encourage others to hack to obtain information for WikiLeaks."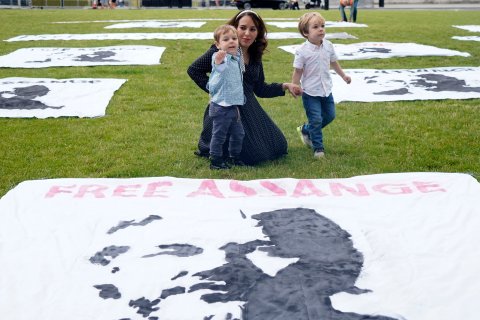 Going to see Daddy 'in the Queue'
Stella and Julian's two sons, Gabriel, 5, and Max, 3, were conceived while he was sheltering in the embassy — his relationship with Stella still a closely held secret.
Gabriel has recently "put two and two together" and figured out that the place he meets his father a couple of times a week is actually a prison, Stella Assange said. "Because he has a concept of what a prison is from TV or whatever, and he asked me the other day 'Is he in prison?' And I said, Yes. He's in prison, but he's not like any other prisoner. He's not there because he's done anything bad. He's there because he's done something good."
Max, for his part, refers to Belmarsh simply as "the Queue" because of the repeated lines the family has had to join to be cleared through to visit. "The checks are very onerous," she said. "The children have to be searched, as well as me. We have to be checked inside our mouths and in our hair, behind our ears, under our feet, and so on. And sometimes there are dog searches, which are quite intimidating."
"The little one just says ...'Will we go and see daddy in the Queue tomorrow?' Because we're always queuing up there. So it's kind of become his word for Belmarsh," she said.
The visits happen in a large hall, with other prisoners and their loved ones, each at their own plastic table. There's a play area for the children and a commissary where the parents can buy chips, snacks and candy. The children can sit on their father's lap and be read to.
Physical contact with adult visitors is more limited. "We're not allowed to kiss on the mouth," Stella Assange said, "but we often do. Whenever that happens, he gets strip- searched after the visits."
'Something very special'
It took months of requests and the threat of a lawsuit, but Assange was finally able last year to tie the knot with Stella, at a small civil ceremony, followed by a blessing from a Catholic priest.
The guards were very friendly and nice," Stella Assange said. "I think for the people actually working there on the day, this was something very special and they were quite excited. ... You know, the institution itself had been very difficult, but the people were nice."
The couple were allowed six visitors - Assange's father and his brother, John and Gabriel Shipton; Stella's mother and brother, and the two children. After some negotiation, the prison authorities provided a staff member to take photographs, and the couple were provided with a couple of printouts, on condition they were not made public.
"The photographer was the guy they use to take pictures when they raid a cell [for contraband]," Stella Assange said, "So we joked that the pictures made the wedding look like a cell raid." During the ceremony, Max, the younger child, fell asleep, while Gabriel, the older one, had to be grabbed to stop him from setting off the fire alarm.
"After the ceremony, which had to happen during visiting hours, we had about a half hour back in the visitor center," Stella Assange said. "So we call the table we sat at 'The Wedding Suite' now whenever we get to sit there during visits."
She adds that the nuptials appear to have set a trend in the prison. "One of the prisoners proposed a few weeks later to his girlfriend ... And another has been asking Julian for advice because that prisoner wants to marry his boyfriend. So it's, it's really started a trend and I'm kind of proud about that."
British courts find U.S. jails "oppressive."
In the U.S., the Justice Department's prosecution of Assange has highlighted criticism of the Espionage Act and its impact on freedom of the press. But in the British courts, U.S. extradition efforts have stumbled over a different issue, and one that's familiar to any observer of U.S. attempts to extradite hackers from the UK.
In January 2021, British Judge Vanessa Baraitser ruled that owing to the "harsh conditions" described by expert witnesses on the U.S. federal penal system, if Assange was to be extradited, his "mental health would deteriorate causing him to commit suicide," owing to his depression and Autism Spectrum Disorder (ASD).
His lawyers had successfully argued that as a prisoner considered a national security threat, Assange would likely be subject to so-called Special Administrative Measures (SAMs), imprisoned in the ADX supermax in Florence, Colorado, or kept like drone whistleblower Daniel Hale in a Communications Management Unit, where contact with visitors is limited and phone calls are monitored by live FBI agents.
"I find that the mental condition of Mr. Assange is such that it would be oppressive to extradite him to the United States of America," concluded Baraitser, and denied the extradition on that basis.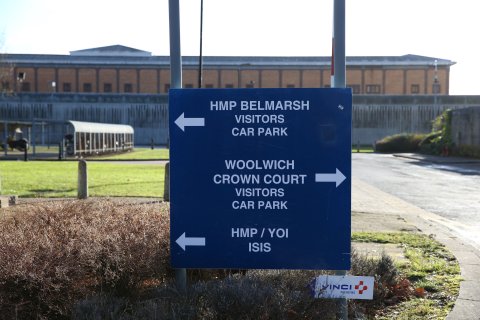 It wasn't the first time the British courts have derailed an extradition by deciding that the likely conditions of the defendant's detention in the U.S. would be "oppressive." In 2018, the High Court quashed efforts to extradite alleged Anonymous hacktivist Lauri Love — like Assange, a depressive with ASD — in the same way, and in 2012, then-Home Secretary Theresa May declined to extradite accused Pentagon hacker Gary McKinnon on similar grounds.
Significantly, in the Love ruling, the High Court held that the lower court hadn't given enough weight to evidence about how prisoners were actually treated in U.S. penal institutions, rather than evidence about the rules and standards under which they were held in theory.
"The evidence adduced by the [U.S. Bureau of Prisons] as to its policies and programmes could not be treated as resolving the issue" of "the actual conditions in which inmates will be held," and how Love would be detained, the court stated.
In other words, the court said it couldn't rely on the evidence of U.S. federal prosecutors about the conditions under which defendants would be held.
After the Assange extradition was denied, the British government, on behalf of U.S. prosecutors, appealed, and the U.S. government took the extraordinary step of offering diplomatic assurances about Assange's treatment in custody.
Most importantly, prosecutors pledged that the U.S. would agree to a request that Assange, if convicted, be allowed to serve his sentence in his native Australia. They also guaranteed that he will get any medical care he needs, and promised that he won't be subject to SAMs or sent to ADX unless he does something to warrant it.
The British High Court accepted those assurances more than a year ago, overturning the lower court ruling in October 2021 and clearing the way for extradition.
But Assange has appealed, his lawyers arguing that the assurances can't be relied upon. And even if he's turned down, there remains the possibility of an appeal to the British Supreme Court, or to the European Court of Human Rights, which still has jurisdiction over the UK even after its exit from the European Union and has agreed to hear Assange's case.
Contact Shaun Waterman at s.waterman@newsweek.com. Follow him @WatermanReports on Twitter.