Joe Biden and Kamala Harris would both beat the two favorites for the GOP nomination in 2024—Donald Trump and Ron DeSantis—in either hypothetical matchup, according to a new poll.
An Echelon Insights survey found that if the next election were being held today, voters would narrowly back Biden (46 percent) over Trump (44 percent), with the president also the preferred choice when up against the Florida governor (45 percent to 41 percent).
When those taking part in the poll said who they would vote for between Harris and the two Republican frontrunners, the vice president also came out on top.
A total of 46 percent of likely voters said that they would vote for Harris, compared to 44 percent who would back Trump in a hypothetical race. Harris also beat DeSantis by 43 percent to 42 percent, albeit within the net margin of error of 1 percent.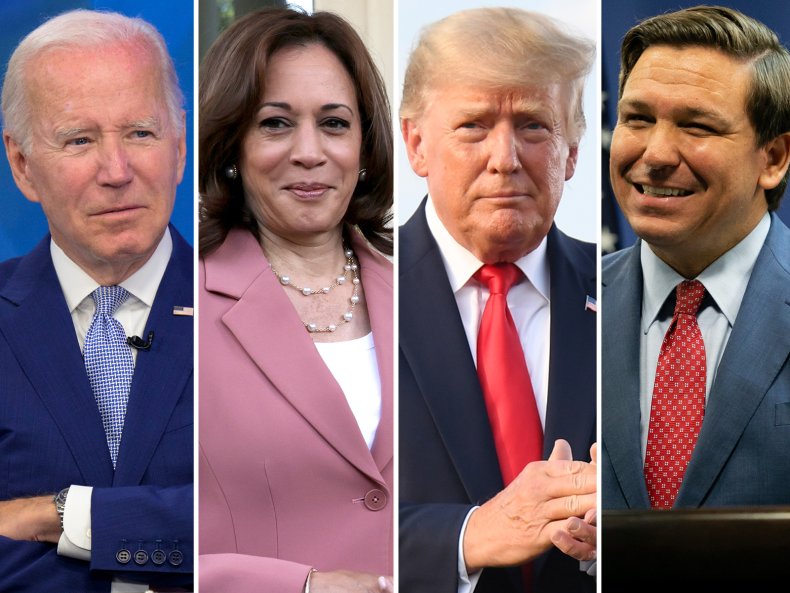 With the next election still more than two years away, it's still far from certain who the final two candidates will be.
The 79-year-old Biden has signaled that he wants to run again, especially if there is the potential for a rematch against Trump, with his own party reportedly expressing concerns about his age and falling approval ratings.
According to the Echelon Insights poll, more than half (56 percent) of likely voters said they don't want to see Biden as the 2024 nominee, compared to 28 percent who say they want him to run again and 17 percent who are unsure.
When broken down, the poll found that 28 percent of those who voted for Biden in 2020 don't want him to run for office again.
The data also don't look good for Trump amid reports he is gearing up to announce his intention to run again in 2024 after hinting at it since he left office in January 2021.
The survey found that 59 percent of likely voters don't want Trump as the GOP nomination in 2024, with just under a quarter (23 percent) of those who supported him in 2020 saying they don't want him to run again.
When Biden and Trump are taken out of the equation, Harris and DeSantis are by far the favorites to clinch the nominations for their respective parties in 2024.
The poll found that if Biden doesn't seek renomination, 26 percent of Democratic voters and those leaning toward the party would back Harris, with Transportation Secretary Pete Buttigieg in second place on 13 percent and Senator Elizabeth Warren third on 7 percent.
As for the GOP, DeSantis holds a commanding lead over his rivals when Trump is taken out of the equation.
Nearly half (45 percent) of Republicans said they would back the Florida Governor for the nomination if the GOP primary were held today, with former Vice President Mike Pence a distant second on 12 percent, and Donald Trump Jr. third at 9 percent.
The Echelon Insights poll was a sample of 1,022 likely voters conducted July 15-18.