Donald Trump Might Announce 2024 Run Much Earlier Than He Would Like
Strong speculation that Donald Trump may be on the verge of confirming his intentions to run again in 2024 is raising questions as to whether it is still too early for him to declare.
The former president is reported to be desperate to divert attention away from the damning January 6 hearing by announcing he will be vying for the White House for the third time.
The speculation increased in the wake of the damning June 28 testimony of former White House aide Cassidy Hutchinson, who said Trump was aware that his supporters were armed on January 6 but he still ordered them to the Capitol, and that he tried to grab the steering wheel of the presidential SUV as he was so desperate to join the riot as it was unfolding.
Trump may also be wanting to take the increasing limelight from Ron DeSantis with an announcement, as polls, bookmakers and donors increasingly believe the Florida governor is the person who should lead the GOP into 2024.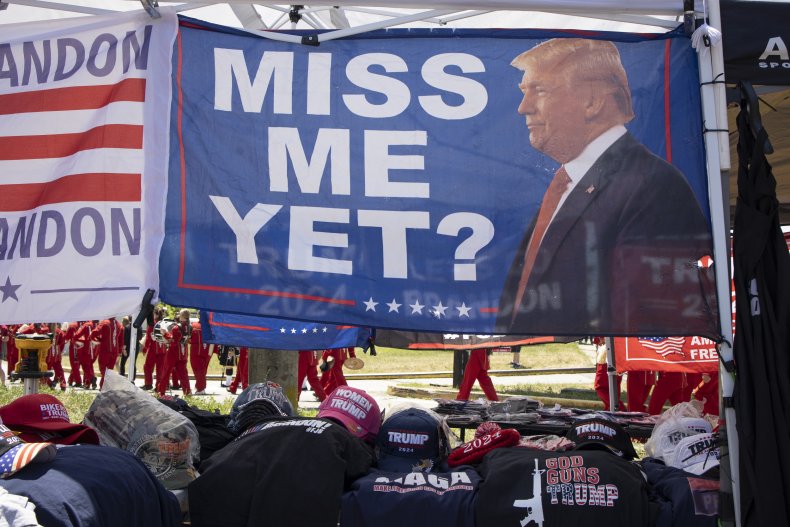 While reports Trump wants to be president again are not particularly surprising—Trump has hinted that he will run again in 2024 almost immediately since he left office last year—the potential timing has raised some eyebrows.
Trump has long suggested he would wait until after November's midterms until confirming whether he wants to run for president, instead focusing on his endorsed candidates winning their respective elections.
Thomas Gift, founding director of University College London's Center on U.S. Politics, told Newsweek that behind the scenes, many Republicans are sure to be "irked" if Trump announces an early bid for the White House.
"The GOP wants the midterms to be a referendum on one word: inflation. With price levels soaring to their highest levels in 40 years, gas hitting $7 a gallon in some cities, and most Americans believing the country is headed on the wrong track, Republicans can coast to big wins in November," Gift said.
"Throwing Trump into that equation would not only create a huge distraction for Republicans. It would give Democrats the opportunity to reframe the midterms much more around Jan. 6 and the future of Trumpism," he explained. "Suddenly, what looks like a cakewalk for the Republicans in November might be anything but."
Some Republicans have already reportedly expressed concerns that Trump deciding to announce his intention to run now may affect the GOP's chances in the midterms.
Ronna McDaniel, the chairwoman of the Republican National Committee, allegedly urged Trump to wait until after November to formally declare his candidacy, citing concerns that his campaign could derail or overshadow the party's midterm messaging, The New York Times reported.
If Trump does declare his intentions to run more than two years until Election Day in order to combat the damming revelations around him, his campaign would be among the earliest announced by a serious contender in modern history.
While it is always difficult to compare Trump to any other mainstream political campaign, history suggests those who choose to jump ahead of their rivals by announcing their candidacy early almost always fail.
In July 2017, three and a half years before the 2020 election, former Maryland Representative John Delaney declared his intention to run for the presidency before dropping out in January 2020.
In the same Election cycle, Andrew Yang filed to run for president in November 2017, with Senator Elizabeth Warren signaling her intentions in December 2018, one month before several other eventual losing Democrat candidates declared in January 2019.
You would have to go back as far as December 1974, when Jimmy Carter announced he would be running for president nearly two years until the election, that you find a non-incumbent candidate who was successful after declaring so early.
The question remains as to whether Trump announcing before the norm would even affect his popularity in 2024. He is still by far and away the favorite to clinch the GOP nomination, even with DeSantis's numbers slightly improving and the January 6 hearing set to continue.
According to a collection of national surveys since November 2021, compiled by Polling USA, as of June 16, Trump's average polling stood at 55.3 percent, with DeSantis a distant second at 19.3 percent.