Trump Wanted Armed Protesters to Attend His Jan. 6 Rally: Meadows Aide
Former President Donald Trump allegedly knew some attendees of his January 6, 2021, Ellipse rally were armed with weapons and still wanted security to let them into the event, according to a former aide of ex-White House Chief of Staff Mark Meadows.
Cassidy Hutchinson testified Tuesday at the sixth hearing of the House committee investigating the January 6 Capitol riot. She said that during a conversation on that day, Trump was told that some of the people in Washington, D.C., would not come through security detectors and join the rally crowd because they were carrying weapons that they did not want to be confiscated.
Trump responded by saying "something to the effect of: 'Take the effing mags away. They're not here to hurt me. Let them in, let my people in. They can march to the Capitol after the rally is over. They can march from the Ellipse. Take the effing mags away. Then they can march to the Capitol,'" Hutchinson said in recorded remarks played in connection to her in-person testimony.
Hutchinson's testimony came during the House committee's surprise Tuesday hearing, which it announced Monday without immediately providing any details on who would testify or what would be the focus. Her recounting of Trump's movements and conversations could be key insight for the House panel as it presents evidence that some hope will lead to criminal charges against the former president.
In a post on his Truth Social page, Trump denied that he called for armed attendees to be allowed into the rally. Trump also denied a part of Hutchinson's testimony in which she said that he was "concerned" about the photograph that would be taken of the Ellipse crowd because "the rally space wasn't full."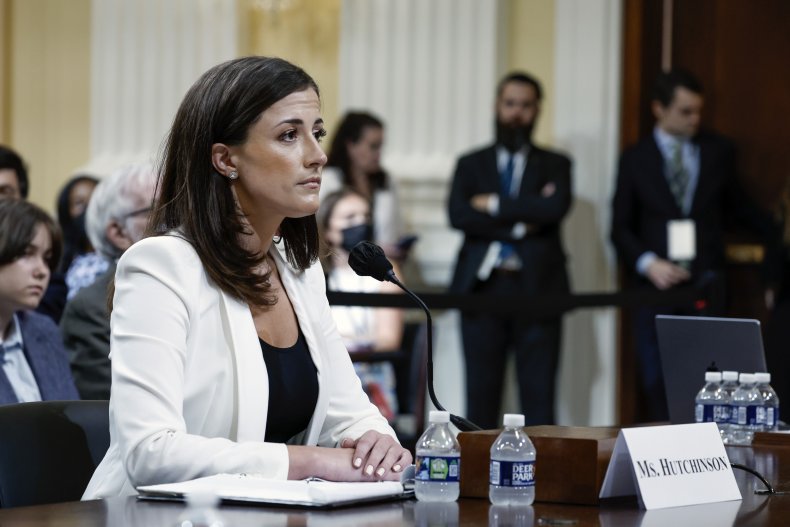 "Never complained about the crowd, it was massive," Trump wrote in the post. "I didn't want or request that we make room for people with guns to watch my speech. Who would ever want that? Not me! Besides, there were no guns found or brought into the Capitol building...So where were all of these guns? But sadly, a gun was used on Ashli Babbitt, with no price to pay against the person who used it!"
Babbitt was fatally shot by a U.S. Capitol Police officer on January 6. The Justice Department announced in April 2021 that it would not be pursuing criminal charges against that officer.
In contrast to Trump's denial, Hutchinson testified to the committee that Trump was "angry" due to security not letting people with weapons into the rally. White House aide Tony Ornato tried to convey to Trump that some attendees did not want to enter because they didn't want their weapons to be confiscated by the Secret Service and that group could see the rally from the National Mall, where they did not have to go through security, Hutchinson said in her earlier remarks.
She also disclosed that this conversation took place mere minutes before Trump gave his Ellipse speech, meaning that he instructed a crowd that he allegedly knew to include possibly armed individuals who were not inside the Ellipse but who could hear him nonetheless to walk to the Capitol.
Newsweek reached out to a spokesperson for Trump for further comment.
Updated 6/28/22, 3:50 p.m. ET: This story was updated with additional information and background.