The House committee investigating the January 6, 2021, Capitol riot has scheduled a last-minute hearing set to take place on Tuesday at 1 p.m. ET.
The committee's announcement of the hearing on Monday came as a surprise after the panel previously said that it would be taking a break until July. The committee said in a tweet that its members would "present recently obtained evidence and receive witness testimony" on Tuesday.
But the panel did not provide any insight on the "recently obtained evidence" as well as on who was scheduled to testify. For previous hearings, the committee had announced the focus and who would testify beforehand.
Those looking to watch the hearing live can do so on the committee's website, specifically under the "Watch Live" tab at the top of the page. Major broadcast and cable networks like C-SPAN, CNN, CBS, ABC and NBC have also been airing or streaming previous hearings. Fox News, which did not air the very first hearing, has said that it will cover the events "as news warrants."
Tuesday's hearing will be the sixth in a series that has allowed the committee to obtain live testimony and present evidence that it says shows a coordinated effort by former President Donald Trump and his allies to overturn the results of the 2020 election and prevent the transfer of power. At the fifth hearing on June 23, the committee examined how Trump allegedly pushed top Justice Department officials to aid him in this plot.
Former acting Deputy Attorney General Richard Donoghue, for example, testified that Trump told him and then-acting Attorney General Jeffrey Rosen in a December 27, 2020, phone call to "just say that the election was corrupt" and "leave the rest" to him and Republican congressmen.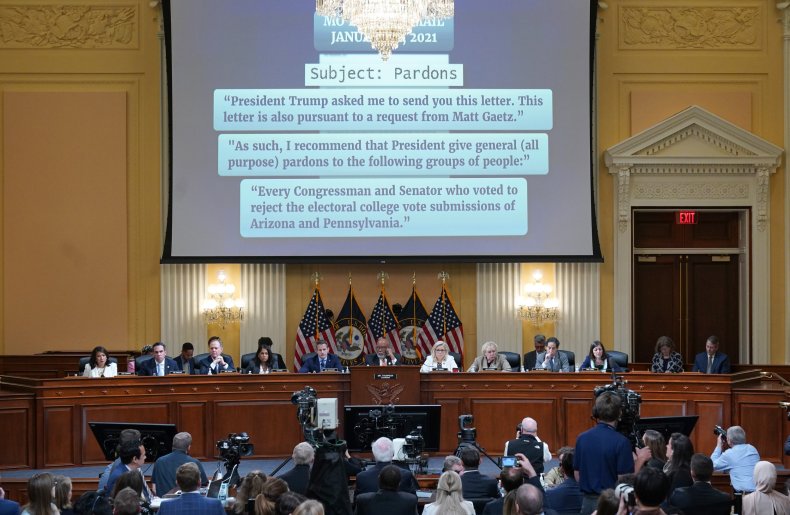 Previous hearings have also focused on alleged "pressure campaigns" by Trump and allies against former Vice President Mike Pence and state and local officials to help overturn the election results.
Though the select committee has refrained from releasing specific details on what Tuesday's hearing will entail, Chairman Bennie Thompson offered a preview last week on what the hearings will focus on when they resume in July.
"We're going to show how Donald Trump tapped into the threat of violence, how he summoned the mob to Washington, and how, after corruption and political pressure failed to keep Donald Trump in office, violence became the last option," he said of the upcoming hearings, referencing the Capitol riot on January 6.
Thompson has also stressed that the committee's investigation is "ongoing" and that previous hearings "have spurred an influx of new information."
Newsweek reached out to the select committee for comment.