Donald Trump's Stunning Ohio Victories Show 'Era Has Ended' for Republicans
J.D. Vance's Republican primary election victory in Ohio, along with those of a number of other candidates endorsed by former President Donald Trump, is a major sign that voters in the state will no longer favor "polite" and moderate conservatives but the firebrand "Trumpism" offered by the Make America Great Again (MAGA) movement, commentators said.
Vance, the bestselling author of Hillbilly Elegy, was declared the winner of the hotly contested Senate race on Tuesday night around two hours after the polls opened. Vance will now face Democratic Congressman Tim Ryan in November's midterms over the Senate seat left vacant by retiring Republican Senator Rob Portman.
His primary victory, in particular, can be seen as a sign of Trump's influence, given the candidate was behind in the polls before the former president intervened, as well as a potential precursor to if the House and Senate will be filled with MAGA lawmakers if the GOP regains control of both chambers come November's midterms.
With 95 percent of the ballots accounted for, Vance received 32.2 percent of the votes, with former Ohio treasurer Josh Mandel second with 23.9 percent and state Senator Matt Dolan—who unlike the other main candidates did not seek Trump's endorsement—coming in third on 23.3 percent.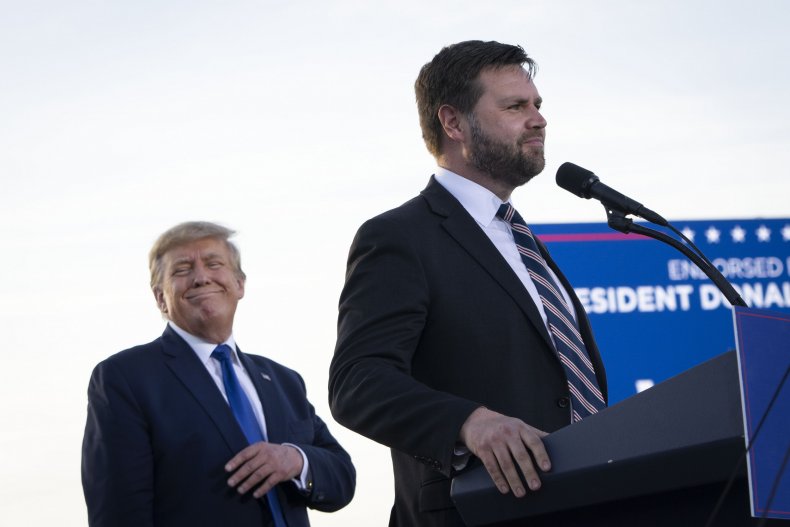 Other Trump-endorsed candidates also won their respective primaries in Ohio on Tuesday, including North Canton attorney Madison Gesiotto Gilbert's victory in the Republican primary for Ohio's reconfigured 13th congressional district, and Max Miller, a White House aide under Trump, who won the Republican primary in Ohio's newly drawn 7th Congressional District.
Miller won his election following accusations he physically assaulted his ex-girlfriend, former White House Press Secretary Stephanie Grisham, which he denies.
He also supported Trump's false claims about voter fraud in the 2020 presidential election, was subpoenaed by the House panel investigating the January 6 attack on the U.S. Capitol, and vowed to "finish the wall" if elected to Congress—a reference to Trump's 2016 election campaign promise to build a wall across the U.S./Mexico border.
David Niven, a political science professor at the University of Cincinnati, said the popularity of Trump can also be seen in the number of votes received by the other candidates in the Senate primary who sought the former president's endorsement while pushing similar policies and parroting his false claims the 2020 election was rigged.
"Trump's endorsement elevated J.D. Vance to the head of the pack. But even with Trump's endorsement, the vast majority of Ohio Republicans voted for someone else," Niven told Newsweek.
"The bigger win for Trump and Trumpism in Ohio is that almost the entire field ran Trumpier-than-thou campaigns, and those candidates collectively took home nearly eight out of 10 votes in the race."
"Ohio Republicans have long favored polite conservatives like Rob Portman. But that era has ended," Niven added. "Ohio catches up with Republicans across the nation who like their candidates fire-breathing and grievance fueled."
Vance was able to get the highly desired endorsement from Trump late in the game despite being a vocal critic of the former president, including describing Trump as "America's Hitler." Vance called Trump an "idiot" and said he had "never liked him" in tweets and interviews from 2016.
Vance later reversed his opinion and went out of his way to embrace Trump's ideas, including pushing the so-called "big lie" that the last election was rigged and calling Joe Biden a "crazy fake president."
Speaking to Newsweek, David B. Cohen, professor of Political Science at the University of Akron, suggested that with so many candidates mimicking Trump in an attempt to appeal to voters in the Ohio primary, Vance in particular needed the endorsement from the former president to stand out from the crowd.
"Trump's endorsement of J.D. Vance clearly had a positive impact," Cohen said. "A few weeks ago, Vance was dead in the water. After Trump endorsed, Vance surged in polling and donations. He doesn't become the nominee without it."