Trump Jr. Says 'GOP is Now the MAGA Party' After J.D. Vance's Ohio Victory
Donald Trump Jr. has praised J.D Vance's victory in the Senate Republican primary in Ohio as proof that "the GOP is now the MAGA party," after the candidate endorsed by his father, former President Donald Trump, won the hotly contested race.
With more than 95 percent of the votes accounted for, Vance leads the crowded field of candidates with 32.2 percent, with former state treasurer Josh Mandel second with 23.9 percent and state Senator Matt Dolan, who saw a last-minute surge in the polls, in third with 23.3 percent.
Vance, the bestselling author of Hillbilly Elegy, will now face Democratic congressman Tim Ryan in November's midterms over the Senate seat left vacant by retiring Republican Senator Rob Portman.
Vance's victory will be seen as another sign of the influence a Donald Trump endorsement can have, given the candidate was behind in the polls when the former president backed him in April.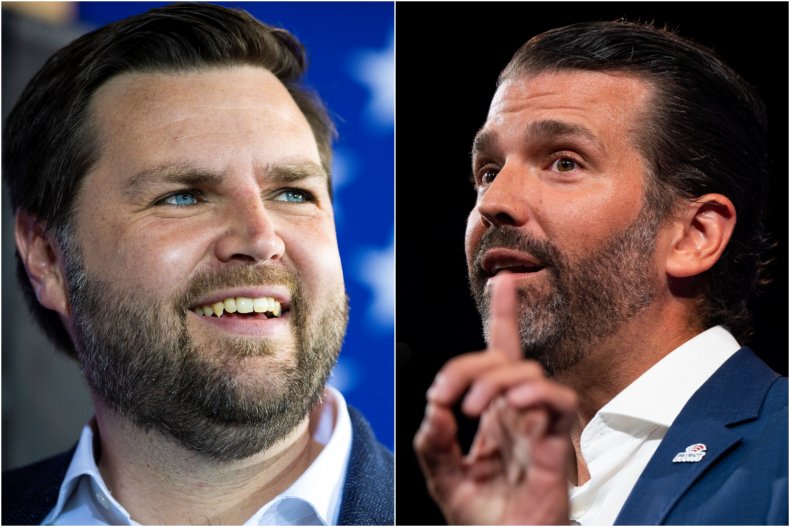 In a series of tweets, Trump Jr. declared that "the GOP is now the MAGA party" while also attacking members of the Republican Party.
"RINOs [Republican in Name Only] are on the endangered species list," Trump Jr. tweeted.
In a video message posted after Vance's victory, Trump Jr. added Vance's victory on Tuesday night, which was declared by The Associated Press around two hours after voting closed, was part of a "great night" for his father's endorsements.
Trump Jr. also noted Vance's victory also arrived in a race in which all the candidates spent a combined $66m during their campaigns, the most ever spent on an Ohio election.
"Tens of millions of dollars. The biggest haters of Trump in 2016 funded literally everyone in a crowded field and they call it before nine o'clock," Trump Jr. said.
"I've been supporting JD for a long time my father came and endorsed him recently, but with plenty of time to throw it over the top so that we can have more people in the United States Senate who will actually fight for MAGA, for the America First movement," Trump Jr. said.
"Where we will put Americans first, where we will have people who will stand up to the establishment, to the RINOs to the left, and put hard working Americans first," Trump Jr. said.
Trump Jr. also accused some members of the GOP of being more concerned with being "loved and invited to the cool person party in D.C." than trying to win over voters who support the Make America Great Again movement.
"No more folks. The MAGA movement is alive and well and we're witnessing it tonight," he added. "Congratulations JD, I know you're gonna make us proud in the U.S Senate."
Trump Jr. had backed Vance before his father endorsed the candidate, including holding fundraisers for the author and touring Ohio to drum up support.
Vance was able to secure the much sought-after endorsement from the former president despite previously being a vocal critic of him, including describing Trump as "America's Hitler."
During a rally in Ohio in April, Trump acknowledged Vance's past criticism.
"He's a guy who said some bad s**t about me," Trump said. "But you know what, every one of the others did also. In fact, if I went by that standard, I don't think I would have ever endorsed anyone in the country."