J.D. Vance Wins Ohio Primary in Crucial Test of Trump's Power
J.D. Vance on Tuesday won Ohio's Republican primary for Senate, and in the process gave a boost to former President Donald Trump's status as a kingmaker within the GOP.
Trump endorsed Vance, an author and conservative commentator, on April 15. The result was an immediate boost in Vance's standings in the polls.
In a March survey by Fox News, only 11 percent of voters likely to participate in the primary supported Vance. Following Trump's endorsement, Fox News found the percentage of respondents who supported Vance jumped to 23 percent.
The recent poll had him in the lead over former state treasurer Josh Mandel (18 percent), investment banker Mike Gibbons (13 percent) and attorney Matt Dolan (11 percent).
Trump's backing of Vance came after the Hillbilly Elegy author previously disparaged the former president by describing him with terms like "noxious" and "reprehensible." On April 18, Vance's former college roommate, Democratic Georgia State Representative Josh McLaurin, shared on Twitter what he said was an old text message from Vance in which he likened Trump to "America's Hitler."
Vance has since apologized for his past comments about Trump and expressed his fondness for the former president. For his part, Trump acknowledged Vance's previous remarks but indicated he saw a winner in the Ohio native.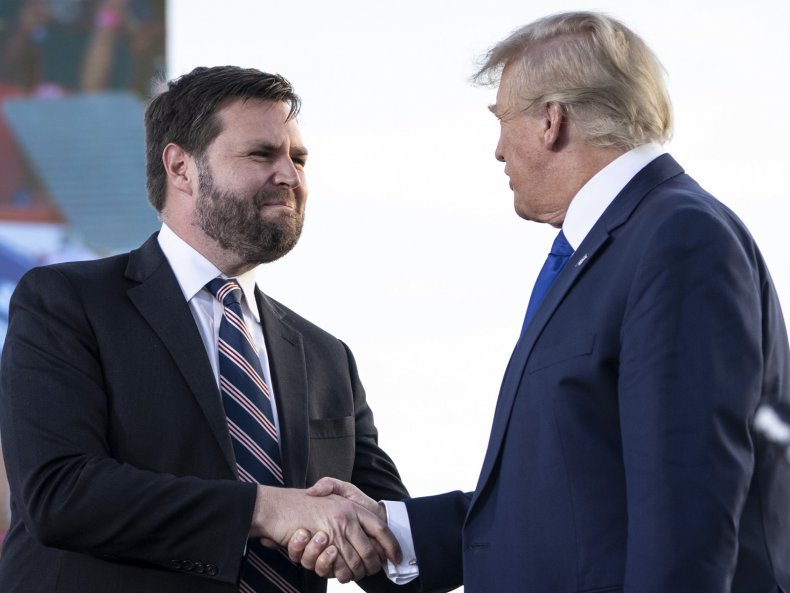 Vance's victory will likely be seen as an important first test of the power of Trump in the coming midterm elections. While Trump's candidates in some races are faring well in the polls, including Representative Ted Budd in the North Carolina Senate race and Herschel Walker in his run for Georgia Senate, others are struggling.
Trump's favored candidate in Nebraska, Charles Herbster, is deadlocked in the polls and facing accusations of sexually assaulting multiple women. Elsewhere, the Trump-endorsed candidate is trailing in the polls for West Virginia's GOP House primary, and Trump's choice in the primary for governor of Idaho is far behind incumbent Governor Brad Little.
Perhaps the most high-profile race Trump inserted himself in is the Republican primary for Georgia governor. After months of publicly deriding his one-time ally Governor Brian Kemp for refusing to contest the 2020 presidential election results in Georgia, Trump endorsed former Senator David Perdue. Recent polling currently shows Kemp with a comfortable lead over Perdue.
Other candidates endorsed by Trump for the coming midterms have proved controversial among Republican leaders and voters.
Last month, the Tennessee Republican Party removed congressional candidate Morgan Ortagus, whom Trump endorsed, from the state's primary ballot because she had only recently moved to the state.
Sean Parnell, another Trump pick, ended his campaign in the fall for this year's Pennsylvania U.S. Senate race after losing custody of his children in a divorce case that included allegations of past domestic abuse. Trump went on to endorse celebrity physician Mehmet Oz, but many conservatives lashed out at the choice.
Meanwhile, voters have filed complaints with state elections officials to disqualify Georgia Representative Marjorie Taylor Greene and North Carolina Representative Madison Cawthorn—both high-profile Trump allies—from seeking re-election for statements they made that have been construed as supportive of the January 6 siege on the U.S. Capitol.
However, Vance's come-from-behind victory could go a long way to proving Trump still holds influence over many voters as well as reassert the former president's hold on the leadership of the Republican Party.