Controversial Republican Representative Marjorie Taylor Greene on Tuesday lashed out during a local news interview after a legal challenge to her fitness for office was allowed to proceed.
Greene appeared via Zoom for an interview with Tennessee-based news station WTVC. During the segment, she became heated and called that legal challenge against her "a lie" and "a scam."
"I'm not accused of anything because I did nothing wrong," Greene said in response to a question from host Ilene J. Gould. "I don't care what the lawsuit says. I did nothing wrong. And this is a scam, okay? So I'm not entertaining this."
Georgia Federal Judge Amy Totenberg on Monday ruled that the challenge against Greene can move forward after the congresswoman previously filed to block the suit with a preliminary injunction. The lawsuit, filed by a group of Georgia voters with help from the advocacy group Free Speech for People, claims that Greene is unfit to hold political office because of accusations she helped facilitate the January 6, 2021, Capitol riot.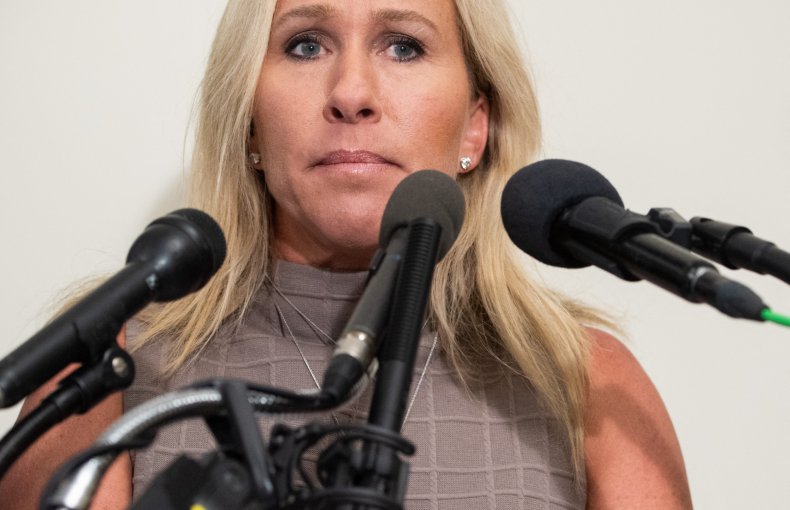 "This case involves a whirlpool of colliding constitutional interests of public import," Judge Totenberg wrote in her Monday decision. "The novelty of the factual and historical posture of this case—especially when assessed in the context of a preliminary injunction motion reviewed on a fast track—has made resolution of the complex legal issues at stake here particularly demanding."
During the WTVC interview, Greene also insisted that there was no insurrection attempt on January 6 when pressed about whether she believed that participants in such events should be allowed to hold office.
"There was no insurrection," Greene said. "No Republican member, no one in Trump's administration or President Trump participated in any riot or had anything to do with it. We were completely shocked."
The 14th Amendment of the U.S. Constitution prohibits individuals from holding elected office if they have participated in an insurrection against the government.
A hearing for the case against Greene is now set for Friday. She will be the first member of Congress to be questioned about the January 6 riot under oath, WTVC added. Greene is seeking reelection this fall in Georgia's 14th Congressional District.
James Bopp Jr., the attorney representing Greene, previously called the case against his client "50 pages of newspaper articles, hearsay and political hyperbole." He also warned that such a ruling against Greene could open up the possibility of a similar fitness for office challenge against former President Donald Trump.
Newsweek has reached out to Greene's office for comment.