A group of Georgia voters looking to remove GOP Representative Marjorie Taylor Greene from the ballot this year received a major victory in court on Monday.
U.S. District Judge Amy Totenberg ruled that the case can move forward. The group's lawsuit alleges that Greene was involved in the U.S. Capitol riot on January 6, 2021, and should therefore be disqualified from office for violating a Civil War-era provision of the 14th Amendment known as the insurrection clause.
Greene, who was seeking an injunction to stop the lawsuit, has denied the allegation that she "aided and engaged in insurrection to obstruct the peaceful transfer of presidential power."
Yet even if the effort to remove Greene from the ballot is successful, the House seat would likely remain in GOP hands, according to Georgia-based political consultant Jay Williams. "I think there's no chance of a Democrat winning that seat," he told Newsweek.
Georgia's 14th Congressional District has long been held by a conservative. Greene first won the seat as a political newcomer in 2020, with 75 percent of the vote. She is running for reelection to a second term this November.
Several other Republican candidates are running against Greene for the party's nomination. But Williams said he doesn't see a scenario in which Greene could lose the primary race. A poll conducted in January between Greene and health care executive Jennifer Strahan showed Greene with 60 percent support from potential voters.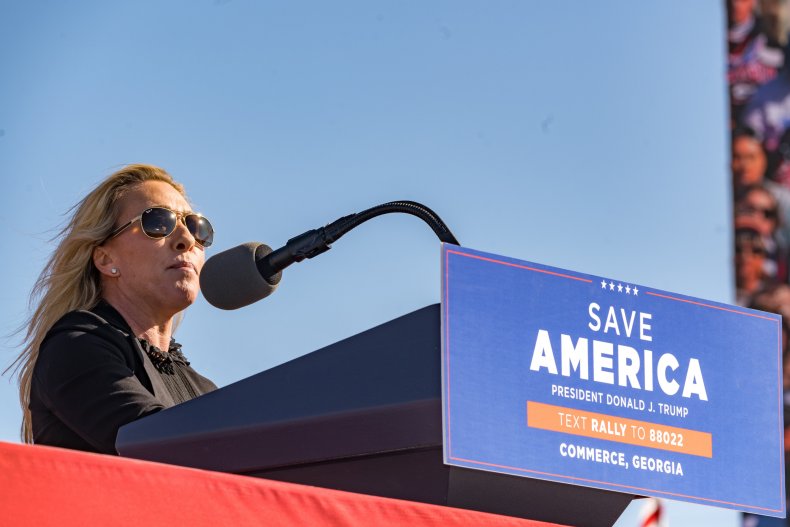 On Monday night, Greene said during an appearance on Fox News that those bringing the lawsuit against her "hate" the voters in her district. "They're trying to rip my name off of the ballot and steal my district's ability to reelect me and send me back to Congress," Greene told Fox host Tucker Carlson.
The congresswoman also called on the Republican Party to do more to support her in the legal battle and hinted at possible retaliation against Democrats.
"If you can challenge any representative's candidacy or elected officeholder, I bet we could round up some Republican voters who did not like Kamala Harris funding rioters—criminal rioters—out of jail or Ilhan Omar or Cori Bush or Maxine Waters in inciting riots," Greene said.
Totenberg's ruling on Monday means that Georgia voters challenging Greene's candidacy will head to court on Friday, where a state administrative law judge will hear the case. Greene will be called to testify during those proceedings.
"The Constitution disqualifies from public office any elected officials who aided the insurrection, and we look forward to asking Representative Greene about her involvement under oath," Ron Fein, the legal director of Free Speech for People, said in a statement.
Free Speech for People filed a similar lawsuit against Republican Representative Madison Cawthorn in North Carolina, but the effort was blocked by U.S. District Richard Myers.
Newsweek reached out to Greene's campaign for additional comment.