Greene Slams Media Focus on Capitol Riot, Notes It Happened 'One Time'
Representative Marjorie Taylor Greene, a Georgia Republican, berated a journalist and slammed the media for focusing attention on the January 6, 2021 attack against the U.S. Capitol, saying it happened "one time."
NBC News included the quote from Greene in an article published Sunday. The GOP congresswoman then retweeted part of a thread shared by NBC News journalist Scott Wong, in which he included a quote from the lawmaker.
In Wong's report, he quoted Greene as saying: "The American people are fed up with this over-dramatization of a riot that happened here at the Capitol one time." The journalist noted that the Republican said Americans are more concerned about inflation, high gas prices and security and the southern border with Mexico.
"They are sick and tired of January 6—it's over, OK?" Greene said.
The GOP representative retweeted Wong's article and shared a video clip of their brief interaction when she responded to his question.
"Every week the press asks Republicans divisive questions about each other like this, trying to get me to say something bad or criticize @GOPLeader. Then only report a twisted sound bite of our words. I'm not playing the game anymore," she said.
In the clip, Wong can be heard asking Greene if she thinks it was a mistake for House Minority Leader Kevin McCarthy, a California Republican, to "remove" all of the Republicans he'd appointed from the House select committee investigating the events of January 6, 2021. The lawmaker responded by saying what Wong quoted her as saying.
Greene then continued, describing the Capitol attack as "horrible" and "a terrible experience." The Republican said she "hated it" and also lamented that some of the alleged rioters are "rotting in jail pre-trial." She told the journalist to go and "visit" those people.
Newsweek reached out to Representative Bennie Thompson, a Mississippi Democrat who chairs the House select committee, and Representative Liz Cheney, a Wyoming Republican who is the vice chair, for comment.
Polling conducted from January 10 to 17 by Pew Research Center showed that a majority of Americans believe the "right amount" or "too little" attention has been given to the Capitol riot. Thirty-one percent said "too little" attention while a third (33 percent) said the "right amount" of attention was paid to the events of January 6, 2021. Only 35 percent said that the assault against the federal legislative branch of government was getting "too much" attention.
Hundreds of supporters of former President Donald Trump attacked the Capitol just over 15 months ago in an apparent effort to prevent the formal certification of President Joe Biden's Electoral College victory. The riot came shortly after Trump urged a large crowd at a nearby rally to "fight like hell" to save their country—following months of spreading false claims that Biden's win was fraudulent.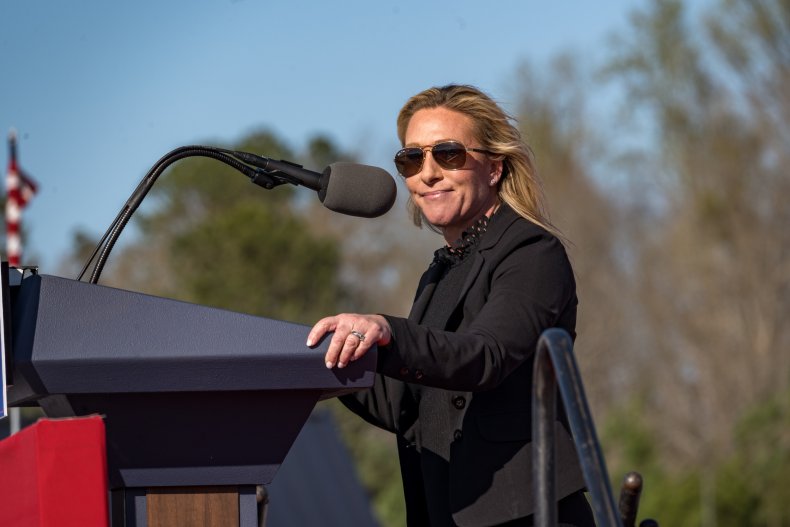 During the riot, some Trump supporters threatened to "hang" Vice President Mike Pence. Some also voiced a desire to harm or kill other top lawmakers, including House Speaker Nancy Pelosi, a California Democrat, and Senator Mitt Romney, a Utah Republican. At least 140 Capitol police officers were injured in the violence, while five officers died—including those who died by suicide in the aftermath of the violence.
As of mid-March, at least 800 people had been charged in connection to the riot. Meanwhile, the House select committee investigating the event continues to interview witnesses as it attempts to get to the bottom of what happened on that day, as well as the efforts of Trump and his allies to overturn Biden's election victory.
"It's absolutely clear that what President Trump was doing, what a number of people around him were doing, that they knew it was unlawful," Cheney told CNN on Sunday, commenting on the select committee's progress.
The Wyoming Republican explained that "what we have seen is a massive and well-organized and well-planned effort that used multiple tools to try to overturn an election."