Ivanka Trump's Jan. 6 Testimony 'Certainly' Helpful, Liz Cheney Says
Representative Liz Cheney, a Wyoming Republican, said that Ivanka Trump's testimony to the House select committee investigating the January 6, 2021 attack against the U.S. Capitol was "certainly" helpful.
Ivanka Trump, former President Donald Trump's eldest daughter, who served as a White House adviser, testified before the House committee, of which Cheney is the vice chair, on Tuesday.
Cheney has become one of Trump's staunchest critics since the violence of January 6, 2021. The GOP congresswoman joined nine other House Republicans in voting to impeach the former president for inciting the attack against the federal legislative branch of government. She is also one of two GOP representatives—the other being Congressman Adam Kinzinger of Illinois—who serve as part of the select committee.
"Certainly, her testimony was helpful," Cheney told CNN on Sunday after she was asked about Ivanka Trump's interview with the House investigators, "as has been the testimony of many hundreds of others who have appeared in front of the committee," the Republican lawmaker added.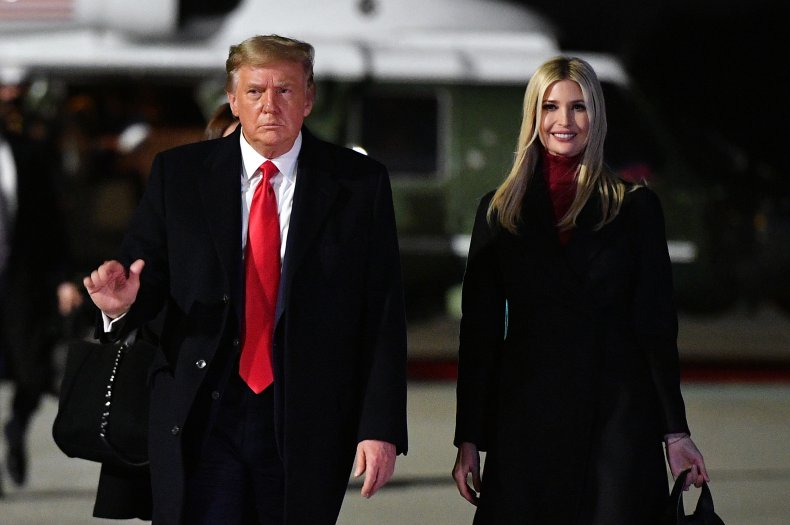 During the interview, Cheney discussed the probe more broadly, laying out some of the conclusions she and the other committee members have arrived at. "It's absolutely clear that what President Trump was doing, what a number of people around him were doing, that they knew it was unlawful," Cheney said.
The Wyoming congresswoman explained that "what we have seen is a massive and well-organized and well-planned effort that used multiple tools to try to overturn an election."
Newsweek reached out to Trump's press office for comment. The former president has repeatedly slammed the House select committee, saying it's partisan and carrying out a politically motivated probe. He has denied any wrongdoing, while continuing to insist that the election results should have been overturned—claiming they were fraudulent.
It's unclear what information and details the ex-president's daughter provided to the committee in her eight hours of testimony. While a number of prominent Trump allies have refused to testify or waited until they were subpoenaed, Ivanka Trump appeared for her interview voluntarily.
"She came in on her own. That has obviously significant value," Representative Bennie Thompson, a Mississippi Democrat who chairs the select committee, told reporters on Tuesday. Thompson said she was "answering questions."
Trump slammed the select committee for interviewing his daughter, calling it a "shame and harassment" in an interview with The Washington Post published on Thursday morning. The former president said that he'd offered Ivanka Trump and her husband, Jared Kushner, who also served as White House adviser, "privilege"—but he said they'd "declined" that offer.
Kushner previously appeared before the committee on March 31. Representative Elaine Luria, a Virginia Democrat on the committee, told MSNBC the conversation with Kushner was "really valuable." Representative Zoe Lofgren, a California Democrat on the committee, told CNN that investigators' had "a useful exchange" with Trump's son-in-law.
In the book I Alone Can Fix It: Donald J. Trump's Catastrophic Final Year, by two Washington Post journalists, it was reported that Ivanka Trump repeatedly urged her father to call off his supporters during the January 6 attack. She also reportedly disagreed with the legal advice her father was receiving regarding efforts to overturn the election results.
"This is not right. It's not right," Ivanka Trump reportedly said.
Former U.S. Army prosecutor Glenn Kirschner, a staunch Trump critic who has repeatedly called for the former president's indictment, assessed in a Friday interview with The Stephanie Miller Show that Ivanka Trump likely "incriminated" her father with her testimony.
"Even his own daughter couldn't stop him. That is deeply incriminating information," Kirschner said. "Presumably, it's been provided by Ivanka under oath to the J-6 committee, and if I were prosecuting the case, she would be one of the very early witnesses I called."
Despite Trump's claims about President Joe Biden's win in 2020, dozens of election challenge lawsuits filed by the former president and his supporters failed in state and federal courts. Even judges Trump appointed ruled against the legal challenges. Audits and recounts—including in states where the election was overseen by pro-Trump Republicans—have consistently reaffirmed Biden's victory.
Former Attorney General William Barr, who was widely viewed as one of Trump's most loyal cabinet members, has said that there is "no evidence" to support claims of widespread voter fraud. Barr wrote in his memoir published in March that he told Trump to his face that the claims were "bullish*t."