Three of the 10 House Republicans who voted to impeach former President Donald Trump after his supporters attacked the U.S. Capitol on January 6, 2021 will not seek re-election this year.
Representative John Katko, a New York Republican, announced on Friday in a Facebook post that he would not seek re-election in the 2022 midterms—making him the third GOP House member that voted to impeach Trump to forego another congressional campaign. Previously, GOP Representatives Anthony Gonzalez of Ohio and Adam Kinzinger of Illinois confirmed that they would not be running again.
Katko wrote on Facebook that "after 32 years of public service, I have decided not to seek re-election to Congress so that I can enjoy my family and life in a fuller and more present way."
"My conscience, principles, and commitment to do what's right have guided every decision I've made as a Member of Congress, and they guide my decision today. It is how I've been able to unite people to solve problems, and how I was rewarded with resounding victories in every single campaign for Congress," the GOP congressman added.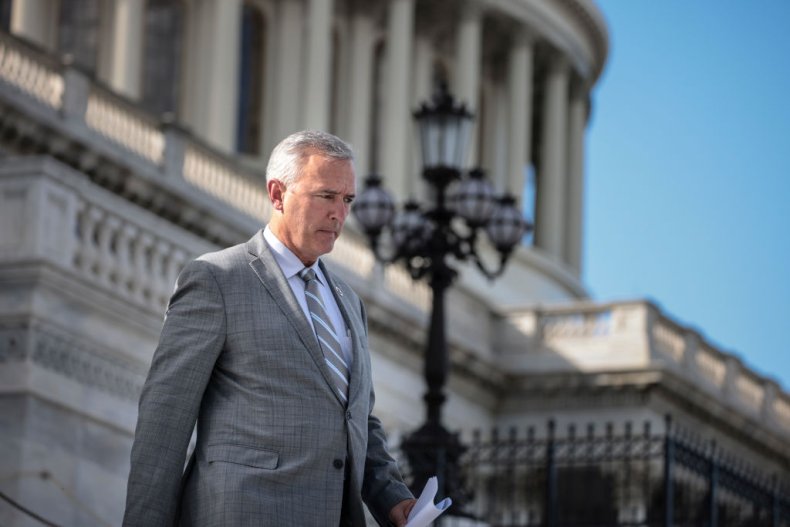 Katko expressed a desire to spend more time with his family and did not mention the vote to impeach Trump, nor the former president's criticism of him and fellow GOP lawmakers in a similar position. The Republican lawmaker said that "representing Central New York in Congress—solving real problems, and relentlessly championing bipartisanship—has been the honor and privilege of a lifetime."
Shortly after Katko posted the announcement, Trump released a statement cheering the congressman's decision. "Great news, another one bites the dust. Katko, from Upstate New York, is gone!" he said.
Newsweek reached out to spokespeople for Katko and Trump for comment.
Trump has repeatedly slammed Republicans who supported his impeachment after the violence of the U.S. Capitol riot. In June of last year, Trump officially offered to support a GOP primary challenger against Katko.
"Katko will never win again. He is bad news," Trump wrote in a letter to New York's Onondaga County Conservative Party, Syracuse.com reported at the time.
"Will help with campaign—find a great candidate," the former president added. A few months later, in November, pro-Trump candidate Tim Ko announced he would run against Katko.
The New York Republican also faced opposition from within the House GOP Conference. After the events of January 6, 2021, House Minority Leader Kevin McCarthy tasked Katko with negotiating what a bipartisan commission to investigate the riot would look like.
Although Democrats—who hold the majority—allowed many of the Republican requests, the vast majority of GOP lawmakers, including McCarthy, voted against forming the investigatory body. Senate Republicans then blocked it from moving forward. House Speaker Nancy Pelosi, a California Democrat, went on to form a more partisan select committee that includes just two anti-Trump Republicans—Kinzinger and Representative Liz Cheney of Wyoming, who also voted to impeach Trump.
In addition to Katko, Gonzalez, Kinzinger and Cheney, GOP Representatives Fred Upton of Michigan, Peter Meijer of Michigan, Jaime Herrera Beutler of Washington, Dan Newhouse of Washington, Tom Rice of South Carolina and David Valadao of California voted to impeach Trump. All of these Republican lawmakers are facing primary challengers, and Trump has endorsed opponents of Cheney, Herrera Beutler, Meijer and Upton.