Liz Cheney Says GOP Must Be Loyal to Either Trump or Constitution, But 'Cannot Be Both'
GOP Representative Liz Cheney said Sunday the Republican Party needs to choose between being loyal to either the Constitution or to former President Donald Trump.
The Wyoming lawmaker emerged as a leading Trump critic following the January 6 riot. She was one of 10 Republican members of the House of Representatives who voted to impeach the former president and has condemned members of her own party who embraced the unfounded claim Trump lost the 2020 election due to voter fraud.
During an appearance on CBS News' Face the Nation Sunday morning, host Margaret Brennan pressed Cheney on whether she thinks Republicans will maintain the select committee investigating the January 6 riot if they retake the House in the midterms.
Many Republicans have opposed the committee, which Cheney sits on. Former Trump administration officials including Steve Bannon have defied its subpoenas, and some have speculated they could stall until the midterms.
Cheney said House Minority Leader Kevin McCarthy "has said a variety of things" about the future of the committee before launching into the criticism of members of her own party whom she accused of "trying to obstruct the activities of this committee."
"I think the country needs a strong Republican Party going forward, but our party has to choose," she said. "We can either be loyal to Donald Trump or we can be loyal to the Constitution, but we cannot be both."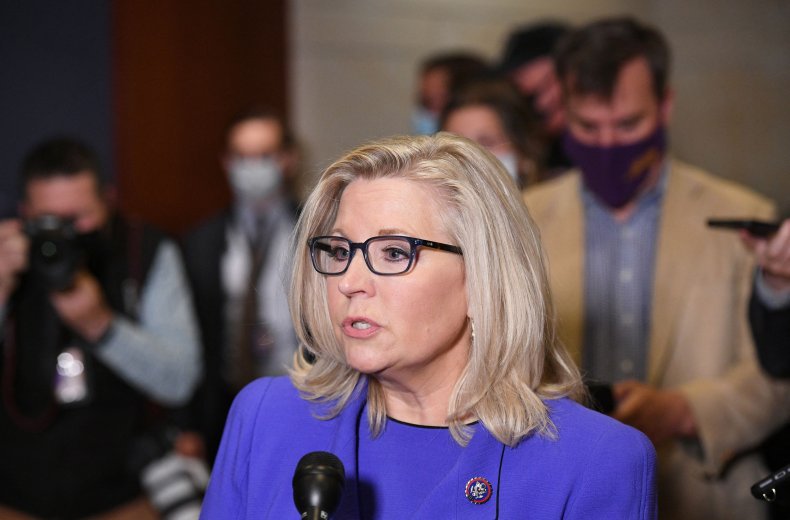 She urged Republicans to "be founded on fidelity to the Constitution" while also expressing optimism the committee will successfully investigate the riot.
"But we won't be deterred. At the end of the day, the facts matter, and the truth matters," she said.
She went on to criticize Trump for continuing to "trying to undermine our belief in our democratic process, in terms of trying to undermine the rule of law, in terms of trying to find local officials who will help him do that."
Her comments come as the first anniversary of the violent Capitol riot approaches.
On January 6, a mob of Trump supporters—convinced the election was stolen—broke into the U.S. Capitol while Congress tried to certify the election results. They brutally attacked police, ransacked the floor of the House and left some members of congress worried for their lives.
Cheney has long been critical of Republican attempts to claim the election was stolen and minimize the riot. She has advocated for Republicans to move on from Trump. In November, she called Republican leaders who continue to embrace him "willing hostages."