Lindell Urges Raffensperger 'Be Put in Prison,' Delivers Audit Affidavits
MyPillow CEO Mike Lindell said Friday that Georgia Secretary of State Brad Raffensperger should be put in prison as he delivered dozens of boxes containing "thousands" of affidavits to Georgia's Capitol on Friday, urging a forensic audit of the state's 2020 election results.
Under the leadership of Raffensperger, a Republican who backed former President Donald Trump's 2020 reelection, multiple recounts and a forensic audit of voting machines determined no widespread fraud or malfeasance occurred. Regardless, Lindell and Trump continue to allege that widespread fraud led to President Joe Biden's victory in Georgia and other states.
During a Friday episode of right-wing political strategist Steve Bannon's War Room podcast, Lindell appeared live from Atlanta as he and volunteers delivered some 40 boxes of affidavits alleging massive fraud in the last presidential election.
"We've got all the patriots here. They're going to unload," Lindell said during the podcast, waving to a small crowd behind him outside the Capitol.
"There's over 40,000—it's almost 50,000 of these affidavits and things that we have here that we're going to get into this Capitol," Lindell told Bannon. The pro-Trump businessman also said he believed Georgia's Republican leaders could be meeting with Raffensperger as he and his supporters arrived at the Capitol.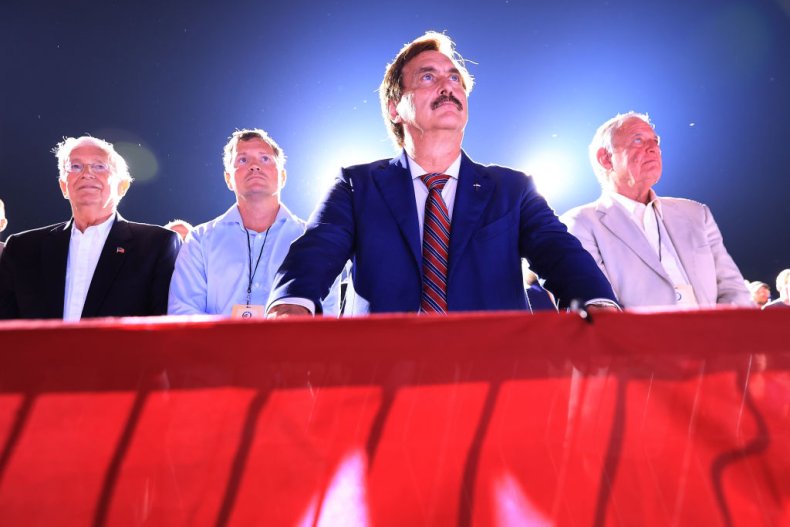 "I think they're meeting with Brad Raffensperger to figure out how to keep covering up the biggest crime in history," said Lindell, who is often called a conspiracy theorist. "You know, in Georgia here, Brad Raffensperger is probably, you know me, melt down the machines and put him behind bars."
Lindell alleged that the "corruption in Georgia" is probably "the highest in the country." The MyPillow founder said "everybody" has seen the alleged fraud in the state and claimed that Raffensperger has covered it up. "He needs to be put in prison, it needs to be ended—put in prison," the Trump ally asserted.
The podcast segment continued as Lindell and his supporters entered the Capitol to deliver the boxes through the building's metal detectors. "The whole United States is watching. They are getting delivered right now," Lindell said.
A spokesperson for Georgia's secretary of state dismissed Lindell's actions on Friday.
"Mike Lindell's nonsensical parade only harms public confidence in elections. This isn't just a problem in Georgia but nationwide. He knows he's lying—but he's fallen so deep into the grift that he may actually believe his own lies," the spokesperson told Newsweek.
"Flooding our offices with bizarre chain letters will not change the outcome of 2020—but it will change the outcome for Republicans by staying home in 2022 due to these off-base antics," he said.
Newsweek reached out to Lindell for comment but did not hear back before publication.
Biden narrowly beat Trump in Georgia by a margin of just under 12,000 votes. That Democratic victory came after Republican candidates had carried the state in every election going back to 1996. Multiple audits and reviews concluded that Biden's victory over Trump was legitimate.
In December 2020, Raffensperger released a statement following the conclusion of a hand recount of the state's election results.
"The Secretary of State's office has always been focused on calling balls and strikes in elections and, in this case, three strikes against the voter fraud claims and they're out," Raffensperger said at the time.
"We conducted a statewide hand recount that reaffirmed the initial tally, and a machine recount at the request of the Trump campaign that also reaffirmed the original tally. This audit disproves the only credible allegations the Trump campaign had against the strength of Georgia's signature match processes," he said.
Before his December 2020 statement but after the November 2020 election, Raffensperger explained that Georgia's voting machines had undergone a forensic audit to ensure they were secure. "We are glad but not surprised that the audit of the state's voting machines was an unqualified success," he said.
Trump and his allies have repeatedly attacked Raffensperger and other top Georgia Republicans for declining to overturn Biden's election win. The GOP secretary of state wrote a November 2020 opinion article for USA Today saying he and his family were "being thrown under the bus" by Trump despite voting for him and donating to his campaign.
Although no evidence has emerged corroborating Lindell's and Trump's allegations about Biden's win, they continue to promote the conspiracy theory. Around the country, Lindell and other Trump allies have participated in and hosted large events to spread misinformation that the election was "rigged" or "stolen."
As was the case in Georgia, audits and recounts across the country have consistently reaffirmed Trump's loss to Biden. More than 60 legal challenges to the 2020 election filed by Trump and his supporters failed in state and federal courts. Even judges appointed by the former president ruled against the lawsuits.
Former Attorney General William Barr, who was widely viewed as one of Trump's most loyal Cabinet officials, confirmed there was "no evidence" of widespread fraud that would change the election's outcome. The Cybersecurity and Infrastructure Security Agency at the Department of Homeland Security described the election as the "most secure in American history" while it was still led by a Trump appointee.