GOP Officials Demand Mike Lindell End False Election Claims About Idaho
Top Republican officials in Idaho have sent a cease-and-desist letter to MyPillow founder Mike Lindell over his false claims about the 2020 election results in the Western state.
Lindell, along with former President Donald Trump, has been a key promoter of the conspiracy theory that the last presidential election was "rigged" or "stolen" in favor of President Joe Biden. No evidence has emerged substantiating the allegation, and many Republican officials across the country have repeatedly countered the false claims about the election.
Idaho's Secretary of State Lawerence Denney and Attorney General Lawrence Wasden, both Republicans, sent a letter to Lindell on Tuesday demanding that he "promptly remove all false statements about Idaho's elections" from his website, the Idaho Statesman reported on Thursday. The letter also urged the pro-Trump businessman to "refrain from making similar statements in the future."
"Despite knowing your statements about Idaho's elections are false, you have not removed your 'Big Lie' chart and continue to perpetuate your false statements," the letter from the GOP officials said. Denney and Wasden demanded that Lindell pay a bill of about $6,000 to cover the cost of the review Idaho did to counter his false claims.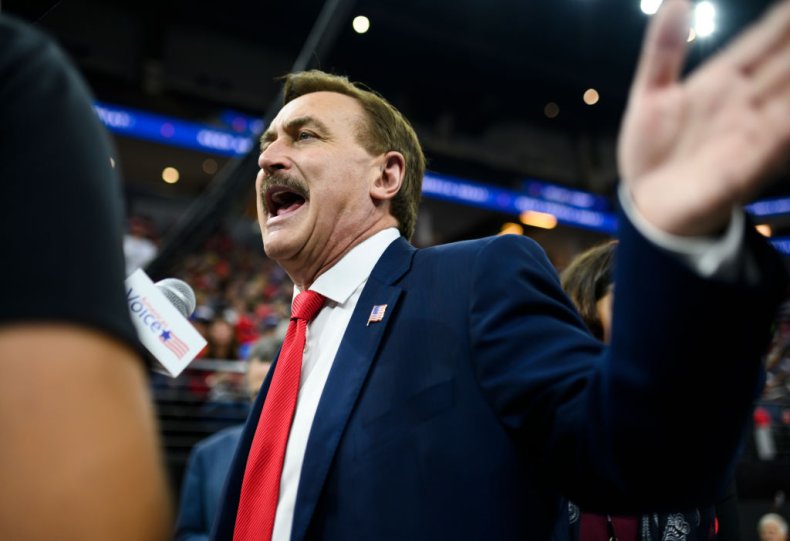 A spokesperson for Idaho's attorney general told Newsweek in a Friday email that the state "has not yet received a response" from Lindell. The spokesperson declined to provide further comment beyond what is in the letter. Idaho's Chief Deputy Secretary of State Chad Houck told Newsweek, "At this time, we have not received any response or communication with our office from Mr. Lindell, nor have we been advised of any such response being received by the Attorney General's office at this time."
Lindell has claimed Idaho's results were fraudulent despite Trump winning in the state by a large margin. The former president received nearly 64 percent of Idaho's votes compared with just 33 percent that went for Biden. Nonetheless, the MyPillow founder has alleged those results were corrupted along with the results in states nationwide.
In October, Houck, also a Republican, criticized Lindell for spreading misinformation about the state's election results. He promised in an interview with CNN at the time that Idaho would be sending Lindell a bill to cover the cost of the manual recounts conducted to fact-check his claims.
"We actually will be totaling up the expenses that were incurred in the [review] process, and we will be sending him [Lindell] a bill," Houck told CNN. The Republican official asserted that there was "no validity" to any of the claims made by the staunch Trump loyalist, and that the review in Idaho had reaffirmed that. Houck also told Newsweek at the time that Idaho had "discussed" the possibility of taking legal action against the MyPillow founder.
Although Trump, Lindell and many other supporters of the former president continue to allege malfeasance took place in the 2020 election, no evidence has come to light corroborating these claims. More than 60 election-challenge lawsuits have failed in state and federal courts. Even judges Trump appointed have ruled against the legal challenges brought by the former president and his allies. Meanwhile, audits and recounts across the country—including in states where the election was overseen by pro-Trump Republicans—have consistently reaffirmed Biden's victory.
Former Attorney General William Barr, who was widely viewed as one of Trump's most loyal Cabinet members, asserted in December 2020 that there was "no evidence" of widespread fraud that would change the election's outcome. The Cybersecurity and Infrastructure Security Agency at the Department of Homeland Security—while it was still led by a Trump appointee—described the last presidential election as the "most secure in American history." The federal agency explained that there was "no evidence that any voting system deleted or lost votes, changed votes, or was in any way compromised."
But Lindell continues to insist that the 2020 election was stolen from Trump. He told CNBC in December that he's already spent $25 million of his own money to promote and prove the conspiracy theory.
"I will keep spending it because there is no tomorrow. We lose our country. We either only have two paths: Either it gets changed before the 2022 election or we lose our country forever. I will spend every dime I have," the Trump loyalist said.
Update 1/21/2022 12:33 p.m. ET: This article was updated with remarks from a spokesperson for Idaho's attorney general.
Update 1/21/2022 2:37 p.m. ET: This article was updated with remarks from the Idaho Secretary of State's office.