Idaho GOP Official Blames Mike Lindell for Election Audit: 'Sending Him a Bill'
Idaho's Chief Deputy Secretary of State Chad Houck, a Republican, blamed My Pillow CEO Mike Lindell for causing his state to carry out manual recounts in several counties to fact-check his groundless election fraud claims—saying that the state would send the Trump loyalist a bill for the costs incurred.
Lindell has alleged—without providing substantiating evidence—that former President Donald Trump lost the 2020 election to President Joe Biden due to massive voter fraud. The conspiracy theorist has claimed that voting systems were hacked by China, which election officials across the country have rejected as false.
"We actually will be totaling up the expenses that were incurred in the [review] process, and we will be sending him [Lindell] a bill," Houck told CNN on Thursday. He said there was "no validity" to any of the claims made by the My Pillow CEO and that the recent review in Idaho had demonstrated that.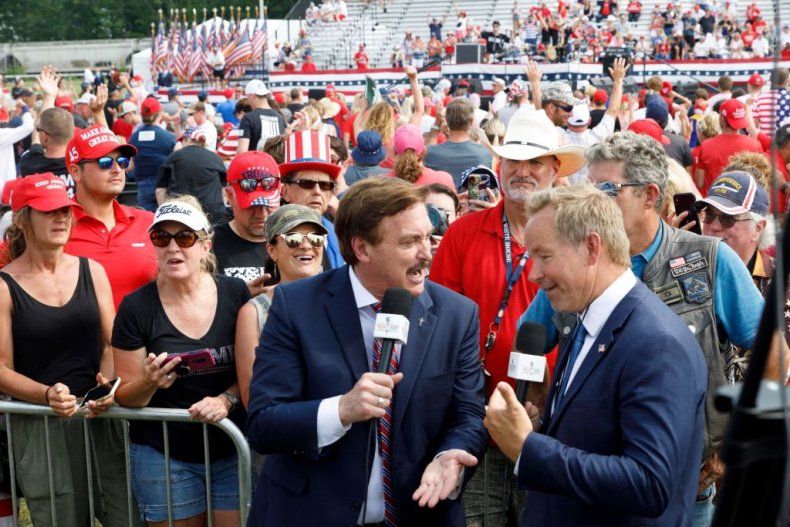 Houck later wrote Newsweek on Thursday that the secretary of state's office is "considering" legal action against Lindell. "Regarding your question on potential legal action, we have discussed this with our counsel and are considering options—no specific actions have been taken," the wrote.
The Republican official said that he anticipated "final expenses [for the audit] will be compiled in roughly two weeks."
On Wednesday, Houck released an official statement outlining the findings of the manual recounts in multiple counties where Lindell had alleged fraud. "The findings: As expected, the election was executed with both integrity and accuracy, with the office finding only a roughly 0.1 percent margin of error across three counties," the press release explained.
"While our team is always looking for possible vulnerabilities, this allegation was patently without merit from the first look. It takes hard work to build confidence in a State's elections system, and careless accusations like this can cause tremendous harm. Doing nothing and saying nothing would have been like conceding its truth," the Republican official said in a statement.
The press release explained that the reviews in Butte and Camas counties had cost an estimated $2,500, while the review in Bonner County had totaled about $4,000.
The My Pillow CEO's accusation against Idaho was particularly unusual because Trump won the state by a wide margin. The former president won nearly 64 percent of the state's vote compared with just over 33 percent that went to Biden—a victory margin of more than 30 percentage points. In 2016, Trump won a smaller segment (just over 59 percent) of Idaho's voters.
Lindell has traveled around the country over the past several months attending conferences alongside fellow Trump loyalists—such as retired General Michael Flynn and attorney Sidney Powell—to promote the so-called "Big Lie" that the 2020 election was "rigged" or "stolen" in favor of Biden. Trump and many Republican lawmakers continue to promote this extraordinary allegation as well.
Despite their claims, they have not provided credible evidence substantiating their accusations. To the contrary, dozens of election challenge lawsuits have failed in state and federal courts. Even judges that Trump and other Republicans appointed have rejected the allegations. Meanwhile, audits and recounts in key battleground states—including in places where the election was overseen by pro-Trump Republicans—have consistently reaffirmed Biden's win.
Former Attorney General William Barr, who was widely seen as one of Trump's most loyal Cabinet officials, said in December that there was "no evidence" to support the claims of widespread fraud. The Cybersecurity and Infrastructure Security Agency at the Department of Homeland Security described the 2020 election as the "most secure in American history" late last year. The federal agency, which was led by a Trump appointee at the time, noted that there was "no evidence that any voting system deleted or lost votes, changed votes, or was in any way compromised."
Update 4:55 p.m. 10/7/2021: This article has been updated with additional comment from Chad Houck.