Pro-Trump Rally Expecting 10,000 Attendees Sees Only a Few Hundred Show Up: Report
Organizers of a Kentucky rally in support of former President Donald Trump featuring several prominent allies and conspiracy theorists expected some 10,000 people to show up this weekend. Instead, less than 300 were in attendance when local journalists attempted to cover the proceedings.
The "We the People Reunion" was held at the Muhlenberg County Agriculture & Convention Center Fairgrounds in Powderly, Kentucky, on Friday and Saturday. MyPillow CEO Mike Lindell, retired General Michael Flynn, attorney Lin Wood and others were among the featured speakers, according to the event and ticket page online.
Local channel WFIE 14 News sent a team to shoot video at the event on Friday but was later asked to leave, according to a report broadcast by the NBC News affiliate. The news channel reported that promoters had expected a crowd of about 10,000 people but less than 300 were in attendance from what their journalists saw. Event organizers reportedly refused to speak to WFIE about the rally.
Photos and videos of the event posted to social media appeared to show only a few hundred people in attendance.
The event's description explained:
"The Biggest Patriot Rally Of The Year - A True Reunion Of We, The People, combining the biggest names in the conservative patriot movement including Gen. Flynn, Lin Wood, Candace Owens, Mike Lindell, and many others along w/top notch Christian & Country Music Entertainment! Simply put: This will be THE 'Event Of The Year' for American Patriots!"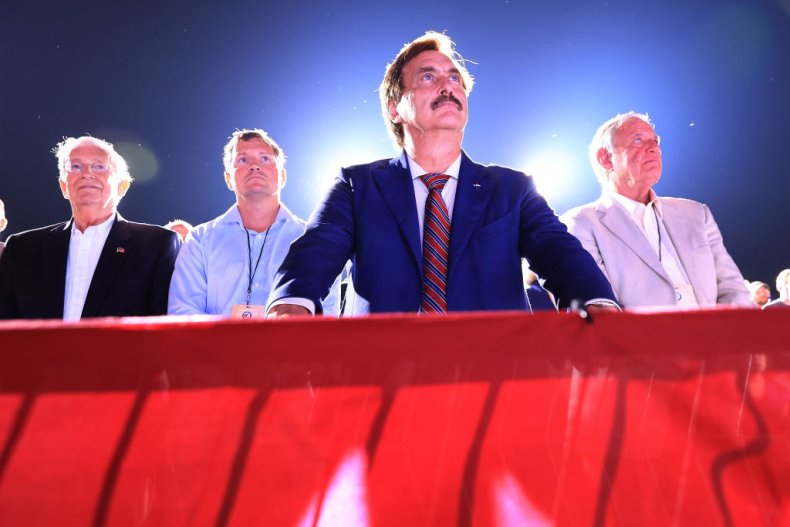 While many recent pro-Trump events featuring Lindell, Flynn and the other conservative figures have been free, Forward Kentucky reported that the tickets for the We the People Reunion were starting at $125. General admission "plus" tickets were sold for $250 and VIP tickets were going for $500.
Newsweek reached out to the organizers through their event ticketing page and the convention center for comment but did not immediately receive responses. We were not able to independently verify attendance numbers.
Lindell, Flynn and many of the other conservative speakers have been touring the U.S. and participating in various pro-Trump events largely to promote baseless claims that the 2020 election was "rigged" or "stolen" in favor of President Joe Biden. Trump also continues to make similar groundless claims.
During a Friday interview with The Gateway Pundit, Trump again claimed Biden had "cheated" to win in the 2020 election. He suggested that Biden would be removed from office prior to the end of his term, a claim even some of his allies have already explained is not legally possible.
"When you rob Tiffany's of its diamonds, and you get caught, you're supposed to return them. The people are rising up. You going to let somebody that cheated stay for three more years? I can't imagine it," Trump said.
Trump and his allies have not provided evidence to substantiate their extraordinary claims of widespread voter fraud. Dozens of election challenge lawsuits filed by the former president and his supporters have failed in state and federal courts. Even judges appointed by Trump and other Republicans have dismissed the challenges.
Former Attorney General William Barr, who was widely viewed as one of Trump's most loyal Cabinet members, said in December that there was "no evidence" to support the claims of widespread voter fraud. Meanwhile, multiple audits and recounts in key battleground states—including in areas where the election was overseen by pro-Trump Republicans—have reaffirmed Biden's November victory.
Meanwhile, a majority of Republican voters appear to believe the groundless claims about the election. A CNN poll published on Sunday showed that 59 percent of GOP voters said that it was "somewhat" or "very" important to believe that Trump won the 2020 election in order to identify as a member of the Republican Party. The survey had a margin of error of plus or minus 2.8 percentage points.