Attorney General Bill Barr told the Associated Press on Tuesday that the U.S. Department of Justice has not found evidence of widespread voter fraud in the presidential election.
Barr told the AP that the FBI and U.S. attorneys have been investigating allegations of fraud since the November 3 voting but have not uncovered evidence that would change the outcome of the race between President Donald Trump and President-elect Joe Biden.
"To date, we have not seen fraud on a scale that could have effected a different outcome in the election," Barr told the AP.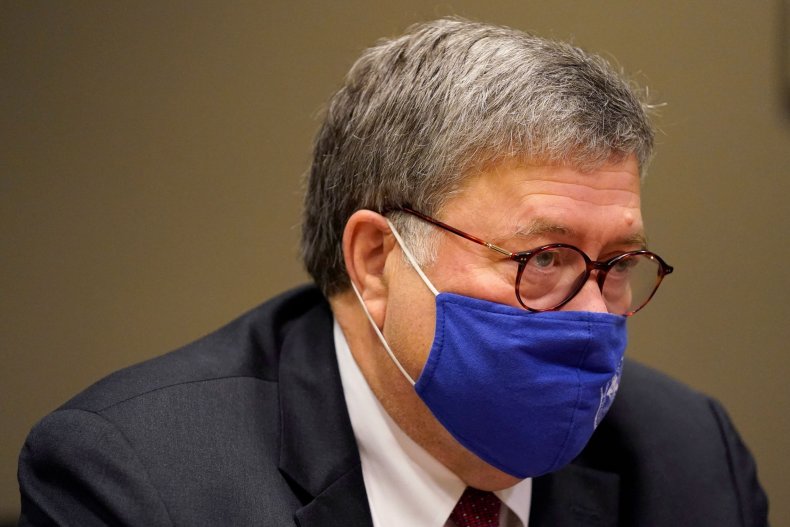 Major news networks and the AP called the race for Biden on November 7, but Trump has yet to concede. In the weeks since, Trump's re-election campaign has filed multiple lawsuits in battleground states across the country, alleging that votes were illegally cast or illegally counted. Meanwhile, the president has consistently said that Democrats "stole" the election as a result of widespread voter fraud, allegations that have been widely debunked.
During an interview with Fox Business on Sunday, Trump said his own Department of Justice was "missing in action," after Maria Bartiromo asked if the department was investigating the Trump campaign's "serious allegations."
"It's inconceivable. You would think, if you're in the FBI, or Department of Justice, this is the biggest thing you could be looking at. Where are they? I've not seen anything. They just keep moving along, and they go on to the next president," he said.
Trump also suggested the department and the FBI may have been "involved" in rigging the election against him, as he doubled down on his allegations that the election was "a fraud."
"How the FBI and Department of Justice—I don't know—maybe they're involved, but how people are allowed to get away from this stuff—it's unbelievable," Trump said.
Barr, who has been a strong Trump supporter since the president nominated him to lead the Department of Justice in late 2018, said it has been investigating election-related fraud allegations.
"Most claims of fraud are very particularized to a particular set of circumstances or actors or conduct. They are not systemic allegations," Barr told the AP. "Some have been broad and potentially cover a few thousand votes. They have been followed up on."
After the AP published its report, Trump's campaign released a joint statement from Rudy Giuliani and Jenna Ellis, two of his lawyers, saying they have "gathered ample evidence" of voter fraud.
"With all due respect to the Attorney General, there hasn't been any semblance of a Department of Justice investigation," the statement said. "We have gathered ample evidence of illegal voting in at least six states, which they have not examined. We have many witnesses swearing under oath they saw crimes being committed in connection with voter fraud. As far as we know, not a single one has been interviewed by the DOJ. The Justice Department also hasn't audited any voting machines or used their subpoena powers to determine the truth."
The lawyers said they would continue their "pursuit of the truth" through the judicial system and state legislatures, ensuring that "every legal vote is counted and every illegal vote is not."
"With the greatest respect to the Attorney General, his opinion appears to be without any knowledge or investigation of the substantial irregularities and evidence of systemic fraud," the statement said.
Newsweek reached out to the Department of Justice for comment but did not receive a response in time for publication.
This story has been updated with additional information and background.