Ivanka Trump 'Incriminated' Her Father With 1/6 Testimony: Glenn Kirschner
Former U.S. Army prosecutor Glenn Kirschner assessed Friday that Ivanka Trump's testimony before the House select committee investigating the January 6, 2021 attack against the U.S. Capitol "incriminated" her father.
Ivanka Trump, former President Donald Trump's eldest daughter, who served as a White House adviser, testified before the House commission on Tuesday. Representative Bennie Thompson, a Democrat who chairs the select committee, described her testimony as cooperative in comments to reporters.
Kirschner, who has repeatedly called on the Justice Department to indict the former president, argued during an episode of The Stephanie Miller Show that Ivanka Trump's testimony was bad for her father. He also explained that it's been previously reported that she attempted multiple times on January 6, 2021 to convince her father to call off his supporters as they wreaked havoc at the U.S. Capitol.
The attorney, who works as a legal analyst for MSNBC and NBC News, explained that former Vice President Mike Pence's national security adviser Keith Kellogg previously said that a number of administration officials went into the Oval Office to urge the former president to call for an end to the violence as it unfolded.
"Donald Trump refused, according to Keith Kellogg, a retired military general and Pence's national security adviser," Kirschner noted. "He [Kellogg] said, 'I tried and failed. [Former White House chief of staff] Mark Meadows tried and failed. [Former White House press secretary] Kayleigh McEnany tried and failed. Ivanka tried and failed, so we sent her back into the Oval Office a second time because she can be pretty tenacious, and she couldn't get her father to stop the attack on the Capitol.'"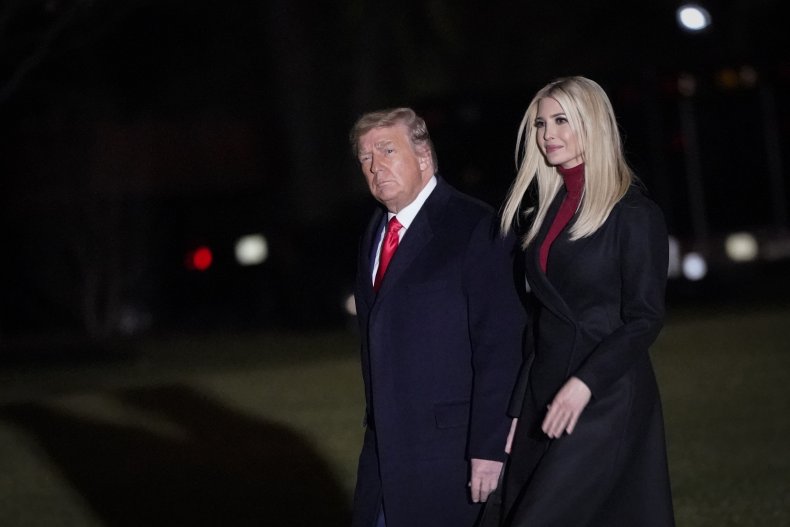 The legal expert then assessed "that is a president in a very real way, waging war against the United States. Even his own daughter couldn't stop him. That is deeply incriminating information. Presumably, it's been provided by Ivanka under oath to the J-6 committee, and if I were prosecuting the case, she would be one of the very early witnesses I called..."
It is not clear what information Ivanka Trump provided to the House select committee. However, the former president's daughter appeared before the investigatory body voluntarily—without being subpoenaed.
"She's answering questions. I mean, you know, not in a broad, chatty term, but she's answering questions," Thompson said last week of Ivanka Trump's testimony. "She came in on her own, that has obviously significant value. We did not have to subpoena."
Trump slammed the committee for seeking his daughter's testimony, saying it was a "shame and harassment" in an interview with The Washington Post. He also said that he'd offered her and her husband, Jared Kushner, who was also a top White House adviser, "privilege" but they declined that offer.
Kushner previously testified before the committee on March 31. Representative Zoe Lofgren, a California Democrat who serves on the committee, told CNN afterward that investigators had "a useful exchange" with the former president's son-in-law. Representative Elaine Luria, a Virginia Democrat on the committee, told MSNBC the conversation was "really valuable."
Meanwhile, Trump insists that he did nothing wrong on January 6, 2021. He has attacked the select committee, dubbing it the "unselect" committee and arguing its efforts are politically motivated. He has said that the probe is partisan in nature and that its aim is to prevent him from running for president again in 2024, if he chooses to do so.
Newsweek reached out to Trump's press office for comment.