Legal experts are calling for Donald Trump Jr. to face criminal proceedings after newly revealed text messages obtained by the January 6 House committee show he sought to prevent certification of the 2020 election and install his father to a second term.
While votes for the 2020 election were being counted, Trump Jr. texted then-White House Chief of Staff Mark Meadows laying out a strategy to keep President Donald Trump in power by throwing out election results of key swing states, CNN reported Friday. The disclosed texts shed further light on recent revelations of Trump and his inner circle's efforts to block the certification of the 2020 election.
"It's very simple," Trump Jr. texted to Meadows on November 5, according to CNN. "We have multiple paths We control them all."
The texts between Trump's eldest son and the top White House aide describe a course of action to keep the president in power: prevent swing states from certifying their results through lawsuits and demanding recounts. After casting doubt on the election's legitimacy, GOP-controlled Legislatures could assemble pro-Trump slates for the Electoral College, according to CNN.
As a last resort, Trump Jr. described how if neither the president nor Democrat Joe Biden had enough electoral votes, the House would vote by state delegation to pick the winner, according to CNN.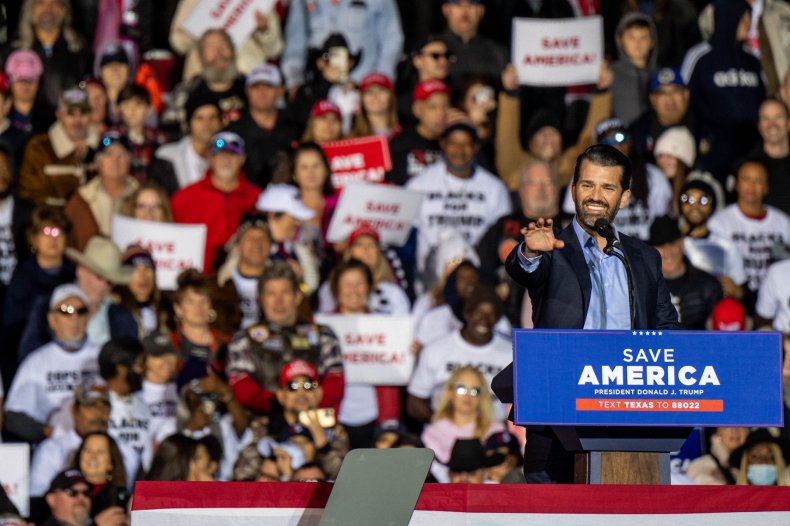 "Republicans control 28 states Democrats 22 states," Trump Jr. texted. "Once again Trump wins."
Legal experts and others reacted to the texts by calling for Trump Jr. to be prosecuted for trying to subvert the 2020 election.
"This was an attempted putsch," Richard Painter, a law professor and former chief ethics lawyer for former President George W. Bush, said on Twitter. "He belongs in the slammer!"
Glenn Kirschner, a former U.S. Army prosecutor who serves as an NBC News/MSNBC legal analyst, said on Twitter that the messages were clear proof that Trump Jr. was part of his "father's criminal conspiracy to overturn the election."
"How long do we have to endure this open, treasonous criminality by Trump and company before someone gets indicted?" wrote Kirschner.
Democratic Representative Ted Lieu wrote on Twitter that "This sure looks like an illegal conspiracy."
The text messages from Trump Jr. align with other efforts to prevent Congress from certifying Biden as the winner of the 2020 election.
A federal judge ruled last month ruled that Trump "more likely than not" committed a felony by trying to obstruct Congress. The ruling was in response to a civil court case brought by the January 6 committee to compel Trump adviser John Eastman to hand over documents. In a court filing, the committee's lawyers said it had evidence that Trump and his allies engaged in a "criminal conspiracy."
Despite the judge's ruling, the Department of Justice has yet to bring criminal charges against Trump.
Newsweek has reached out to Trump Jr. for comment.