Trump Arrives for North Carolina Rally Amid 'Treason' Accusations
Former President Donald Trump will arrive in North Carolina for a "Save America" rally on Saturday as he and his allies—including his son Donald Trump Jr.—face accusations of "treason" and planning a "coup."
Supporters of the former president are converging on Selma to attend the right-wing event at The Farm at 95, which is about 30 miles southeast of Raleigh. While thousands of Trump supporters regularly attend his rallies, the venue for this event can only hold about 400 attendees. The rally, which is scheduled to start at 7 p.m., will be live-streamed on YouTube by Right Side Broadcasting Network as well as through the website Rumble.
On Friday afternoon, CNN first reported that Donald Trump Jr.—the former president's eldest child—sent a text message to former White House chief of staff Mark Meadows just two days after the November 3, 2020 presidential election, outlining strategies to subvert President Joe Biden's win. At that time, multiple states were still counting ballots and Biden would not be determined as the winner until November 7.
"It's very simple," Trump Jr. reportedly wrote to Meadows. "We have multiple paths We control them all." The former president's son went on to lay out proposals to legally challenge election results in specific swing states and attempt to prevent their certification. The plan also advocated putting forward slates of pro-Trump electors in various states, regardless of how the actual vote turned out.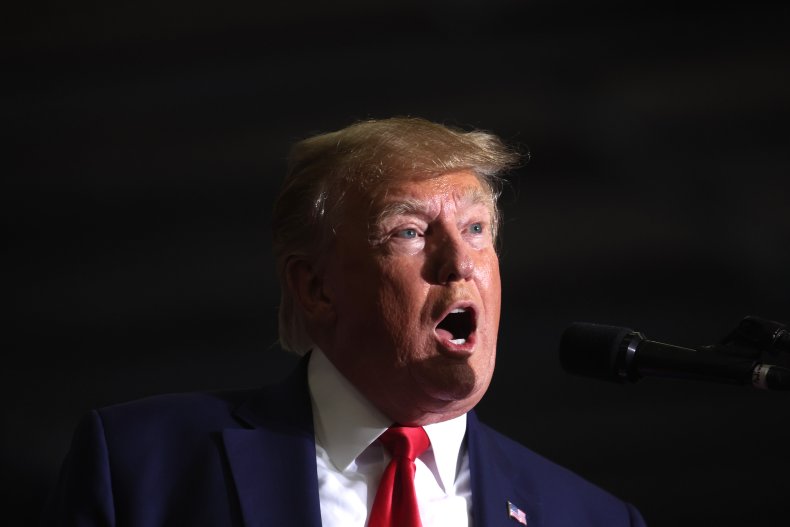 "We have operational control Total leverage," the message said. "Moral High Ground POTUS must start 2nd term now."
After the news of the text messages broke, a number of legal experts, former law enforcement officials and lawmakers weighed-in.
Glenn Kirschner, a former U.S. Army prosecutor, who works as an NBC News/MSNBC legal analyst, wrote on Twitter that the messages were clear proof that Trump Jr. was part of his "father's criminal conspiracy to overturn the election." Kirschner asked: "How long do we have to endure this open, treasonous criminality by Trump and company before someone gets indicted?"
"What this makes clear is that Jan. 6 was not based on a belief, good faith or otherwise, that the outcome of the 2020 election was decided incorrectly—they were plotting this before the votes had even been counted! The coup was the plan from the get-go," Asha Rangappa, a lawyer and senior lecturer at Yale University as well as a former FBI special agent, tweeted on Friday.
Laurence Tribe, a professor of Constitutional Law at Harvard, said he agreed with Rangappa's assessment.
".@AshaRangappa_ has this just right," the legal scholar tweeted, sharing her post. "Most others have missed this key point: Junior's revelations kill the 'innocent state of mind' defense, leaving compelling proof of corrupt intent for each of the several federal felonies the plotters close to the defeated president committed."
Former FBI agent Peter Strzok told MSNBC's The Katie Phang Show that he thinks investigators, whether in Congress or the Department of Justice, should question Trump Jr. about who he was talking to, arguing that the former president's son didn't come up with these strategies on his own.
"The question is where did they come from? Is this part of a coordinated activity? It certainly appears to be what played out when January 6th came around," he said.
The concerns and accusations expressed by legal experts align with a ruling issued in late March by Central California U.S. District Court Judge David Carter. In that opinion, Carter wrote that Trump's and his allies' "campaign was not confined to the ivory tower—it was a coup in search of a legal theory." The federal judge also wrote that "based on the evidence, the Court finds it more likely than not that President Trump corruptly attempted to obstruct the Joint Session of Congress on January 6, 2021."
Alan S. Futerfas, who is an attorney for Trump Jr., told CNN that his client likely forwarded the November 5, 2020 text message. "After the election, Don received numerous messages from supporters and others. Given the date, this message likely originated from someone else and was forwarded," the lawyer said.
Trump has consistently rejected accusations that he acted improperly in challenging the election results or incited the January 6, 2021 attack against the U.S. Capitol. The former president contends that all investigations into him and his family are purely partisan in nature. He says the goal is to prevent him from seeking the presidency again in the future, if he chooses to do so.
The former president has doubled-down on his false claims about the 2020 election in the wake of the Capitol riot. In an interview published by The Washington Post on Thursday, he insisted that it was possible that he could be "reinstated" as president—a theory that even some of his staunch allies have rejected.
Dozens of election challenge lawsuits filed by Trump and his supporters failed in state and federal courts after the 2020 election. Even judges Trump appointed ruled against the legal challenges. Audits and recounts—including in states where the election was overseen by pro-Trump Republicans—have consistently reaffirmed Biden's victory.
Former Attorney General William Barr, who was widely viewed as one of Trump's most loyal Cabinet members, has said repeatedly that there is "no evidence" to support claims of widespread voter fraud. Barr wrote in his memoir published last month that he told Trump to his face that the claims were "bullish*t."
Nonetheless, Trump is expected to again claim that he only lost in 2020 due to widespread voter fraud during his Selma rally on Saturday. The former president has consistently promoted the allegation at his rallies over the past several months.
"The presidential election was rigged and stolen and because of that our country is being destroyed," he said during a Michigan rally last Saturday. "We did win, we did win...We won by a lot, not just a little."
Newsweek reached out to Trump's press office for comment.