Former President Donald Trump will be in Selma, North Carolina on Saturday night to host a rally alongside several Republican candidates he has backed ahead of the 2022 midterm elections.
Speakers at the rally include North Carolina Representatives Madison Cawthorn, Dan Bishop and Greg Murphy. North Carolina Representative Ted Budd, who Trump has endorsed in the race to fill a U.S. Senate seat that will be vacated by retiring Senator Richard Burr, will also speak.
The rally, which will begin at 7:00 p.m., will be live-streamed on YouTube by Right Side Broadcasting Network as well as on the website Rumble.
In a statement on Wednesday, Trump's "Save America" political action committee said the rally "is a continuation of President Trump's unprecedented effort to advance the MAGA agenda by energizing voters and highlighting America First candidates and causes."
A poll released this week by Emerson College and The Hill found Budd with a 16-point lead over other GOP candidates in North Carolina's Senate primary race.
The survey found 38 percent of North Carolina GOP primary voters support Budd, while 22 percent back former North Carolina governor Pat McCrory, and 9 percent back former Congressman Mark Walker, while 23 percent of voters say they're still undecided. According to pollsters, 59 percent of the Republican voters said Trump's endorsement "makes them more likely to vote for a candidate."
In a video posted to social media Wednesday, Trump, referring to himself as "your favorite president, I hope," spoke to North Carolina supporters, urging them to come to the rally in support of Budd.
"He's going to be a tremendous senator. He's taken the lead now very substantially in the polls and we're going to get him an even bigger lead," the former president said.
Cawthorn will be speaking after coming under fire for claims that he was invited to sexual get-togethers and witnessed cocaine use among politicians in Washington D.C. Cawthorn has blamed the controversy surrounding his claims on the left.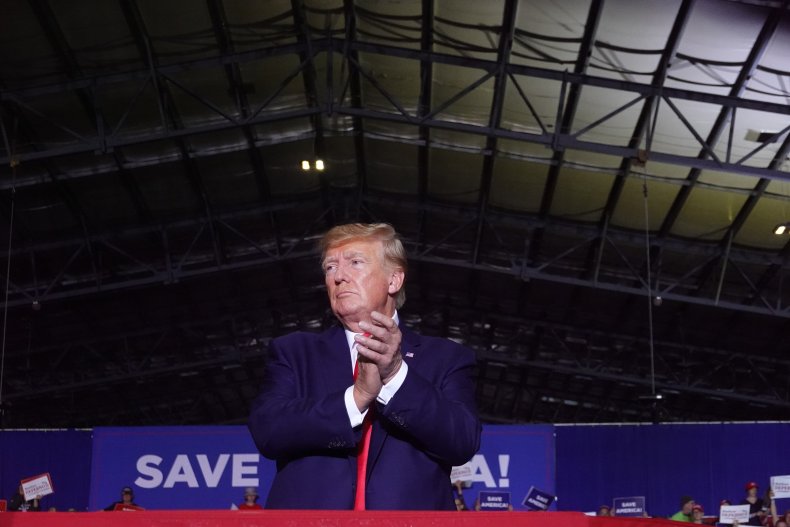 Last weekend, Trump hosted a rally in Michigan alongside other statewide GOP figures. During the event, he defended former Representative Jeff Fortenberry, a Republican from Nebraska, after the lawmaker was convicted of lying to federal investigators about illegal donations to his campaign.
He also made fun of Representative Peter Meijer's last name. The GOP congressman has been targeted by Trump since voting to impeach him over the January 6 attack on the U.S. Capitol.
Newsweek has reached out to Trump's office for comment but did not hear back in time for publication.