Jeff Fortenberry Faces Up to 15 Years in Jail Over Campaign Donations
Nebraska Rep. Jeff Fortenberry faces up to 15 years in jail after he was found guilty of lying to federal investigators with regards to illegal donations to his 2016 re-election campaign.
The Republican was found guilty by a jury of one count of scheming to falsify and conceal material facts, and two counts of making false statements to federal investigators on Thursday, the U.S. Attorney's Office of the Central District of California announced.
The investigation was looking into claims that Gilbert Chagoury, a Nigerian billionaire, illegally gave money to Fortenberry's re-election campaign in violation of laws banning foreign nationals from making contributions to a federal campaign.
Prosecutors said Fortenberry, 61, who represents Nebraska's 1st Congressional District, had "lied to and misled authorities" when he was being interviewed about Chagoury's $30,000 donation. The billionaire attempted to get around the rules by giving the money through "straw donors" who attended a Fortenberry campaign fundraiser held in Los Angeles.
Each of the three felony charges the congressman has been found guilty of carry a maximum penalty of five years in prison. Fortenberry is due to be sentenced on June 28.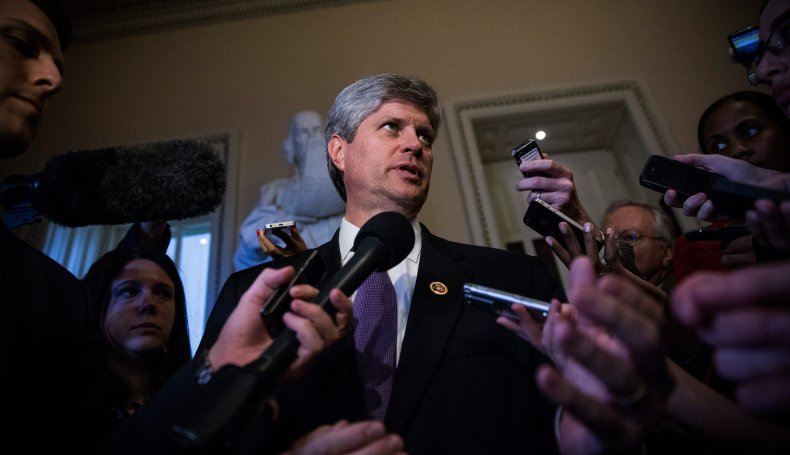 "After learning of illegal contributions to his campaign, the congressman repeatedly chose to conceal the violations of federal law to protect his job, his reputation and his close associates," said United States Attorney Tracy L. Wilkison.
"The lies in this case threatened the integrity of the American electoral system and were designed to prevent investigators from learning the true source of campaign funds."
During the trial, the jury heard how the co-host of the 2016 fundraiser in Los Angeles, referred to as "Individual H," was contacted by Fortenberry in 2018 to inquire about setting up another fundraising event.
In a June 2018 phone call, Individual H told the congressman on "multiple occasions" that a close associate of Chagoury—Toufic Joseph Baaklini—had provided $30,000 to distribute among those at the 2016 fundraiser so it could be given under other names and avoid the cash limit an individual can donate.
During the call, Individual H told Fortenberry that the money "probably did come from" Chagoury. Despite hearing about the illegal campaign contribution from a foreign national, Fortenberry did not file an amended report with the Federal Elections Commission.
In subsequent interviews, Fortenberry made "false and misleading" statements to investigators looking into claims of illegal donations to his campaign.
In March 2019, Fortenberry falsely said he was not aware of Baaklini ever being involved in illegal campaign contributions and that the individuals who made contributions at the 2016 fundraiser were all publicly disclosed. The congressman also falsely claimed that he was not aware of any contributions to his campaign coming from a foreign national.
At a second interview in July 2019, Fortenberry again denied being aware of any illegal donations to the 2016 fundraiser. Fortenberry falsely suggested Individual H did not tell him Baaklini passed on the $30,000, and stated that he would have been "horrified" to learn about any illegal contributions.
"Jeff Fortenberry lied to federal agents in order to cover up illegal contributions to his re-election campaign," IRS Criminal Investigation Special Agent in Charge Ryan L. Korner said in a statement. "The guilty verdict today shows that no one is above the law, and IRS-CI and our law enforcement partners will continue to hold our public servants accountable."
Chagoury admitted in 2019 to giving $180,000 in illegal contributions to four different political candidates. He was handed a $1.8 million fine.
Speaking outside the Los Angeles court following the guilty verdict, Fortenberry said he would be appealing the decision.
"We always felt like it was going to be hard to have a fair process here," Fortenberry said. "So this appeal starts immediately."
Fortenberry's office has been contacted for further comment.
Update 03/25/22, 7:57 a.m. ET: This article was updated with additional and background information.