Former President Donald Trump defended former Representative Jeff Fortenberry, a Republican from Nebraska, at a Michigan rally on Saturday, after the lawmaker was convicted of lying to federal investigators about illegal donations to his campaign last month and resigned from Congress.
Trump's comments came as he criticized Facebook CEO Mark Zuckerberg for giving local elections officials money during the 2020 presidential election. A Republican-backed lawsuit claiming that the $16 million that he and his wife Priscilla Chan donated to Michigan elections clerks was illegal was thrown out by a judge last month, MLive reported.
"[Zuckerberg] flooded local Michigan election offices with nearly $17 million," the former president said. "You know, in a great state, Nebraska, a congressman is being put in jail over a few dollars that he possibly didn't know anything about, he's going to jail, a few thousand dollars."
"I don't know him well, but he's a congressman and it was over a very small amount of money—they're going to put him in jail over a number of thousands, like $20,000. And he said he didn't know about it," Trump added.
Fortenberry faces up to 15 years in jail, and was found guilty of one count of scheming to falsify and conceal material facts, and two counts of making false statements to federal investigators on March 24. He resigned from Congress on Thursday, days after he said he would step down.
Federal investigators accused Fortenberry of lying about an illegal $30,000 campaign contribution to his 2016 reelection campaign received from Nigerian billionaire Gilbert Chagoury.
In a statement released on the day he was convicted, U.S. attorney Tracy L. Wilkison said: "After learning of illegal contributions to his campaign, the congressman repeatedly chose to conceal the violations of federal law to protect his job, his reputation and his close associates."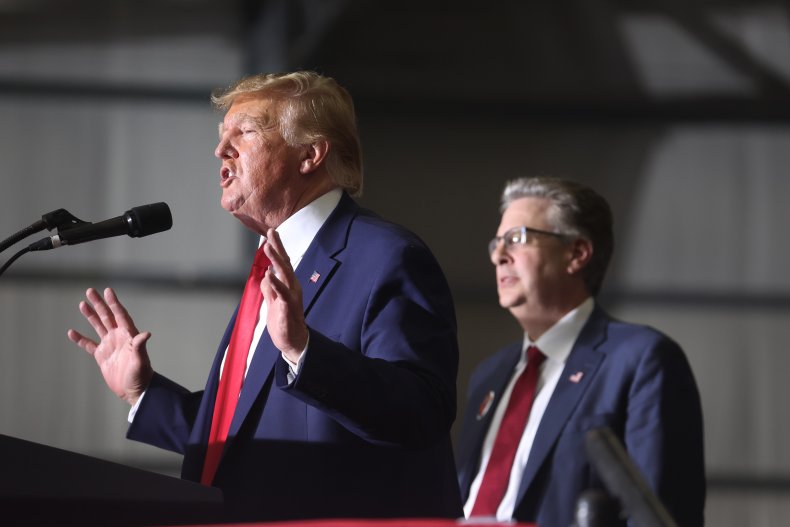 Trump's comments on Saturday come as other prominent GOP figures urged Fortenberry to step down following his convictions. When the former congressman was found guilty, House Minority Leader Kevin McCarthy and Nebraska Governor Pete Ricketts called on him to resign.
"I think when someone's convicted, it's time to resign," McCarthy said.
Following the guilty verdict, Fortenberry said he would appeal the decision. "We always felt like it was going to be hard to have a fair process here," he said. "So this appeal starts immediately."
Following his conviction, he is scheduled to be sentenced in late June.
Newsweek reached out to representatives for Fortenberry and Trump's press office for comment, but did not receive responses before publication on Sunday morning.