Trump Jr. Texts Show 'Coup Was the Plan' From the Start, Legal Experts Say
Some legal experts contend that newly reported text message sent from Donald Trump Jr. to former White House Chief of Staff Mark Meadows demonstrate that the former president and his allies were planning a "coup" from the start—even before votes were fully counted in the 2020 election.
CNN first reported on Friday that Trump Jr. sent a November 5, 2020 text message to Meadows which said: "It's very simple ... We have multiple paths We control them all." The former president's son reportedly laid out plans to subvert the Electoral College process and keep his father, former President Donald Trump, in the White House. Notably, that message was sent just two days after the election—before the results were finalized and as many states continued to count ballots.
Trump Jr.'s attorney Alan S. Futerfas told CNN that the message was most likely forwarded. "After the election, Don received numerous messages from supporters and others. Given the date, this message likely originated from someone else and was forwarded," he said.
But Trump critics and some legal experts jumped on the reporting, arguing it was more evidence of a "coup" attempt.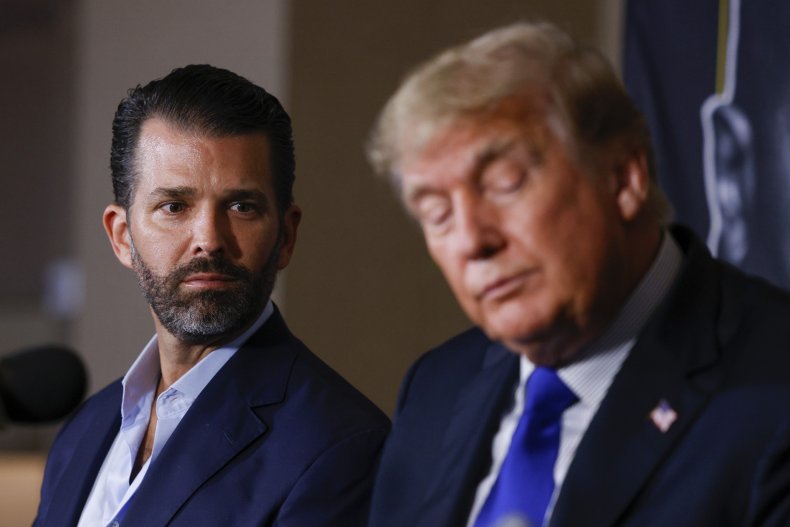 "What this makes clear is that Jan. 6 was not based on a belief, good faith or otherwise, that the outcome of the 2020 election was decided incorrectly—they were plotting this before the votes had even been counted! The coup was the plan from the get-go," Asha Rangappa, a lawyer and senior lecturer at Yale University as well as a former FBI special agent, tweeted on Friday.
Laurence Tribe, a professor of Constitutional Law at Harvard, agreed with Rangappa's assessment.
".@AshaRangappa_ has this just right," Tribe wrote, retweeting the lawyer's post. "Most others have missed this key point: Junior's revelations kill the 'innocent state of mind' defense, leaving compelling proof of corrupt intent for each of the several federal felonies the plotters close to the defeated president committed."
Glenn Kirschner, a former U.S. Army prosecutor who has repeatedly called for Trump's indictment, touted the text messages as evidence of "treasonous criminality."
"The 'Subject' line of Don Jr.'s email might as well have been, 'I'm a member of my father's criminal conspiracy to overturn the election.' How long do we have to endure this open, treasonous criminality by Trump and company before someone gets indicted?" Kirschner wrote in a Twitter post.
Trump has consistently rejected any wrongdoing related to his efforts to overturn the 2020 election results and the events of January 6, 2021—when hundreds of his supporters stormed the U.S. Capitol and threatened the lives of top lawmakers, including Vice President Mike Pence and House Speaker Nancy Pelosi. The former president continues to claim that President Joe Biden's victory was fraudulent and that any investigations into him and his family are politically motivated.
The House select committee investigating the January 6 attack against the Capitol said in a March court filing that evidence suggests Trump and his allies engaged in a "criminal conspiracy" related to the 2020 election. The committee contended that the former president and "several others entered into an agreement to defraud the United States by interfering with the election certification process, disseminating false information about election fraud, and pressuring state officials to alter state election results and federal officials to assist in that effort."
U.S. District Court Judge David Carter appeared to agree that Trump may have engaged in criminality. "Based on the evidence, the Court finds it more likely than not that President Trump corruptly attempted to obstruct the Joint Session of Congress on January 6, 2021," Carter wrote in a late March ruling.
Despite Trump's and his allies claims, no evidence has emerged to corroborate allegations of widespread fraud resulting in his election loss.
Dozens of 2020 election challenge lawsuits filed by Trump and his allies failed in state and federal courts. Even judges appointed by the former president consistently dismissed the lawsuits. Meanwhile, audits and recounts—including in states where the election was overseen by pro-Trump conservatives—have repeatedly reaffirmed Biden's win.
Former Attorney General William Barr, who was widely viewed as one of Trump's most loyal cabinet members, has said repeatedly that there is "no evidence" to support allegations of widespread voter fraud. Barr wrote in his memoir published last month that he told Trump to his face that the claims were "bullish*t."
Newsweek reached out to Trump's press office for comment.