Trump-Backed Ted Budd Says 2020 Biden Win 'Legitimate' in Resurfaced Video
As former President Donald Trump heads to North Carolina Saturday to campaign for Republican candidates he's endorsed in the southeastern state—a video of one of those GOP lawmakers saying President Joe Biden is the "legitimate" president has resurfaced.
Despite numerous audits and court rulings rejecting the claims, Trump continues to insist that the 2020 election was "rigged" or "stolen" in favor of Biden. The former president has made the issue a test of loyalty, recently withdrawing his endorsement of Representative Mo Brooks of Alabama in his Senate bid after he told supporters they should move on from the last presidential election and look to the future.
Although North Carolina's Representative Ted Budd joined 146 other Republican lawmakers in an effort to overturn Biden's electoral college win in key swing states on January 6 and 7, 2021, the GOP lawmaker admitted in a September 2021 interview with the Associated Press that the 2020 results were accurate. In that interview, which was resurfaced by The Daily Mail on Saturday, Budd is asked, "Joe Biden 2020—did he win the election fair and square?"
"He did. He's the legitimate president," the North Carolina Republican responded without hesitation.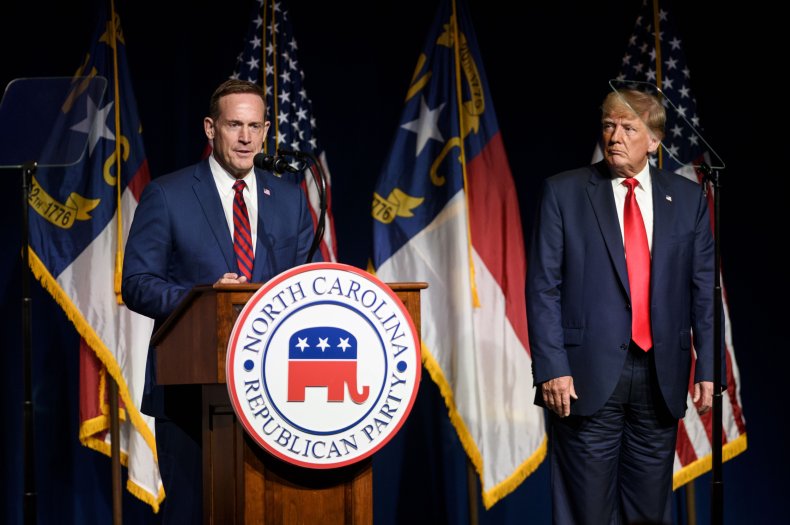 "Do you accept the fact Trump got 7 million fewer popular votes?" the journalist asked as a follow-up.
"I do," Budd replied.
Those comments from the GOP representative came despite Trump previously endorsing him in his Senate bid.
"There's somebody in this room that I think is very special. This man is a great politician but more importantly, he loves the state of North Carolina," Trump said of the GOP lawmaker while appearing at the state Republicans' convention in Greenville on June 5, 2021. "This gentleman is going to be your next senator," the former president continued, giving Budd his "complete and total endorsement."
Jonathan Felts, senior adviser for Budd's Senate campaign, told Newsweek in a Saturday email that "Budd had grave concerns about the elections process in 2020 and that's why he voted against certifying the 2020 election results." He also said that the former president knows the GOP lawmaker's record, saying Budd "has never wavered from the America First Agenda and President Donald Trump knows that."
Newsweek reached out to Trump's press office for comment.
Budd is slated to speak at Trump's North Carolina rally in Selma at The Farm at 95 on Saturday. The GOP representative is running in his state's Republican primary for the seat that will be vacated by Senator Richard Burr, who announced in 2016 that he would not seek another term after that election. Notably, Burr was one of the seven Republicans to vote to convict Trump for inciting his supporters to attack the U.S. Capitol.
Polling conducted from April 2 to 4 by Emerson College and The Hill showed Budd with a double-digit lead in North Carolina's GOP primary. The representative was backed by 36 percent of respondents while former North Carolina Governor Pat McCrory came in second with 22 percent. Former Congressman Mark Walker had the backing of 9 percent of Republicans and an additional 23 percent were undecided. The poll had a margin of error of plus or minus 4.3 percentage points.
Last month, Trump rescinded his endorsement of Brooks in Alabama's GOP Senate primary, citing his position on the 2020 election results.
"Mo Brooks of Alabama made a horrible mistake recently when he went 'woke' and stated, referring to the 2020 Presidential Election Scam, 'Put that behind you, put that behind you,' despite the fact that the Election was rife with fraud and irregularities. If we forget, the Radical Left Democrats will continue to Cheat and Steal Elections," the former president said in a March 23 statement.
Trump is expected to continue to promote his false claims about the 2020 election during his Selma rally. "The presidential election was rigged and stolen and because of that our country is being destroyed," he said during a Michigan rally last Saturday. "We did win, we did win...We won by a lot, not just a little."
More than 60 election challenge lawsuits filed by Trump and his allies failed in state and federal courts. Even judges appointed by the former president ruled against the legal challenges. Meanwhile, audits and recounts—including in areas where the election was overseen by pro-Trump Republicans—have consistently reaffirmed Biden's win.
Former Attorney General William Barr, who was widely viewed as one of Trump's most loyal Cabinet officials, has said repeatedly that there is "no evidence" to support claims of widespread fraud leading to Biden's win. Barr wrote in his recent memoir that he told Trump to his face that the claims were "bullish*t."