Will Trump Be Charged for Jan. 6? House Committee Floats Potential Charges
As Donald Trump continues to hold large rallies and tease the possibility of another White House run in 2024, critics continue to urge the Justice Department to investigate and potentially indict the former president for his actions connected to the January 6, 2021 attack targeting the U.S. Capitol and his efforts to overturn the 2020 election results.
Although it's unclear that Trump and his allies will ever face indictments, the House select committee investigating January 6 and the events surrounding that day have floated the possibility of several potential charges against the former president. Additionally, some legal experts have contended that an ongoing probe in Georgia's Fulton County could result in Trump's indictment as well.
U.S. Attorney General Merrick Garland, who was appointed by President Joe Biden, but has received criticism from many on the left for not pursuing charges against Trump and his allies more aggressively, gave critics of the former president hope in a recent interview with NPR. The nation's top law enforcement official said that "everyone" who committed crimes related to January 6 would be held accountable.
"We begin with the cases that are right in front of us with the overt actions and then we build from there," he said. "And that is a process that we will continue to build until we hold everyone accountable who committed criminal acts with respect to January 6."
How and whether Trump could be included in the "everyone" remains to be seen. But the House select committee has laid out some potential charges.
In a court filing in March, the committee suggested that the former president and some of his allies committed a criminal conspiracy to defraud the U.S. "The evidence supports an inference that President Trump...and several others entered into an agreement to defraud the United States by interfering with the election certification process, disseminating false information about election fraud, and pressuring state officials to alter state election results and federal officials to assist in that effort," lawyers for the House panel said in the filing.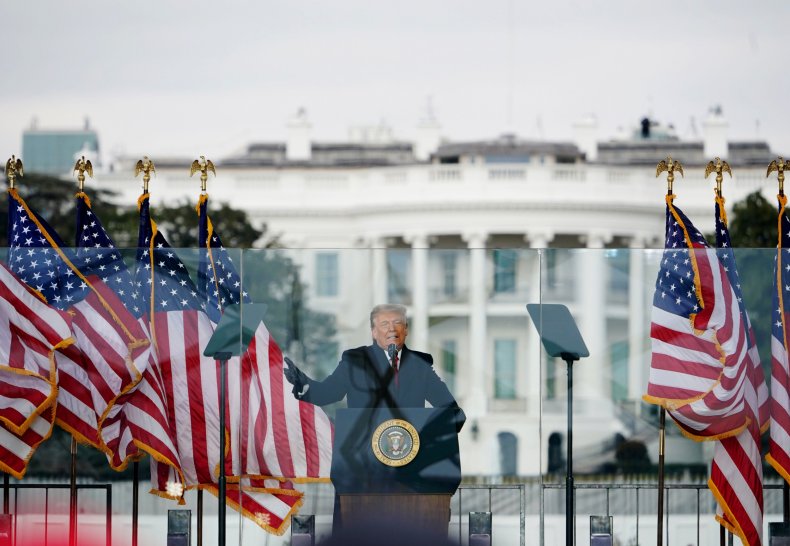 Under federal law (18 U.S. Code § 371) conspiracy to commit offense or to defraud the U.S. carries a maximum penalty of up to five years in prison, as well as a potential fine.
U.S. District Court Judge David Carter, in response to that court filing last month, appeared to agree that Trump may have committed a crime in connection with January 6. "Based on the evidence, the Court finds it more likely than not that President Trump corruptly attempted to obstruct the Joint Session of Congress on January 6, 2021," Carter wrote in a late March ruling.
Federal law (18 U.S. Code § 1505) prohibits the obstruction of proceedings before departments, agencies, and committees. This includes "any inquiry or investigation" by the House "or any committee of either House or any joint committee of the Congress." The maximum penalty is a fine and up to five years in prison, unless the action includes domestic or international terrorism. Then the maximum penalty could be eight years in prison. A number of legal experts and lawmakers have referred to the events of January 6 as "domestic terrorism."
Members of the House select committee have also previously alleged that Trump demonstrated a dereliction of duty on January 6. Representative Liz Cheney, a Wyoming Republican who serves as the panel's vice chair, described Trump's actions during the Capitol attack as a "supreme dereliction of duty" as the former president "refused to tell the mob to go home after he had provoked that attack," during a March 20 interview with NBC News.
Representative Bennie Thompson, a Mississippi Democrat who chair's the committee, similarly said in January that "the harm that I see is the president of the United States seeing the Capitol of the United States under siege by people he sent to the Capitol and did nothing during that time."
Cheney told NBC News that "enhanced criminal penalties" may be required in response to Trump's alleged dereliction of duty, saying the committee would make "legislative recommendations." The Republican congresswoman explained that she has "not learned a single thing since I have been on this committee that has made me less concerned or less worried about the gravity of the situation and the actions that President Trump took and also refused to take while the attack was underway."
A separate investigation in Georgia could potentially lead to charges against Trump as well. Fulton County's District Attorney Fani Willis in January got approval from the local Superior Court to seat a special grand jury with subpoena power as her office investigates Trump's effort to interfere in the state's 2020 election. Ahead of the Capitol attack, the former president explicitly urged Georgia's Secretary of State Brad Raffensperger, a Republican, to "find" enough votes to flip the southern state's election results in his favor.
Willis said in her request to seat the special grand jury that her office had "received information indicating a reasonable probability that the State of Georgia's administration of elections in 2020, including the State's election of the President of the United States, was subject to possible criminal disruptions." The grand jury will be seated in early May.
"There's a possibility that after two months we'll have all the information we need to press forward. There's a possibility that, after week one, that some appellate issue will come and there's a halt," the district attorney told The Atlanta Journal-Constitution in February. "But what I do think is within a year we will have all the information that we need."
Raffensperger, who voted for Trump and donated to his campaign, has described the call he received from the then president as "a threat." Some legal experts have suggested the Georgia case may be the most likely in which Trump could face criminal penalties.
"It's very hard to understand that conversation [between Trump and Raffenspeger] any other way when he says 'you and your lawyer' are going to be in basically criminal trouble if you don't somehow, 'find' one more vote than the number by which I lost to Biden, according to your count," Laurence Tribe, a constitutional law professor at Harvard, told MSNBC last year.
Under federal law, it is a crime "to deprive or defraud the residents of a State of a fair and impartially conducted election process" through "the procurement, casting, or tabulation of ballots that are known by the person to be materially false, fictitious, or fraudulent under the laws of the State in which the election is held." Violators could face up to five years in prison and a fine.
Trump has consistently rejected allegations that his actions related to the 2020 election and January 6 were criminal. He has dubbed the House select committee the "unselect committee," arguing it is purely a partisan attempt to defame him and prevent him from potentially seeking the presidency again in 2024. The former president has repeatedly disparaged the committee's two Republican members—Cheney and Representative Adam Kinzinger of Illinois—saying he does not view them as part of the GOP anymore.
While many legal experts believe Trump should and may face charges, some have pushed back against the possibility of charging a former president with a crime. Such a step would be unprecedented in U.S. history.
A Friday opinion article by The Wall Street Journal's editorial board cautioned against pursuing a Trump indictment. The board contended such action "could drag the country into a legal minefield and a political-revenge brawl more befitting a banana republic."
Senate Minority Leader Mitch McConnell, a Kentucky Republican, said last year, however, that Trump could face legal consequences for his actions. "We have a criminal justice system in this country. We have civil litigation. And former Presidents are not immune from being held accountable by either one," he said at a Senate floor speech last year.
Earlier in the same speech, McConnell asserted: "There is no question that President Trump is practically and morally responsible for provoking the events of that day [January 6]."
Newsweek reached out to Trump's press representatives and will update this story when a response is received.