A district attorney in Georgia investigating former President Donald Trump's efforts to change the 2020 presidential election results in the state anticipates that the probe will gather the information it needs "within a year."
In early January 2021, Trump infamously spoke with Georgia's GOP secretary of state, Brad Raffensperger, and urged him to "find 11,780 votes" to flip the election in his favor, according to initial reporting by The Washington Post. Audio of that call leaked to the media shocked many Republicans, Democrats and independents early last year, as it appeared that Trump pressured Raffensperger, the official tasked with overseeing Georgia's elections, to change the presidential race's results in his favor.
But Raffensperger—who voted for and donated to Trump's campaign—declined to cave in to the president's pressure. After the audio and transcript of that controversial call became public, Fulton County District Attorney Fani Willis opened an investigation to determine whether criminal activity had occurred.
Willis gave an update on the ongoing probe in an interview with The Atlanta Journal-Constitution published Thursday. She said a special grand jury involved with the investigation will likely see a lot of activity over the summer.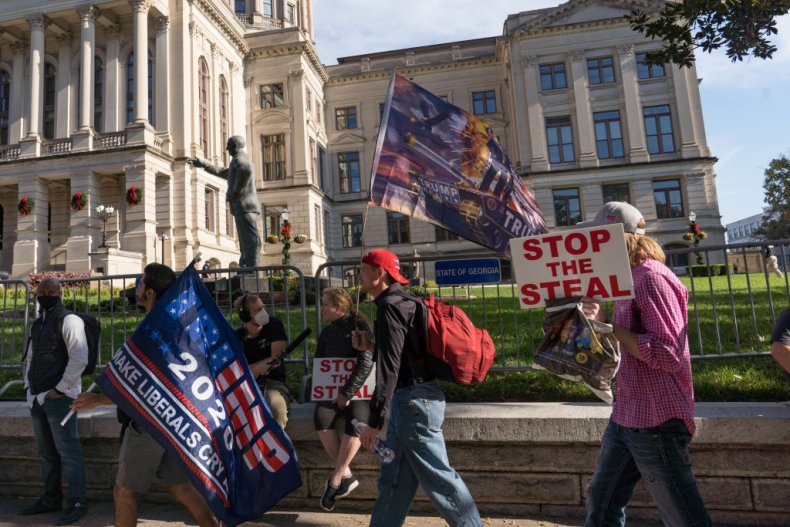 "There's a possibility that after two months we'll have all the information we need to press forward. There's a possibility that, after week one, that some appellate issue will come and there's a halt," Willis told the Georgia newspaper.
"But what I do think is within a year we will have all the information that we need," the district attorney continued. "We realize we are coming to a place where there are enough people that will require a subpoena for us to speak to, for us to be able to get information, and so yes, we are headed into phase two, and phase two I believe starts when we actually start with a special purpose grand jury."
Raffensperger has previously said that he viewed Trump's January 2021 call as a "threat."
"I felt then—and still believe today—that this was a threat," the Georgia official wrote in his book, Integrity Counts, which was published in late 2021. "Others obviously thought so, too, because some of Trump's more radical followers have responded as if it was their duty to carry out this threat."
The Republican—whom Trump had endorsed in 2018—received death threats because of his refusal to overturn President Joe Biden's win in Georgia. Biden narrowly flipped the state, which had previously gone for Republican presidential candidates in every election going back to 1996.
Biden won about 49.5 percent of Georgia's votes in 2020, and Trump garnered about 49.3 percent. The difference between the candidates' results was just under 11,800 votes—hence Trump wanted Raffensperger to "find" enough ballots in his favor to flip the state in his favor. Instead, Raffensperger carried out three audits that reaffirmed Biden's win.
"We conducted a statewide hand recount that reaffirmed the initial tally, and a machine recount at the request of the Trump campaign that also reaffirmed the original tally. This audit disproves the only credible allegations the Trump campaign had against the strength of Georgia's signature match processes," the Republican secretary of state said in a December 2020 statement after the three audits were completed.
Willis wrote in a January letter to a judge requesting the formation of the grand jury that her office had "received information indicating a reasonable probability that the State of Georgia's administration of elections in 2020, including the State's election of the President of the United States, was subject to possible criminal disruptions."
Newsweek reached out to Willis for further comment but did not immediately receive a response.
Trump and his allies still claim there was widespread voter fraud in the 2020 election, but no evidence has emerged substantiating that allegation. To the contrary, more than 60 lawsuits filed by the former president and his supporters challenging the election results have failed in state and federal courts. Even 10 judges Trump appointed ruled against the legal challenges.
Former Attorney General William Barr, who was widely viewed as one of Trump's most loyal Cabinet members, asserted that there was "no evidence" of widespread fraud that would change the 2020 election's outcome. While it was still led by a Trump appointee, the Cybersecurity and Infrastructure Security Agency at the Department of Homeland Security described the last presidential election as the "most secure in American history."