Brian Kemp Hauls In $7.4M for Georgia Reelection as Trump Takes Aim in David Perdue Ad
On Tuesday, Georgia Governor Brian Kemp announced that his campaign has hauled in over $7.4 million in the last seven months as part of his bid to win reelection, as former President Donald Trump took aim at him in David Perdue's recently released ad touting his rival campaign for the governorship.
Bobby Sparrow, Kemp's campaign manager, said the fundraising numbers show that Kemp "has the resources to win," the Associated Press reported. So far, the Kemp campaign has raised a total of $12.7 million in cash; Perdue and other Republican primary rivals have yet to announce their fundraising totals, nor has Democratic challenger Stacey Abrams.
Also on Tuesday, Perdue, a former U.S. senator, released an ad for his campaign, available on YouTube, containing an endorsement from Trump that appears to reference Kemp's refusal to help the former president overturn the results of the 2020 election.
"The Democrats walked all over Brian Kemp. He was afraid of Stacey 'The Hoax' Abrams. Brian Kemp let us down. We can't let it happen again," Trump says in the ad, which goes on to say that Perdue is "an America First conservative outsider" and is the only person running for Georgia governor with Trump's endorsement. Trump says Perdue, who only appears in the ad in photos, is "outstanding," "tough" and "smart."
In response to the ad, Cody Hall, director of communications for Kemp, said in a statement to Newsweek that Perdue "made a career" in outsourcing jobs Trump brought from overseas to China, Mexico and other countries.
"That's not America First—that's David Perdue padding his own wallet on the backs of hardworking Americans," Hall said in the statement.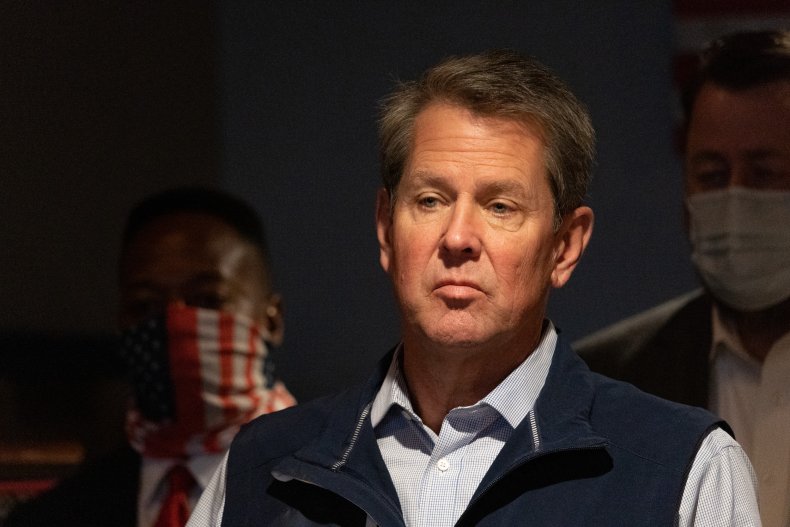 A Quinnipiac University poll shows that Kemp has support from 43 percent of likely Republican primary voters, compared to Perdue who, despite Trump's backing, receives support from 36 percent of likely GOP voters. The poll shows that, in the general election, Kemp would best Democratic candidate Abrams by 49 percent to her 47 percent, but Perdue and Abrams would be evenly split at 48 percent.
The two Republicans have recently exchanged a number of blows in gearing up for the election.
Perdue has accused Kemp in a lawsuit of having stacked the fundraising deck through changing campaign finance law last year, with the lawsuit saying the changes are "unconstitutional and corrupt," The Intercept reported. Kemp filed an ethics complaint on January 19 against Perdue, alleging illegal campaign coordination with a third-party PAC.
"Every day that Kemp and Perdue continue their petty fights, it becomes clearer that they're more concerned with tearing each other down than offering solutions to improve Georgians' lives," Democratic Party of Georgia spokesperson Max Flugrath said, according to Fox News.