Stacey Abrams' Campaign Haul Bests Brian Kemp's in Georgia Governor Race
Georgia Democratic gubernatorial candidate Stacey Abrams, currently the only Democratic candidate to announce a bid in the state's 2022 gubernatorial election, said on Wednesday that her campaign has raised more than $9.25 million since she entered the race in December, far outpacing her biggest Republican rival over the fundraising period.
Current Republican Governor Brian Kemp reported Tuesday a $7.4 million haul in seven months ending Jan. 31. Kemp's campaign said it has $12.7 million in cash while Abrams said she has $7.2 million in cash on hand.
The incumbent Kemp faces several GOP primary challengers in his campaign for reelection, including former Senator David Perdue and former state Representative Vernon Jones, according to the Associated Press. Neither Perdue nor Jones have released their latest campaign totals.
Abrams challenged Kemp for the governor in 2018 and lost by 1.4 percent; however, she has since risen in national prominence due to her voting rights advocacy.
A survey conducted by the University of Georgia's School of Public and International Affairs polling 872 voters and published on January 27 in The Atlanta Journal-Constitution found that 48 percent of voters would vote for Kemp. Forty-one percent of the respondents said they would vote for Abrams, while 8 percent of voters said they didn't know who they would vote for.
That same poll also looked at a hypothetical matchup between Abrams and Perdue. It found 47 percent of the voters would support Perdue while 43 percent would support Abrams.
Speaking on MSNBC's Morning Joe on Wednesday, Abrams said she is incredibly excited about the campaign and money raised.
"We are excited about the mix of folks who are giving, especially the Georgians who are invested in this campaign," Abrams said on the show, adding that she would use the campaign funds to educate voters on casting their ballot. "We know that working together, we can create one Georgia, a Georgia where we serve everyone."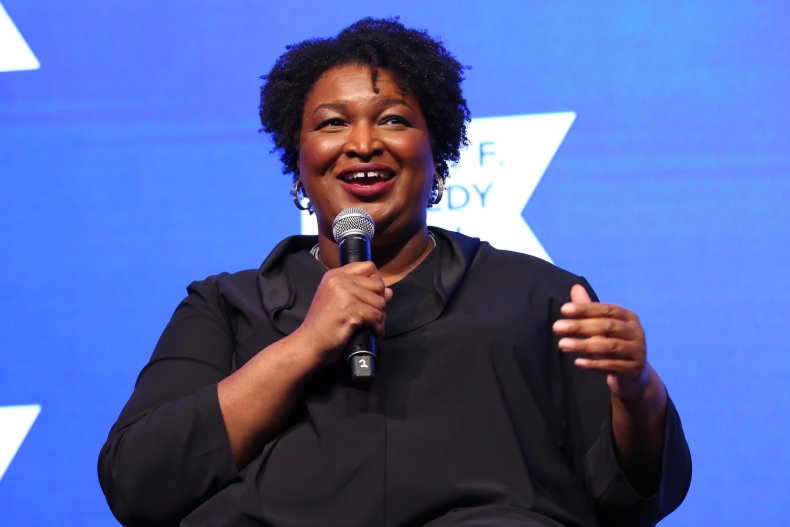 "While we are in a strong position to raise the resources we need to win, we take nothing for granted as we are certain to face a well-funded opponent in the general election," Abrams' campaign manager Lauren Groh-Wargo was quoted by the AP, which added that none of Kemp's Republican rivals have yet reported their fundraising totals.
Speaking on MSNBC's The Reid Out on Monday, Abrams responded to the current polls and said she plans to energize voters from now until the November election.
"[The poll numbers] are all the same thing; they are a story of where we are and not a prediction of where we will be," Abrams said.
Although Trump supported Kemp in the 2018 election, he has chosen to endorse Perdue for the 2022 election, claiming the current Georgia governor did not sufficiently challenge the 2020 election results, Newsweek has reported.
Last week, Georgia's current Democratic and first Black senator, Raphael Warnock, announced he has raised $44 million with $17 million cash on hand, compared to Herschel Walker, a Republican challenger for Warnock's Senate seat, who has raised nearly $10 million.
2/2/2022, 6:05 p.m.: This story has been corrected to reflect Stacey Abrams outraised Governor Brian Kemp.