Stacey Abrams Behind Both David Perdue, Brian Kemp in Hypothetical 2022 Races: Poll
A poll released Thursday found more Georgia voters said they would choose Governor Brian Kemp over Democrat Stacey Abrams if 2022's gubernatorial election were held today.
The survey conducted by the University of Georgia's School of Public and International Affairs for The Atlanta Journal-Constitution found 48 percent of respondents said they would vote for incumbent Republican Kemp. Forty-one percent said they would vote for Abrams, while 8 percent said they didn't know who they would support.
The poll also posed the hypothetical match-up of Abrams against David Perdue, the former U.S. senator who is challenging Kemp in the GOP primary.
Given that choice, 47 percent said they would vote for Perdue, who has been endorsed by former President Donald Trump, while 43 percent said they'd cast their ballot for Abrams. The Atlanta Journal-Constitution noted that pollsters said that percentage difference is statistically insignificant.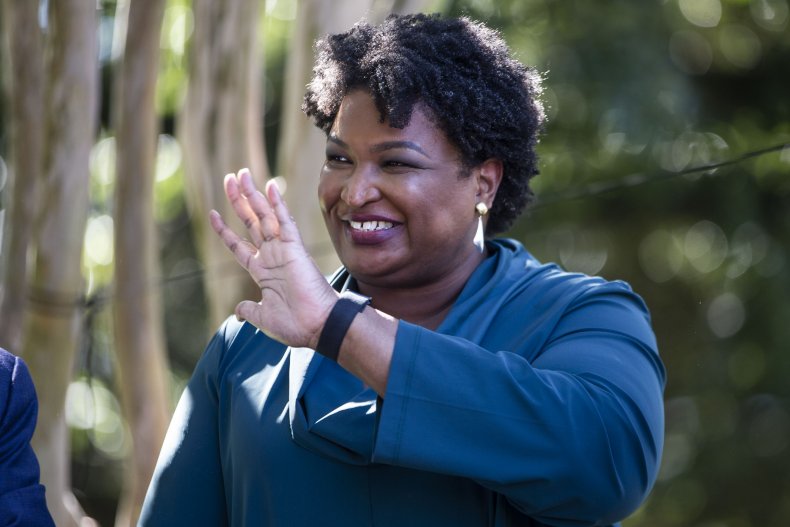 Abrams previously challenged Kemp in the 2018 election for governor of Georgia, a race she narrowly lost. She has since risen to national prominence as a voting rights advocate.
Currently, Abrams is the only Democratic candidate announced in the 2022 gubernatorial campaign. Meanwhile, Kemp is facing several challengers from within his own party, including high-profile candidates like Perdue and former Georgia state Representative Vernon Jones.
Trump supported Kemp in 2018, but he turned on him following the 2020 election, claiming the governor did not sufficiently challenge the voting results.
The Atlanta Journal-Constitution poll found 49 percent of voters approve of the job Kemp is doing at the state's governor, although only 17 percent said they "strongly approve." Meanwhile, 43 percent disapprove of the job he is doing, including 29 percent who "strongly disapprove."
The poll also gauged voters' thoughts on another highly watched race in the state: The challenge for Senator Raphael Warnock's seat.
When asked about his performance, 44 percent said they approved of the job done by Warnock, Georgia's first Black U.S. senator. Thirty-five percent disapproved of how he's doing, while 21 percent indicated they didn't have an opinion.
In theoretical match-ups, Democrat Warnock gained more voter support than Republican challenger Gary Black, by a 46 percent to 41 percent margin. However, former NFL star Herschel Walker, who has Trump's endorsement, edged out Warnock in a theoretical race 47 percent to 44 percent in another statistical tie.
In regards to an endorsement from Trump, the poll's results showed it may have an adverse effect. When asked if the former president's endorsement would make them more or less likely to vote for a candidate running for office in Georgia, 11 percent said it would make them "much more likely" to vote for the person, while 10 percent answered it would make them "somewhat more likely" and 7 percent said "somewhat less likely."
Forty-two percent answered they would be "much less likely" to vote for a candidate endorsed by Trump, and 30 percent answered they "don't know."
The poll of 872 registered voters was conducted between January 13 and 24 by the University of Georgia's School of Public and International Affairs. It has margin of error of 3.3 percentage points.
Updated 02/02/2022, 4:47 p.m. ET: The headline of this article was updated for the sake of clarity.