McConnell Says He Only Cares About Winning, Fine With Pro-Trump Republicans
Despite public tensions with Donald Trump, GOP Senate Minority Leader Mitch McConnell said this week that he is fine with Republican candidates who support the former president as long as they can win their elections.
Trump has repeatedly attacked McConnell in public statements since McConnell condemned the former president last year for inciting his supporters to attack the U.S. Capitol on January 6, 2021. "There is no question that President Trump is practically and morally responsible for provoking the events of that day," McConnell said in a Senate floor speech on February 13, 2021.
The former president then responded with a statement, describing the Senate minority leader as "a dour, sullen, and unsmiling political hack." Since then Trump has dubbed McConnell an "old crow" and called him a "disaster." McConnell has largely shrugged off the criticism, while also not shying away from rebuking controversial staunchly pro-Trump Republicans like Representatives Marjorie Taylor Greene of Georgia and Madison Cawthorn of North Carolina.
Regardless of the public feud, McConnell said he is fine with GOP candidates and lawmakers supporting—or not supporting—Trump in an interview with Punchbowl News on Thursday.
"I don't have an ideological test. For example, how you feel about former President Trump is irrelevant," McConnell said. "There are ways of measuring a credible candidate—and that's what I want. This is not an ideological litmus test, or how you feel about the former president—it's can you win in November."
McConnell said "he could" get involved in the GOP primaries this year in support of Republican candidates he believes can win in the midterm election in November.
Newsweek reached out to Trump's spokesperson for comment but did not immediately receive a response.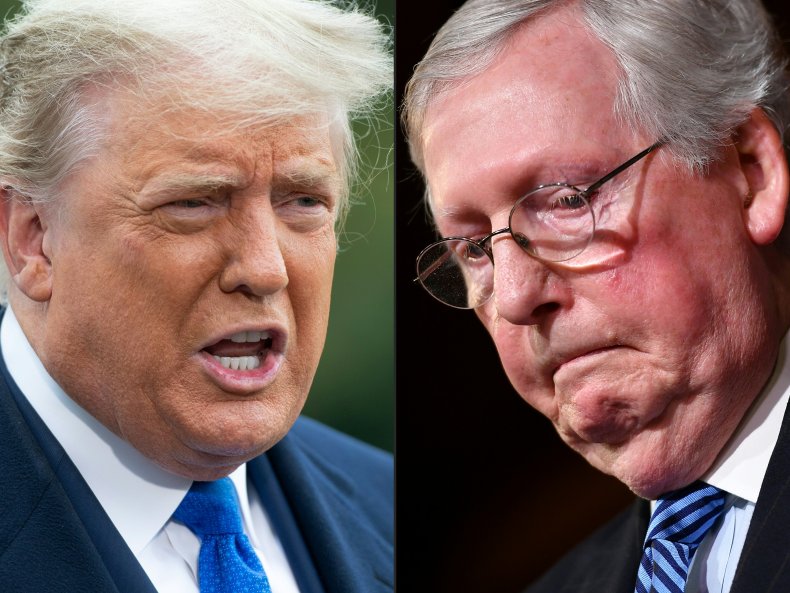 While McConnell may only care about Republicans winning in November, Trump has made it clear that he expects loyalty, as well as support for his false claims that the 2020 election was "stolen" in favor of President Joe Biden, in order to receive his backing. The former president has endorsed a number of controversial GOP candidates—some of whom are challenging Republican incumbents—that some are concerned could hamper their party's odds of winning the majority in November.
Trump this month withdrew his endorsement of Representative Mo Brooks, an Alabama Republican, who was running in his state's GOP Senate primary. Although Brooks was a staunch supporter of the former president and his lies about the 2020 election, he drew Trump's ire after he said voters should "look forward" and "put" the last presidential election "behind you."
"Mo Brooks of Alabama made a horrible mistake recently when he went 'woke' and stated, referring to the 2020 Presidential Election Scam, 'Put that behind you, put that behind you,' despite the fact that the Election was rife with fraud and irregularities," the former president said in a March 23 statement withdrawing his support for Brooks.
Regardless of McConnell's or Trump's strategies for endorsements, Republicans currently appear well-positioned to retake control of the House and possibly the Senate as well in the November election. Historical precedent is on the GOP's side, as the party of the president in power generally loses a substantial number of congressional seats during the midterms of their first term in the White House. Multiple recent polls show that a majority of voters prefer Republicans to control Congress after the 2022 midterms.