Mo Brooks Attacks 'Weakling, Cowering, Wimpy' GOP Congressmen During D.C. Protest Speech
Representative Mo Brooks, an Alabama Republican, spoke at a pro-Trump protest in Washington, D.C., on Wednesday morning, blasting GOP colleagues not planning to object to President-elect Joe Biden's win when Congress counts the electoral votes later in the day.
Brooks has been leading the charge in the House of Representatives to object to Biden's victory over President Donald Trump in several key battleground states. More than 100 Republican House members have publicly backed the effort, as have at least 13 GOP senators. Although the plan is widely expected to fail, thousands of Trump supporters have converged on the nation's capital to protest the president's election loss.
"America does not need and cannot stand—cannot tolerate—any more weakling, cowering, wimpy Republican congressmen and senators who covet power and the prestige the swamp has to offer while groveling at the feet of the special interest masters," Brooks said in a fiery speech at the protest organized on the Ellipse by Women for America First. The GOP lawmaker wore a red hat with the words "Fire Pelosi," a reference to Democratic House Speaker Nancy Pelosi.
"Today is the day American patriots start taking down names and kicking ass," Brooks added, receiving loud cheers and applause from the rally's attendees.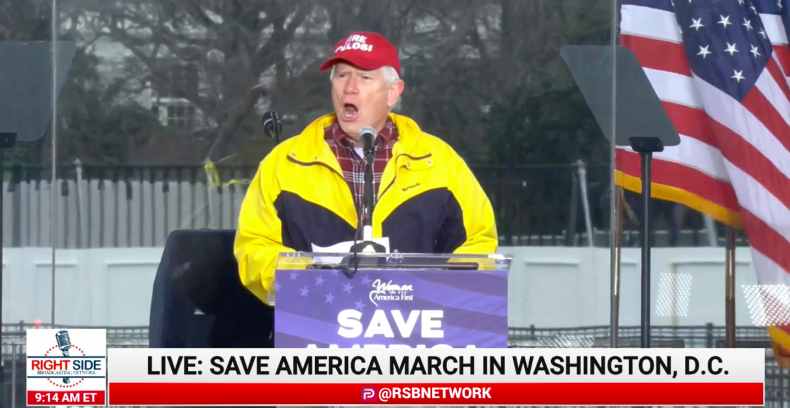 "Now our ancestors sacrificed their blood, their sweat, their tears, their fortunes and sometimes their lives to give us—their descendants—an America that is the greatest nation in the world's history," the congressman said. "So I have a question for you: Are you willing to do the same?" he asked, again receiving raucous applause and cheers from the crowd.
"My answer is yes!" Brooks said.
Trump and his Republican supporters continue to push unsubstantiated claims that Biden won the election through widespread voter fraud. These allegations have been thoroughly litigated, with more than 50 legal challenges brought by the president and his supporters failing in state and federal courts. Even judges appointed by Trump and other Republicans have rejected the lawsuits, with some noting that the lawyers have not provided any evidence to support their claims.
But polls show that some 70 to 80 percent of Republican voters still do not believe the election results. Although a number of leading GOP lawmakers have pushed back against the conspiracy theories being pushed by Trump and his supporters, many others plan to object when the electoral votes of several states are counted on Wednesday.
These planned objections are not expected to succeed. For an objection to be approved, both the Senate and the House would have to agree. The House is narrowly controlled by Democrats, and there appears to be more than enough Republican senators who will vote with their Democratic colleagues to dismiss any objections.
Meanwhile, officials in Washington, D.C., are concerned about the possibility of violence, as the president has urged his supporters to converge on the nation's capital for "wild" demonstrations. The president plans to address the Ellipse rally at around 11 a.m.
Newsweek reached out to a Brooks' office for further comment, but did not receive a response before publication.