Republicans Preferred by Double-Digit Margin to Control Congress Instead of Democrats: Poll
While President Joe Biden's approval rating has plummeted in recent months, Democrats in Congress have faired poorly with the American public as well, new polling showed.
As Democrats hope to maintain control of the House and Senate following the midterm elections next year, Republicans believe they are well-positioned to flip one or both chambers of Congress. New polling conducted by CNBC as part of its All-America Economic survey suggested the GOP has a clear advantage.
When Americans were asked by pollsters which political party they preferred to control Congress, they selected Republicans over Democrats by a double-digit margin. CNBC called the GOP lead in the polling "historic."
While only about a third [34 percent] of respondents said they prefer Democrats to control the legislative branch of government, 44 percent said they prefer Republicans. That's a 10-point lead for the GOP less than a year before the 2022 midterms will be held.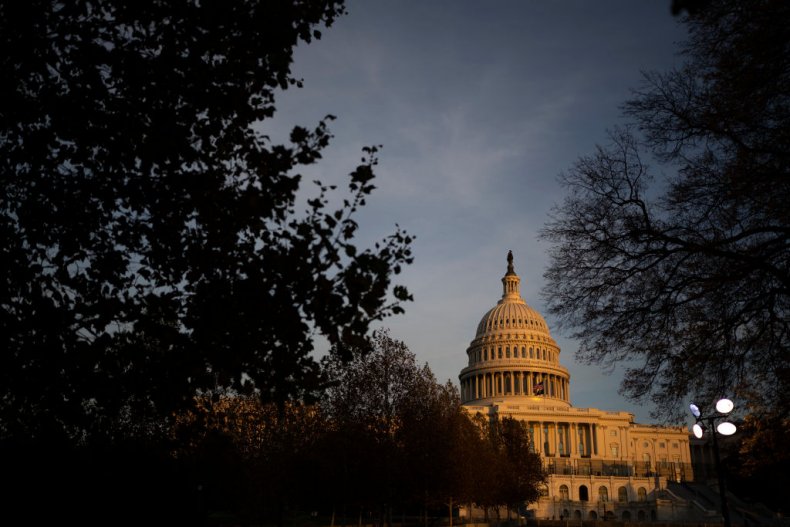 Notably, the Republican advantage has grown in the past couple of months. When the same question was asked of Americans by CNBC in October, Republicans only held a 2-point advantage over Democrats. That suggests public sentiment has shifted significantly—with the GOP's margin growing by 8 percentage points.
"If the election were tomorrow, it would be an absolute unmitigated disaster for the Democrats,″ Jay Campbell, partner at Hart Research Associates and the Democratic pollster for the survey, told CNBC.
Already, historic precedent is on Republicans' side going into the midterms. In recent midterm elections, the party of the president in power generally loses a substantial number of congressional seats during their first term in office. As Democrats only maintain the House and Senate by the narrowest of margins, even a small number of losses could shift the balance of power in Washington, D.C.
House Minority Leader Kevin McCarthy, a California Republican, has publicly expressed confidence that the GOP will be in charge of the lower chamber of Congress by 2023. "I'm looking forward to being the Speaker in the next Congress," McCarthy said confidently in May.
Meanwhile, Speaker of the House Nancy Pelosi, a California Democrat, has also expressed confidence that her party will hold onto control of the House after the midterms next year.
"I know we will win in the Congress. People say, 'Well, in the off-year, it's not the good year.' But, I think any assumptions about politics are obsolete," Pelosi told reporters in September.
"We live in a whole new world of communication and the rest. And I think that all of our members who survived Trump being on the ballot with them will survive next year because Trump's not on the ballot," the top House Democrat said.