McCarthy Faces Backlash From Anti- and Pro-Trump Republicans as He Aims to Become Speaker
House Minority Leader Kevin McCarthy, a California Republican, has publicly stated his ambition to replace Speaker of the House Nancy Pelosi, a California Democrat, following the 2022 midterms—with the GOP leader and many top Republicans expressing confidence that they will take back the majority in the House next year.
But even if Republicans manage to take control of the lower chamber of Congress—a possibility that Pelosi has dismissed—McCarthy is already facing substantial backlash and criticism from within the GOP caucus.
Republican lawmakers who remain staunchly loyal to former President Donald Trump have increasingly applied pressure on McCarthy and expressed frustration for his tolerance of anti-Trump Republicans. Meanwhile, Republican House members opposed to Trump openly criticize the GOP leader as he refuses to reject the former president.
"I'm looking forward to being Speaker in the next Congress," McCarthy said back in May, expressing his confidence not only in himself, but also in Republicans winning big in the midterms next year.
Recent historic precedent suggests that Republicans are well-positioned to retake control of the House of Representatives in the 2022 elections. The party of the president in power generally loses a substantial number of House seats during the midterms of their first four years in the White House. With Republicans controlling 212 seats compared to Democrats' 220, the GOP only needs to make relatively narrow gains to retake power in the lower chamber of Congress.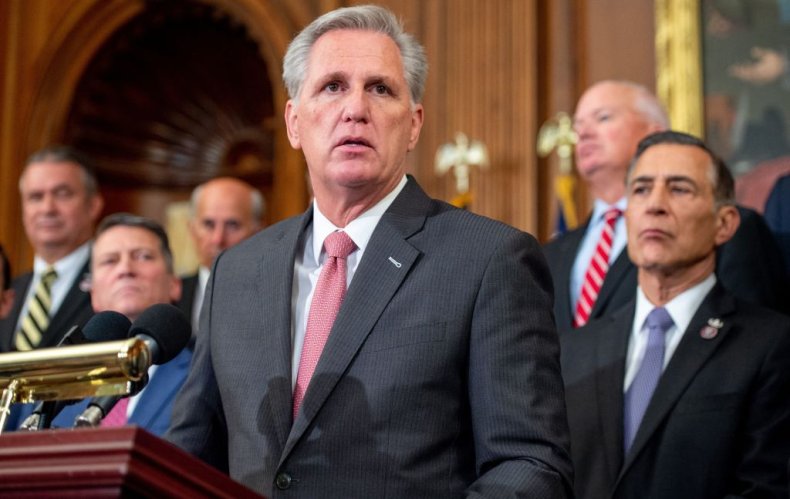 However, McCarthy already faces significant tension from within his caucus over his leadership. Pro-Trump conservative lawmakers are pressuring him to expel Representatives Adam Kinzinger of Illinois and Liz Cheney of Wyoming from the House Republican conference due to their roles on the January 6 House select committee. Meanwhile, Kinzinger and Cheney have repeatedly slammed McCarthy over his continued support for Trump.
"How can the GOP Conference trust him [McCarthy] to go beyond talking tough to Pelosi when he won't even stand up to @Liz_Cheney or @AdamKinzinger?" Representative Matt Gaetz, a Florida Republican who is staunchly supportive of Trump, asked in a Thursday morning tweet.
Last week, Representative Andy Biggs, an Arizona Republican who chairs the conservative House Freedom Caucus, sent a letter to McCarthy urging him to add a new rule for conference members that would lead to Kinzinger's and Cheney's expulsion.
"Congresswoman Cheney and Congressman Kinzinger are two spies for the Democrats that we currently invite to the meetings, despite our inability to trust them," Biggs wrote. The letter was signed by 16 Republicans in addition to Biggs.
As McCarthy faces the pressure from pro-Trump GOP lawmakers, Kinzinger and Cheney have increasingly criticized his leadership. At the beginning of August, Kinzinger said he would support a subpoena against the GOP leader to compel him to testify before the House select committee about his phone call with Trump during the events of January 6.
"I would support subpoenas to anybody that can shed light on that, if that's the [Republican] leader," the Illinois Republican told ABC News' This Week. "Anybody with parts of that information, with inside knowledge, can probably expect to be talking to the committee."
Additionally, Kinzinger has repeatedly called on McCarthy to condemn statements from Trump and other Republicans loyal to the former president.
Cheney—who is the vice chair of the January 6 committee, along with Chair Representative Bennie Thompson, a Mississippi Democrat—slammed McCarthy for claiming Trump was cleared of his alleged role to incite the violent mob that attacked the U.S. Capitol.
"We will continue to pursue all elements of this investigation in a nonpartisan and thorough manner. We also remind Minority Leader McCarthy of his statements following January 6th, including his statement from the House Floor on January 13th—which are inconsistent with his recent comments," Cheney and Thompson said last week.
A week after the January 6 attack, McCarthy said from the House floor that "the president bears responsibility for Wednesday's attack on Congress by mob rioters." But he later traveled to Florida and smoothed over his relationship with Trump, proceeding to defend and support his leadership of the GOP.
McCarthy has publicly criticized Kinzinger and Cheney. In late July, he blasted the two GOP lawmakers, calling them "Pelosi Republicans" over their involvement with the January 6 committee. Both Republican lawmakers were among the 10 House Republicans who voted to impeach Trump in the wake of his supporters' attack on the U.S. Capitol.
How McCarthy balances the pressures from rival factions within the Republican caucus remains to be seen, but some conservatives have also floated the idea of Trump becoming Speaker of the House. Although the top House leader is generally selected from the members of the elected body, the Constitution technically allows for anyone to be nominated if they receive enough support from lawmakers.
"We totally get rid of Nancy Pelosi, and the first act of President Trump as Speaker [of the House] will be to impeach [President] Joe Biden for his illegitimate activities of stealing the presidency," Trump's former top adviser Steve Bannon predicted during a speech for a group of Boston Republicans in February.
Trump suggested he was interested in the idea during a June interview with far-right radio host Wayne Allyn Root. "Yeah, you know it's very interesting," Trump said when Root asked about the possibility. The former president said some have previously suggested he run for Senate as well. "But you know what, your idea might be better. It's very interesting."
Newsweek reached out to McCarthy's press representatives for comment, but did not immediately receive a response.