Pro-Trump Republicans Call Kinzinger, Cheney 'Spies for the Democrats' Over 1/6 Commission
The conservative House Freedom Caucus is urging the House Republican Conference to add a rule that would remove Representatives Liz Cheney of Wyoming and Adam Kinzinger of Illinois from the caucus over their involvement with the House's select committee on the Capitol riot.
Representative Andy Biggs, a staunchly pro-Donald-Trump Republican who chairs the House Freedom Caucus, sent a letter dated September 2 to House Minority Leader Kevin McCarthy calling for a change to GOP Conference rules that would effectively remove Cheney and Kinzinger from the caucus. In the letter, Biggs, on behalf of his pro-Trump caucus, accused his two GOP colleagues of being "spies for the Democrats" because of their involvement with the select committee.
"This proposal is not because of a policy or political difference, but because some members have chosen to work with the Democrats to investigate and potentially remove Republican Members from the House," Biggs wrote, according to a draft first reported by Forbes and CNN.
"Republican Conference meetings are an opportunity for elected House Republicans to come together and strategize the most effective path to push back on the radical policies of Speaker [of the House Nancy] Pelosi and the Democrats," said Biggs, an Arizona Republican.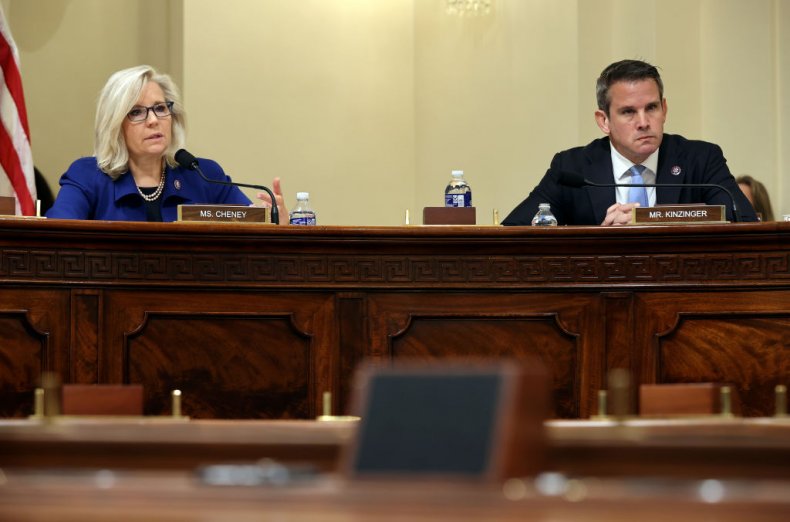 He argued that Democrats are promoting a "false narrative" about the pro-Trump riot at the Capitol on January 6. He says many upcoming Republican Conference discussions will be about defending GOP members in the wake of that investigation.
"Congresswoman Cheney and Congressman Kinzinger are two spies for the Democrats that we currently invite to the meetings, despite our inability to trust them," Biggs wrote.
Biggs proposed adding a new rule for Republican Conference members that forbids them from accepting a committee assignment without the approval of GOP House leadership. Under the proposed rule, those—like Kinzinger and Cheney—who accept a committee assignment from a Democratic leader would "immediately cease" being a member of the House Republican Conference. Kinzinger and Cheney, who are staunch Trump opponents, were appointed to the January 6 committee by Pelosi.
McCarthy, a California Republican, has previously said that the GOP Conference will "look at" Cheney's and Kinzinger's future within the GOP caucus. The top House Republican also slammed the two GOP lawmakers as "Pelosi Republicans" back in July, suggesting they were not loyal to his party.
Newsweek reached out to McCarthy's press secretary for further comment but did not hear back before publication.
The letter came just ahead of a Thursday announcement that Cheney would be promoted to be the committee's vice chair position, making her the second most powerful member of the investigatory panel. Representative Bennie Thompson, a Mississippi Democrat who chairs the committee, said in a statement that Cheney "has demonstrated again and again her commitment to getting answers about Jan. 6, ensuring accountability, and doing whatever it takes to protect democracy for the American people."
Reached for comment on the House Freedom Caucus letter on Thursday, Jeremy Adler, Cheney's spokesperson, directed Newsweek to the news that she'd been appointed as vice chair of the select committee. The response suggested that the congresswoman is doubling down on her position, despite the significant GOP backlash.
On Twitter, Kinzinger said Biggs' letter to McCarthy was "interesting."
"Just coming off a member declaring bloodshed will happen, many pushing Covid denialism and Jan 6 trutherism.... The GOP has a choice. I am even more committed to getting truth now," Kinzinger wrote. He was referring to the controversial "bloodshed" remarks made by freshman GOP Representative Madison Cawthorn of North Carolina.
Kinzinger spokesperson Maura Gillespie told Newsweek that "the American people deserve answers surrounding January 6th, and the nonpartisan select committee to investigate the attack on the U.S. Capitol is committed to uncovering the full truth and making those facts public."
Gillespie went on, "When a member makes repeated calls to remove Representatives Kinzinger and Cheney from the conference, it certainly calls into question their true motives. Especially when that member pushes conspiracy theories to their constituents and outright lies for their own personal gain."
Hundreds of Trump supporters attacked the U.S. Capitol on January 6 in an apparent effort to block the formal certification of President Joe Biden's election victory. The crowd was animated by Trump's and his allies' groundless claims that the 2020 election was "rigged" in favor of Biden. Ahead of the attack, the former president told supporters at a nearby rally to "march" to the Capitol and to "fight like hell."
Update (9/2/2021,10:57 a.m. ET): This story has been updated with comments from Liz Cheney's and Adam Kinzinger's press representatives.