GOP House Freedom Caucus Demands Kinzinger, Cheney Expulsion: 'Delusory Members'
The conservative House Freedom Caucus held a press conference on Thursday demanding that GOP Representatives Liz Cheney and Adam Kinzinger be expelled from the House Republican Conference because of their support for and involvement with the House's select committee on the U.S. Capitol riot.
Cheney, who represents Wyoming, and Kinzinger, who represents Illinois, have drawn the ire of Republican colleagues who continue to support former President Donald Trump. The two GOP lawmakers have repeatedly condemned Trump and have also strongly criticized other Republicans who continue to back the former president. They both agreed to serve on the committee set up by House Speaker Nancy Pelosi.
"We've got a couple of members, delusory members, who are on the wrong side of facts and history," Representative Scott Perry, a Pennsylvania Republican, said. The congressman, along with fellow Freedom Caucus members, demanded that House Minority Leader Kevin McCarthy, a California Republican, hold a vote to expel Cheney and Kinzinger from the House Republican Conference.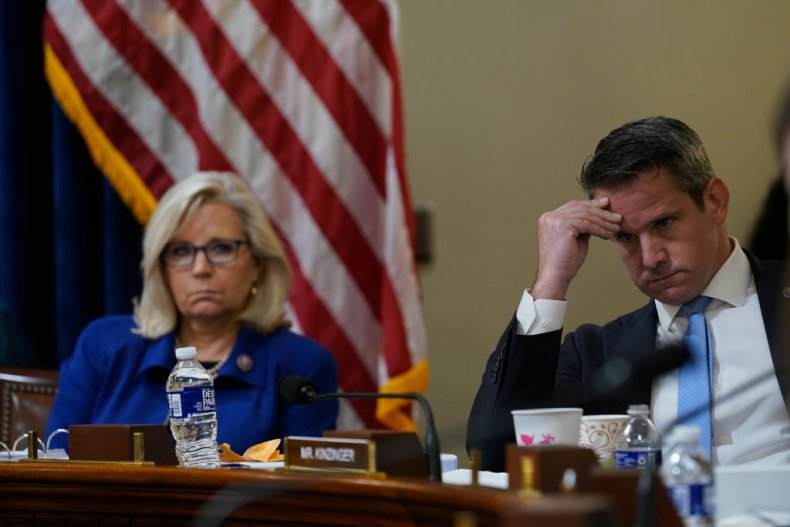 "That path goes through Kevin McCarthy," Perry said. "The path for these delusory members—on the wrong side of the facts, from the wrong side of history—go through Kevin McCarthy."
Representative Lauren Boebert, a Colorado Republican, blasted Cheney and Kinzinger, suggesting it harmed the Republican Conference to allow them to remain part of it.
"Since January, I've seen firsthand that Representative Kinzinger and Cheney have done more to hurt [the] Republican Conference than help them," Boebert said. The congresswoman said Cheney and Kinzinger were working for Democratic leaders, arguing that they "should not be allowed in our closed-door private meetings."
Several other House Freedom Caucus members took aim at their Republican colleagues, arguing that they were no longer playing for the same team. The conservative GOP lawmakers also demanded that McCarthy push for a vote to remove Pelosi, slamming the California lawmaker as an "authoritarian" and a "tyrant."
Maura Gillespie, Kinzinger's communications director, told Newsweek that the critical GOP lawmakers were petty and out for personal gain.
"I'm not surprised by the pettiness of the Freedom Club, but it still saddens me to see members of Congress play games like this and make such shortsighted demands. All the while, these are the same members who push conspiracy theories to their constituents and outright lie for their own personal gain," Gillespie said.
"By serving on this select committee, Congressman Kinzinger is serving his constituents by having a seat at the table to get the facts of what happened and ensure transparency. This is about getting the truth, and answers that the American people deserve," she asserted.
Cheney and Kinzinger were two of the 10 House Republicans to join their Democratic colleagues in voting to impeach Trump for helping to incite his supporters to attack the U.S. Capitol on January 6. Cheney, who then served as the chair of the House Republican Conference, condemned the former president, saying in a statement ahead of the impeachment vote that "there has never been a greater betrayal by a President of the United States of his office and his oath to the Constitution."
Cheney and Kinzinger have gone on to call out fellow Republicans—including McCarthy—over their continued support for the former president. In May, Cheney was ousted from her role as chair of the House Republican Conference. That vote came through the efforts of the House Freedom Caucus.
Newsweek reached out to Cheney's office for comment but did not immediately receive a response.