Liz Cheney Calls on GOP Leadership to Condemn Madison Cawthorn's 'Bloodshed' Comments
Congresswoman Liz Cheney is calling on Republican leadership to condemn Madison Cawthorn's recent remarks about "bloodshed" and "rigged" elections.
Speaking to a reporter Wednesday, Cheney said the freshman representative from North Carolina is using "language that seems intended to incite violence."
"I think every member ought to condemn that, and I'd like to see Leader [Kevin] McCarthy very clearly condemn it and explain how dangerous that is," Cheney said. Her comments on Cawthorn were reported by CBS reporter Zak Hudak.
Cheney was previously the No. 2 Republican in the House of Representatives, but was ousted from her position for challenging false claims about the 2020 election peddled by former President Donald Trump and others.
Cawthorn continued to spread lies about the election during a Republican event in his home state on Sunday. At one point, he said there's "nothing I would dread doing more than having to pick up arms against a fellow American."
"The things that we are wanting to fight for, it doesn't matter if our votes don't count because you know if our election systems continue to be rigged and continue to be stolen then it's going to lead to one place and that's bloodshed," Cawthorn said in his speech.
A spokesman for the Republican lawmaker defended the remarks, stating Cawthorn was advocating for "violence not to occur" over election issues.
"He fears others would erroneously choose that route and strongly states that election integrity issues should be resolved peacefully and never through violence," Cawthorn's communications director Luke Ball said in a statement.
In his speech, Cawthorn also called the Capitol rioters facing charges for their participation in the deadly January 6 insurrection "political prisoners."
When a member of the audience asked Cawthorn, "When are you going to call us to Washington again?" the congressman replied, "We are actively working on that one."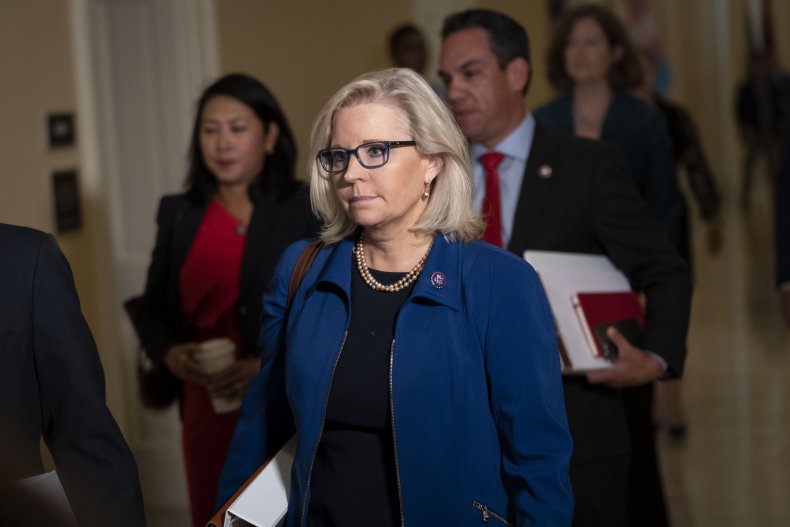 Representative Adam Kinzinger is one of the only other Republicans to publicly criticize Cawthorn's comments. In a Twitter post, the Illinois lawmaker said Cawthorn's rhetoric was "insane" and must stop.
House Speaker Nancy Pelosi slammed the GOP for its silence on the issue in a blog post published on her website Tuesday night.
"Fewer than eight months after insurrectionists stormed the U.S. Capitol to beat police officers and threaten the lives of Capitol workers, journalists, Members of Congress and Congressional staffers, Republican Representative Madison Cawthorn (NC-11) is calling for another January 6th-style attack," the Democratic leader wrote. "And like he has several times this year, Minority Leader McCarthy is refusing to take action against a member of his conference who is calling for violence."
Newsweek reached out to McCarthy's office for comment, but didn't receive a response before publication.