Madison Cawthorn Spox Defends 'Bloodshed' Over 'Rigged' Election Remarks After Fierce Backlash
A spokesperson for Rep. Madison Cawthorn (R-N.C.) is defending the congressman's remarks that "bloodshed" is inevitable if "our elections continue to be rigged."
Cawthorn said that he could be forced to reluctantly "pick up arms against a fellow American" if the country did not change course, while falsely claiming that U.S. elections had been "stolen" during a Republican event in Macon County, North Carolina on Sunday.
"If our elections systems continue to be rigged, continue to be stolen, then it's gonna lead to one place and it's bloodshed," Cawthorn said. "As much as I am willing to defend our liberty at all costs, there's nothing that I would dread doing more than having to pick up arms against a fellow American."
Cawthorn's comments surfaced online Monday and quickly sparked backlash on social media, including multiple suggestions that he be expelled from Congress. Jasmine Beach-Ferrera, a Democrat running for Cawthorn's seat, used the occasion to record a fundraising video arguing that the congressman is "unfit to serve and poses a danger to our democracy."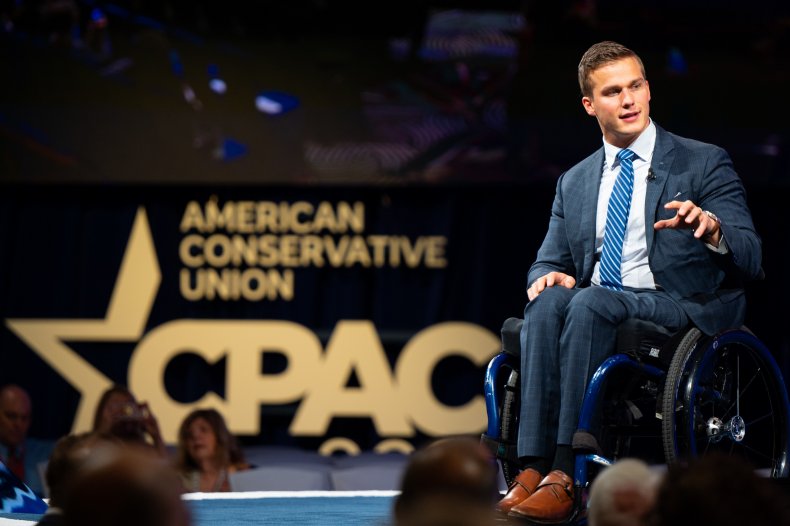 Although Cawthorn falsely claimed that former President Donald Trump won the 2020 election during Sunday's event, he acknowledged that President Joe Biden was the winner while telling CNN that "the election was not fraudulent" in January.
Cawthorn's communications director Luke Ball maintained that the congressman's remarks about "bloodshed" did not mean he was advocating violence. Instead, Ball said Cawthorn was expressing concern that others could "erroneously choose" to become violent if demands for "election security" were not met.
"In his comments, Congressman Cawthorn is CLEARLY advocating for violence not to occur over election integrity questions," Ball said Monday in a statement obtained by Newsweek. "He fears others would erroneously choose that route and strongly states that election integrity issues should be resolved peacefully and never through violence."
Ball also insisted that Cawthorn's views on the 2020 election had not changed, pointing out that he had voted in favor of objections to the results in two states as Congress certified Biden's win on January 6.
"Congressman Cawthorn's views on the 2020 election have remained consistent," he said. "He raised objections to electors from several states in January because he had severe concerns about how the elections were conducted and how laws were changed last-minute to favor Democrats."
Additionally, Ball pointed out a video that Cawthorn posted to Twitter in late December 2020, in which he vowed that objecting to the election results would be his first act as a congressman. Ball said that Cawthorn had been "censored by Twitter." The social media platform flagged the video for making several false claims, including "voter fraud is common in America."
During Sunday's speech, Cawthorn also defended the pro-Trump rioters who breached the U.S. Capitol on January 6, calling those who are now facing charges for their participation in the insurrection "political hostages" and vowing that he and other Republicans were "working on" ways to get them released.
Video of the event was removed from the Macon County Republican Party's Facebook page as news of Cawthorn's remarks surfaced on Monday. The party said that the video had been removed due to "an orientation mistake giving some lefties a giggle and causing us to blush," while promising to "fix it soon."