Steve Bannon Wants Trump to Run for Congress in 2022 and Replace Pelosi As Speaker
Although there has been a lot of talk about former President Donald Trump running for the White House again in 2024, Steve Bannon has suggested the former president should first run for Congress in 2022.
Bannon served as the chief executive of Trump's 2016 presidential campaign and held the role of chief strategist and senior counselor in Trump's White House for the better part of 2017. The former president pardoned Bannon right before he left office, after the right-wing political strategist was arrested and charged with allegedly defrauding contributors to a crowdfunding campaign for Trump's border wall.
Speaking to a group of Boston Republicans on Saturday, Bannon laid out a longshot plan for Trump to return to Washington, D.C.—but not directly to the White House, The Boston Herald reported. Instead, Bannon wants Trump to run for a seat in the House of Representatives in 2022 and then manage to take the role of Speaker of the House away from Democratic Representative Nancy Pelosi of California.
"Trump is a disruptor, but he has a long-term vision because I absolutely believe in the marrow of my bones that he will be our nominee in 2024," Bannon told the GOP group in a speech. "He'll come back to us. We'll have a sweeping victory in 2022, and he'll lead us in 2024."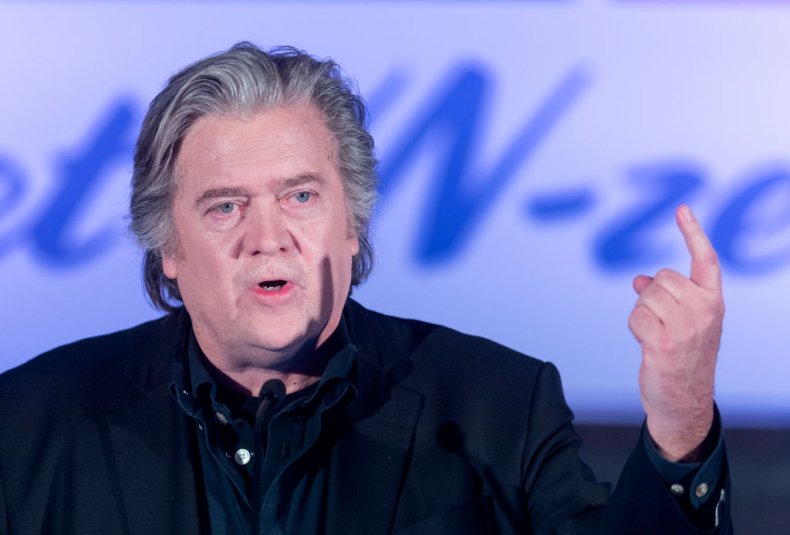 Bannon went on to suggest that Trump would run for Congress, win and replace Pelosi as Speaker. However, this would require Republicans to take back control of the House of Representatives in addition to Trump pulling off a victory.
"We totally get rid of Nancy Pelosi, and the first act of President Trump as Speaker [of the House] will be to impeach Joe Biden for his illegitimate activities of stealing the presidency," he said.
Bannon, like Trump, has repeatedly pushed the baseless conspiracy theory that President Joe Biden won the election through widespread voter fraud. No evidence has been brought forward publicly to support the baseless claim.
Former Trump administration officials have publicly said the ex-president wants to run for the White House again in 2024. However, the former president has not yet revealed what his future political plans are besides that he will support Republican efforts to retake the House of Representatives and the Senate in 2022.
After initially blaming Trump for the insurrection against the U.S. Capitol on January 6, House Minority Leader Kevin McCarthy traveled to visit the former president at his residence in Florida at the end of January. Following that meeting, the two men released a photo and statement saying Trump would help Republicans win back control of the House during the midterm elections.
Newsweek reached out spokespeople for Trump and McCarthy for comment on Bannon's plan, but they did not immediately respond. Bannon's plan would also entail McCarthy stepping aside or Trump challenging him for the Speaker role, assuming Republicans retake the House—which is certainly not guaranteed.
It's also unclear whether Trump would be able to win a House seat. Although the state of Florida went for Trump in 2016 and again in 2020, the former president would likely run in his current district, represented by Democratic Congresswoman Lois Frankel. During the 2020 election, Frankel was challenged by a pro-Trump Republican candidate but easily won reelection by a double-digit margin. Frankel secured the support of 59 percent of voters in her district compared to the 39.1 percent who backed her opponent.
After Trump's acquittal on Saturday in his second Senate impeachment trial, he released a statement hinting at future political ambitions.
"Our historic, patriotic and beautiful movement to Make America Great Again has only just begun. In the months ahead I have much to share with you, and I look forward to continuing our incredible journey together to achieve American greatness for all of our people. There has never been anything like it!" the former president said.
"We have so much work ahead of us, and soon we will emerge with a vision for a bright, radiant, and limitless American future."