Post Impeachment Trial, 58 Percent Think Trump Should Have Been Convicted: Poll
New polling shows that nearly 60 percent of Americans believe former President Donald Trump should have been convicted in his Senate impeachment trial, which resulted in acquittal on Saturday despite the majority of senators voting to convict.
The vote to convict Trump was the most bipartisan of any presidential Senate trial in U.S. history, with seven Republicans voting "guilty" alongside every member of the Democratic caucus. The final vote came in at 57 for "guilty" versus 43 for "not guilty," failing to achieve the high constitutional threshold of a two-thirds majority (or 67 senators) required for a conviction
A poll released by ABC News/Ipsos on Monday showed that 58 percent of Americans believed Trump should have been convicted. Furthermore, 61 percent of respondents said the charges were serious enough for the former president to be impeached and put on trial.
But just 14 percent of Republicans said Trump should have been convicted. Meanwhile, the vast majority (88 percent) of Democrats wanted the former president to be convicted, as did 64 percent of independent voters. The survey, which was conducted from February 13 to 14, also showed that 77 percent of respondents believed senators had ultimately cast their vote based on partisan politics.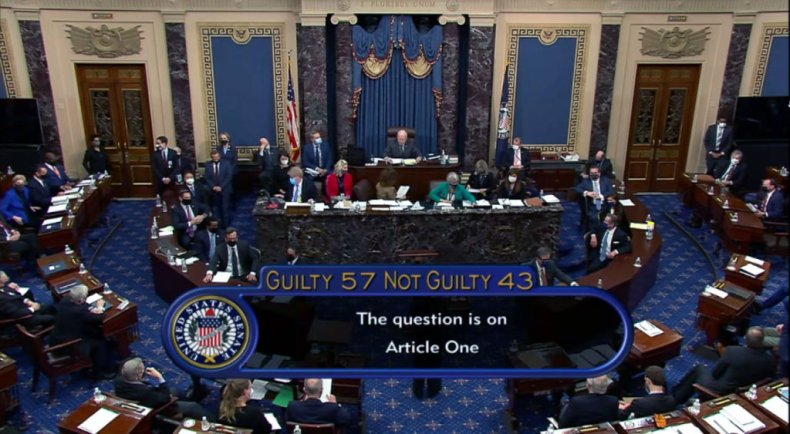 Trump was impeached by the House of Representatives on January 13 for inciting the riot that took place in the U.S. Capitol a week before that on January 6. Ten House Republicans voted alongside House Democrats in that vote.
The attack on the Capitol, which left five people dead, came after Trump urged his supporters to converge on Washington, D.C. for "wild" demonstrations against the formal certification of President Joe Biden's election victory in Congress. Trump had spent the past two months baselessly claiming that the election was "rigged" and "stolen" by Democrats, without providing evidence to back the claim. Amid the congressional certification process, Trump spoke at a January 6 rally and urged his supporters to march to the legislative building and to "fight like hell" to keep him in power.
Although most Republican senators voted to acquit Trump, Senate Minority Leader Mitch McConnell and several other GOP colleagues suggested this was not because they did not think there was a valid case against the former president. Instead, they argued that it was unconstitutional to hold a Senate impeachment trial for a former president. These Republicans suggested Trump should instead be prosecuted through the criminal justice system as a private American citizen.
But most Republican voters appear to support Trump over Republicans opposing his actions and leadership of the party. A poll released by CBS News/YouGov last week showed that 70 percent of GOP voters would join or consider joining a new political party if Trump formed one. Furthermore, 71 percent of Republicans said they viewed GOP lawmakers voting to impeach or convict Trump as "disloyal."